Student Organizations
Political and Social Dialogue (2013-2014)
Building Bridges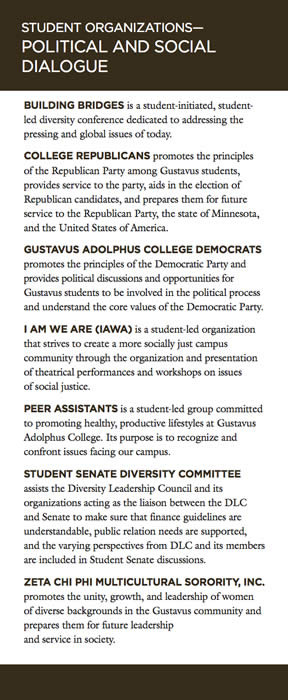 Meets Wednesdays at 9pm in the Board Room.
Co-Chairs: Kelly Dumais and Mark Zorrilla
Public Relations: Lilly Whitney
DLC Representative: Annalise Dobbelstein
Advisors: Alisa Rosenthal and Pearl Leonard-Rock

College Republicans
Meet Tuesdays at 6pm in the Gustie Den.
President: Connor Haugen
Vice President: Xingshu (Helen) Liu
DLC Representative: Jacob Johnson
Advisor: Shannon Nuy
D.E.E.P.
The Executive Board every Tuesday at 6:30PM in Beck 121.
President: TBD
Secretary: TBD
Treasurer: TBD
DLC Representative: TBD
Gustavus College Democrats
Meet every first Tuesday of the Month in the Faculty and Staff Lounge.
President: Sam Bernard
Secretary: Spencer Passmore
Treasurer: Logan Peterson
DLC Representative: Peter Bode
Gustavus Greens
Meet Thursdays at 6pm in the Gustie Den
Co-Presidents: Rebecca Hare and Jessica Burggraf
Secretary: Saskia Raether
Treasurer: Jennifer Steffen
DLC Representative: Jennifer Steffen
Adviosr: Jennifer Steffen

I AM WE ARE (IAWA)
Meets Thursdays at 10pm in the Black Box Theatre and Studio.
DLC Representative: Sam Bernard
Advisors: Amy Seham and Pearl Leonard-Rock
Peer Assistants
Meet Sundays at 8:30pm in the Peer Assistant/Office of Chemical Health.
DLC Representative: Allie Ceranske
Advisors: Steve Bennett
Administrative Assistant: Cinde Wiebusch
Student Senate
Meets Mondays at 7pm in the Board Room.
Co-Presidents: Dani Cabrera and Matt Timmons
Public Relations Chair: Adam Jones
Academic and Student Affairs Chair: David Roland
Ethics Chair: R Eiler Henrickson
Finance Chair: Janet Montes Osorio
Health and Housing Chair: Brogan Barr
Technology Chair: Nate Jenson
Controller: Eric Best
Diversity Chair and DLC Representative: Pia Richardson
Advisor: JoNes VanHecke
Zeta Chi Phi Multicultural Sorority, INC.
Meets Sundays at 8:30pm in the 49er Room.
President: Jessica Martinez
Vice President External and DLC Representative: Amanda Wood
Vice President Internal: Jessica Ries
Secretary: Jessica Martinez
Treasurer: Stephanie Aho
Advisors: Katrina Imison-Mazy and Nancy Hanway