Christ Chapel Memorial Garden

The Christ Chapel Memorial Garden was completed at Gustavus Adolphus College during the fall of 2013. The Memorial Garden is east of Christ Chapel and incorporates the Luna Moth Matrix and Spirit Vessel sculptures and includes a columbarium and student memorial area.
Money raised through the Christ Chapel Memorial Garden project will strongly support the mission of Christ Chapel.
Reserving space in the Memorial Garden

The Christ Chapel Memorial Garden has capacity for 570 inurnments. There are single and double niches. Cost is per person is $2,000.
Christ Chapel Memorial Garden Policies
Christ Chapel Memorial Garden Agreement Form (Fillable)
Christ Chapel Memorial Garden Committal Service Form (Urn Purchase)
Christ Chapel Memorial Garden Inscription Options
For more information or to reserve a space in the Christ Chapel Memorial Garden, contact Tricia Bergeson in the Advancement Office (507-933-7513 or tbergeso@gustavus.edu).
The Christ Chapel Memorial Garden was established through the support of the Phil '58 and Nancy Lindau Family.
More information about a memorial garden and columbarium can be found on the website of the Evangelical Lutheran Church in America (ELCA). Information on the transporting of ashes can be found on the website of the Cremation A
Sculptures
Scultures as part of the Memorial Garden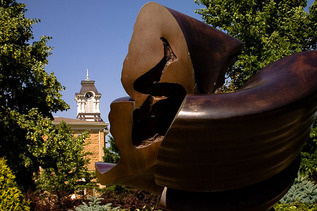 Sculptor Paul Granlund's "Luna Moth Matrix" is a metaphor of the promise of resurrection and renewal. Time and space are combined as the sculptor converts into mass the fluttering of moth wings, which normally happens in time. Movement is suggested in the posture and balance of one wing, suspended in space on its tip. Embedded in that wing is a fetal male figure indicative of the chrysalis state; on the opposite side, the wings carry the impression of an extended female figure implying liberation and flight. The original installation of the sculpture and landscape, completed in 1980, celebrated the memory of Douglas Sandberg '70.
"Spirit Vessel" was created by Sesquicentenial Sculptor Greg Mueller. Vessels, boats, and ships reflect a universal symbol for transporting the soul. This symbolism speaks to the significance of the Gustavus Memorial Garden. The boat form is constructed from recovered Cypress, the "eternal wood" as described by Native Americans because of its natural oil preservative "cypressene" which resists insects and decay. The Vessel's positive and negative layering references the transition from physical to the spiritual. The Vessel is suspended and supported by 4 guardians of weathering steel whose forms draw influence from the hull of a ship's architecture. Concurrently, the contours of the hull acknowledge the organic line quality Perkins Will implemented in the columbarium design. The sculpture was installed in 2014.