Giving
Christ Chapel Endowments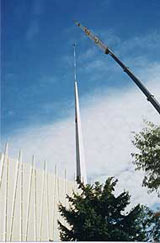 Gifts to any of the Chapel Endowment funds may be made through the Office of Institutional Advancement . Anyone may make gifts to any of the endowments. The names on the endowments represent the people who started the funds, or the people in whose honor the funds were created.
The Christ Chapel Endowment for funding programs where students have opportunities to integrate faith and learning. These skills are essential to the life of the College and those who live, work and study here, as well as to maintaining our mission as a church related college.
The John M. and Rose Marie Chell Foundation for Faith Christ Chapel Endowment to provide a permanent base of funds for Christ Chapel of Gustavus Adolphus College. The funds that are available shall be used to further the ministry of Word and Sacrament through Christ Chapel to students and faculty of the Gustavus campus community.
The Sponberg Family Chapel Endowment Fund to provide an endowment fund, the income of which is to be used for benefit of students of Gustavus Adolphus College involved in the Christ Chapel programs.
The O.W. Confer Family Chapel Endowment Fund for general chapel related expenses.
The Brostrom Endowment Fund for Christ Chapel for general chapel related expenses.
Sunday Offerings
Sunday morning offerings are designated by the Apprentices or through the Chaplains' Office. Members of the worshipping community can bring forward a concern that they would like the offerings to be designated toward including local, national, and international concerns.
Disaster Response
In the spring of 1998, St. Peter suffered a devastating tornado that caused massive destruction on campus and in the community. Many people lost their homes. Most campus buildings were relocated for the rest of that spring. Several buildings on campus had to be torn down or removed.
Critical in the recovery of the community was Lutheran Disaster Response. Workers for this effort stayed in the St. Peter Community for more than a year after the event. They assisted in helping people work with insurance companies or FEMA, and also helped to secure clothes, food, and appliances. They hosted groups for people to respond to the grief and loss. They also assisted in youth programming and responded to needs in the schools.
In addition, alumni of the college and people affiliated with churches helped with the rebuilding effort.