Past Conferences
Nobel Conference
Listed below are the topics of and participants in the Nobel conferences at Gustavus Adolphus College since the inception of the conference series in 1965. Video presentations from recent conferences may be accessed from this page as well.
The College bestows honorary degrees upon Nobel laureates visiting the campus. Since 1950, 92 laureates have been so honored, and of the 66 laureates who have appeared at one or more conferences since 1965, 60 have accepted honorary degrees (Tjalling Koopmans declined the honor in 1978; Stanley Prusiner was not present on campus to received the honor in 2001; and Steven Weinberg, James Buchanan, Elizabeth Blackburn, and Joseph Stiglitz had not yet won Nobel Prizes when they appeared at their respective conferences in 1976, 1986, 1999, and 2000). Presenters who are Nobel laureates are identified as such: the prize and year they won are listed after their name.
The college archives contain a wealth of materials about past conferences, including programs, planning documents, publicity materials and written transcripts of lectures not available electronically. You can locate a finding aid to the collection here.
Carl June
Chanita Hughes-Halbert
Jim Thomas
Kathryn Schmitz
Suzanne Chambers
Charles Sawyers
Bissan Al-Lazikani
Amitav Ghosh (Not archived by request)
Richard Alley
Diana Liverman
Sheila Watt-Cloutier
Gabriele Hegerl
David Keith
Mike Hulme
David Montgomery
Claire Chenu
Rattan Lal
Frank Uekotter

Ray Archuleta

Jack Gilbert

Suzanne Simard
*Freeman Dyson was unable to attend. A link to his talk at another event has been included.
Additional Participants
Watch Archived Presentations
Additional Participants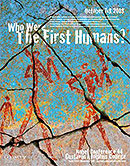 Additional Participants
Scott Anfinson – Finding Minnesota: The First People of the North Star State
Guy Gibbon – After the PaleoIndians: Archaic and Woodland Peoples in Minnesota
Rod Johnson – Flintknapping Demonstration
Tom Sanders – Atlatl Dart Throwing Demonstration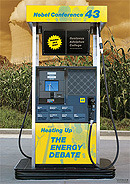 Additional Participants
Doug Cameron – Advances in Biofuels: Ethanol and Beyond
J. Drake Hamilton – Global Warming: Minnesota Impacts, Minnesota Solutions
Bishop Craig Johnson – Care for Our World's Resources: A Biblical Perspective
Dan Juhl – Community-Based Energy: Local Ownership of Renewable Energy
2006 (XLII) - Medicine: Prescription for Tomorrow

Additional Participants
Robert Brown – Research in Neurology: Unlocking the Cause and Optimal Treatment of Selected Disorders of the Brain
James Hart – A Collaborative and Alternative Approach to Medicine of the Future
William Manahan – A Collaborative and Alternative Approach to Medicine of the Future
Dean V. Marek – Healing and Spirituality
Anne L. Taylor – Population Variability and Cardiovascular Disease

2005 (XLI) - The Legacy of Einstein
George F.R. Ellis – The Existence of Life in the Universe and the Crucial Issue of Ethics
Wendy Freedman – The Legacy of Albert Einstein for Cosmology
S. James Gates Jr. – Is Cosmic Concordance in Concomitance with Superstring/M-Theory?
Wolfgang Ketterle (Physics '01) – Bose-Einstein Condensates and Other New Forms of Matter Close to Absolute Zero
Thomas Levenson – The Education of Albert Einstein
Kip S. Thorne – Warped Spacetime: Einstein's General Relativity Legacy
Additional Participants
Ira Flatow – Closing panel moderator
John F. Haught – Issues in Science and Religion: Einstein and Religion
2004 (XL) - The Science of Aging

Laura L. Carstensen – Motivation, Emotion and Aging
Leonard Hayflick – Longevity Determinants, Aging and Age-Associated Disease
Cynthia J. Kenyon – From Worms to Mammals: Regulation of Lifespan by Insulin/IGF-1 Signaling
S. Jay Olshansky – Human by Design
Dennis J. Selkoe – Aging, Amyloid and Alzheimer's Disease
Peter J. Whitehouse – The Dementia of Alzheimer's Disease: The Wisdom of Just Aging
Additional Participants
Richard Q. Elvee – Banquet moderator
Joseph Gaugler – Caregiver and Healthcare Policy Issues
Michael Hendrickson – Caregiver and Healthcare Policy Issues
Gabe Maletta – Clinical Aspects of Alzheimer's Disease: Assessment and Treatment
2003 (XXXIX) - The Story of Life
Sean B. Carroll – Butterflies, Zebras, and Fairy Tales: Genetics and the Making of Animal Diversity
Philip J. Currie – Feathered Dinosaurs and the Origin of Birds
Christian R. de Duve (Medicine '74) – Life Evolving
Niles Eldredge – What Drives Evolution
B. Rosemary Grant – Evolution of Darwin's Finches
Peter R. Grant – Evolution of Darwin's Finches
John F. Haught – God after Darwin: Evolution and Divine Providence
Tim D. White – Evolution: A View from Afar
2002 (XXXVIII) - The Nature of Nurture
Avshalom Caspi – The Child Is Father to the Man: Personality Development from Childhood to Adulthood
Jerome Kagan – The Tapestry Woven by Biology and Experience
Eric R. Kandel (Medicine '00) – Genes, Synapses, and Long Term Memory
Eleanor E. Maccoby – The Nature of Children and Their Nurture by Parents
Thomas H. Murray – Parents and Children: What We Value and How That Is Challenged by Cloning and New Reproductive Technologies
Robert Plomin – Nature and Nurture: Genetic and Environmental Influences on Behavioral Development
Judith L. Rapoport – Normal and Abnormal Brain Development in Children and Adolescents

Günter Blobel (Medicine '99) – Protein Targeting
Edmond H. Fischer (Medicine '92) – How Proteins Speak to One Another in Cell Signaling
Roald Hoffman (Chemistry '81) – Science and Ethics: A Marriage of Necessity and Choice for This Millennium
Sir Harold W. Kroto (Chemistry '96) – Science: A Round Peg in a Square World
Sir John R. Maddox – What Remains to Be Discovered
Erling C.J. Norrby – A Century of Nobel Prizes
Stanley B. Prusiner (Medicine '97) – Mad Cows, Demented People, and the Biology of Prions
Jagdish N. Bhagwati – Globalization and Appropriate Governance
John B. Cobb Jr. – The Stake of Christian Theology in Economic Globalization
Amitai Etzioni – The Future of the Global Community
Robert Mundell (Economics '99) – Does a Global Economy Need a Global Currency?
Jeffrey D. Sachs – New Approaches to Helping the Poorest of the Poor in the Global Economy
Michael Sohlman – Globalization—Some Reflections of a Practitioner
Joseph E. Stiglitz – Globalization, Equity, and the Developing World
1999 (XXXV) - Genetics in the New Millennium
Bruce Baker – The Molecular Basis of Sex
Elizabeth Blackburn – Telomerase: Dr. Jekyll or Mr. Hyde?
Lindon Eaves – Revisiting the Biology of Ultimate Concern
Dean Hamer – Genes for Human Behavior
Leroy Hood – The Human Genome Project: Revolutions in Biology, Medicine, and Society
Evelyn Fox Keller – Nature and Nurture in a Post-Genomic Age
J. Craig Venter – Genomics in the Next Millennium
1998 (XXXIV) - Virus: The Human Connection
Alfred Worchester Crosby – The History of Infectious Disease as a Characteristic of Civilization
Robert C. Gallo – Some New Approaches to HIV and HIV Disease
John J. Holland – Virus Evolution: Implications for Diseases
Wolfgang K. Joklik – The Evolution of Virology: From the Beginnings of Molecular Biology to the Conquest of Viral Disease
Elizabeth G. Nabel – Recombinant Gene Transfer: Lessons from Viruses and Applications to Human Disease
Gary J. Nabel – Recombinant Gene Transfer: Lessons from Viruses and Applications to Human Disease
Clarence J. Peters – Emerging Virus diseases: 5000 B.C. to the Present
Ted Peters – Co-Evolution: Pain or Promise?
1997 (XXXIII) - Unveiling the Solar System: 30 Years of Exploration
Alan P. Boss – Forming Star Systems, Here and Elsewhere
Story Musgrave – An Artist's View of the Universe
F. Sherwood Rowland (Chemistry '95) – Our Changing Atmosphere
Robert John Russell – How the Heavens Have Changed
Carl Sagan – Scheduled to speak but died prior to conference.
Roald Sagdeev – New Horizons for Solar System Exploration
Eugene Shoemaker – Scheduled to speak but died prior to conference.
David J. Stevenson – Formation of the Earth and the Origin of Life
Edward C. Stone – The Search for Life Elsewhere
1996 (XXXII) - Apes at the End of an Age: Primate Language and Behavior in the '90s
For nearly a generation, research into primate studies shed little light on human language and behavior. That may well have been by intent. Until recently, most primate researchers believed that human language was distinct and, as such, was separable from everything nonhuman. That point was well illustrated on the Gustavus campus nearly 30 years ago, when presenters for Nobel Conference® IV, "The Uniqueness of Man," rejected the notion of studying apes in order to learn about humans.
Today, the argument may have turned to support an early theory formed by evolutionist Charles Darwin, who anticipated continuity in mental and behavioral processes among primates. While there are important exceptions, it has become increasingly clear to researchers that animals developed their identities largely through historical cultures, not essential laws of physiology. With that in mind, the study of apes has taken on new importance as a way to better understand the roots of human language and behavior.
This year, Nobel Conference® XXXII, "Apes at the End of an Age: Primate Language and Behavior in the '90s," has assembled six of the world's finest primatologists to discuss these new and exciting developments in their field. We invite you to join us as we learn about primates on the brink of human consciousness, and how research into their language and behavior holds implications for human intellectual development.
Biruté M.F. Galdikas, Professor of Archaeology, Simon Fraser University, Canada
Gordon Kaufman, Mallinckrodt Professor of Divinity Emeritus, Harvard Divinity School

The Human Niche in Earth's Ecological Order

Tetsuro Matsuzawa, Professor, Primate Research Institute, Kyoto University, Japan

Chimpanzee Intelligence in the Laboratory and in the Wild

Duane M. Rumbaugh, Director, Language Research Center, Georgia State University

On the Psychology and Intelligence of Human, Ape and Monkey

Sue Savage-Rumbaugh, Professor of Biology and Psychology, Georgia State University

Why Do We Limit Language to Homo sapiens?

Frans B.M. de Waal, Research Professor, Yerkes Primate Research Center, Emory University
Richard W. Wrangham, Professor of Anthropology, Harvard University

Apes and the Evolution of Human Violence
1995 (XXXI) - The New Shape of Matter: Materials Challenge Science
Experimentalists, the diversifiers of the scientific world, have both revealed and created the rich texture of the universe. Theorists, the unifiers of science, have traditionally met this challenge by establishing a framework for understanding this experimental diversity.
But in the past quarter century, this fundamental balance has changed. Much of today's leading technologies have been created with little or no theoretical guidance. For example, while synthetic chemists have created and improved polymers over several decades, they have done so with only limited theoretical constructs for understanding polymer behavior. The discovery of ceramic superconductors in the mid-1980s challenged physicists to reformulate theories developed for metallic superconductors in the 1950s. And today, advances in nuclear magnetic resonance (NMR) spectroscopy, X-ray spectroscopy and atomic resolution microscopy, coupled
with the wide availability of inexpensive high-speed computing, have enabled organic chemists and biochemists to investigate larger and more complex molecules without a comprehensive theoretical framework for understanding how this new technology could be applied.
During Nobel Conference® XXXI, "The New Shape of Matter: Materials Challenge Science," an international group of experimental scientists will discuss their work on the cutting edge of scientific creation. The Nobel panel also will include modern-day theorists, who will seek to bring meaning and purpose to these discoveries. We invite you to attend a conference that promises to explore the farthest frontiers of materials science.
Philip W. Anderson (Physics '77), Princeton University

New Physics of Metals: Fermi Surfaces without Fermi Liquids

Susan N. Coppersmith, James Franck Institute, University of Chicago

The Complexity of Materials

Frederick Ferré, Department of Philosophy, University of Georgia
Pierre-Gilles de Gennes (Physics '91), Collège de France, Paris
Harry B. Gray, Beckman Institute, California Institute of Technology

Engineered Enzymes for Photosynthesis

Harold W. Kroto (Chemistry '96), School of Chemistry and Molecular Sciences, University of Sussex, England

C60 Buckminsterfullerene: The Celestial Sphere That Fell to Earth

Silvan S. Schweber, Martin Fisher School of Physics, Brandeis University

The Metaphysics of Physics: The Landscape at the End of a Heroic Century
1994 (XXX) - Unlocking the Brain: Progress in Neuroscience
Dramatic advances in our understanding of how the human brain functions have been made in the past decade.Rapid growth in what is known about the biochemistry of brain cells, development of network models of neural processing, and technological advances in our ability to watch the brain at work all promise even further advances. Indeed, the National Science Foundation has declared the 1990s to be the "Decade of the Brain." The 1994 Nobel Conference will offer its audience an opportunity to hear what leading researchers think about how the brain performs its tasks. Emphasis will be placed on how changes in the tools we use to study the brain have heightened our level of understanding.
The 1994 Nobel speakers will address a number of very interesting questions: Are the connections within the brain fixed at birth, or subject to change with experience? How can a visual image of the activity of the brain improve our understanding of motor control, language, and memory? To what extent can we use a computer as a model for understanding how the brain works? What changes in the brain are associated with diseases such as Parkinson's and Alzheimer's? Can these changes be reversed?
We hope that this conference will demonstrate the fruits of interdisciplinary research efforts, introduce the broad range of questions which challenge those who are trying to understand how the brain works and most of all, increase our appreciation of the human mind. We invite you to attend a conference which we are confident will be both fascinating and stimulating.
Anders Björklund, Neurology Section, University of Lund, Sweden

Cell Transplants for Repair of the Damaged Brain

Patricia Smith Churchland, Department of Philosophy, University of California-San Diego

Prospects for a Neurobiology of Consciousness

Antonio Damasio, Department of Neurology, College of Medicine, University of Iowa

A Neurobiology for Emotion and Reason

Apostolos Georgopoulos, Brain Sciences Center, Veterans Affairs Medical Center, Minneapolis

Behavioral Neurophysiology of the Motor Cortex

David Hubel (Medicine '81), Harvard Medical School

Eye, Brain and Perception

Eric R. Kandel (Medicine '00), Center for Neurobiology and Behavior, Columbia University

Genes, Synapses and Memory

Oliver Sacks, Clinical Professor of Neurology, Albert Einstein College of Medicine
1993 (XXIX) - Nature Out of Balance: The New Ecology
As the dominant species on the planet Earth, human beings have not been good caretakers of their world. Many environmentally-concerned citizens and political leaders believe that by-products of an industrialized world, including threats to the integrity of nature, diversity of species, or impoverishment of ecosystems, are threatening our environment and, ultimately, the sustainability of all life. Solutions to these problems do not come easily. While the world's environmental problems arise from a combination of political, social and economic factors, long-term solutions must be based on the science of ecology. This science has been working for more than a century to unravel the complexities of the world's natural ecosystems.
In the past 15 years, however, scientists have learned that disturbances–such as fires and hurricanes–play a natural role in ecosystems. Scientists have also found that the traditional solution of reducing an ecological system to its smallest parts will not explain the behavior of the whole. People all over the world are becoming increasingly interested in ecological issues. During this Nobel Conference, our hope is to raise public awareness about the most recent trends and discoveries in the new ecology.
Daniel B. Botkin, President, The Center for the Study of the Environment
Jared M. Diamond, Professor of Physiology, UCLA Medical School
Thomas E. Lovejoy, Assistant Secretary for External Affairs, Smithsonian Institution
Robert McCredie May, Royal Society Professor, University of Oxford
Donella H. Meadows, Adjunct Professor of Environmental Studies, Dartmouth College
Bryan G. Norton, School of Public Policy, Georgia Institute of Technology

Finding Our Place: The Origins of Sustainability

George Masters Woodwell, The Woods Hole Research Center

Science and Government: Revolutions in Store for the Third Millennium
1992 (XXVIII) - Immunity: The Battle Within
1991 (XXVII) - The Evolving Cosmos

Timothy Ferris – Evolution of Interstellar Communications Systems
William A. Fowler (Physics '83) – Early Nuclear Synthesis
Margaret Geller – Where the Galaxies Are
Edward Harrison – Our Evolving View of the Universe
Ernan McMullin – Extrapolating to a Distant Past
Phillip Morrison – Newton and Anti-Newton: Enforced Simplicity, Inaccessible Origins
1990 (XXVI) - Chaos: The New Science
1989 (XXV) - The End of Science?
Sheldon Lee Glashow (Physics '79) – The Death of Science!?
Ian Hacking – Disunified Sciences
Sandra Harding – Why Physics Is a Bad Model for Physics: Feminist Issues
Mary Hesse – Need a Constructed Reality Be Non-Objective? Reflections on Science and Society
Gerald Holton – How to Think about the End of Science
Gunther S. Stent – Cognitive Limits and the End of Science
1988 (XXIV) - The Restless Earth

Don L. Anderson – Earth's Interior: The Last Frontier
W.G. Ernst – The Pacific Rim: Plate Tectonics, Continental Growth, and Geological Hazards and The Future of the Earth Sciences
David Ray Griffin – The Restless Universe: A Postmodern View
Jack Oliver – Plate Tectonics: The Discovery, the Lesson, the Opportunity
David M. Raup – Catastrophes and the History of Life on Earth
J. Tuzo Wilson – Some Controls That Greatly Affect Surface Responses to Mantle Convection beneath Continents
1987 (XXIII) - Evolution of Sex
William Donald Hamilton – Sex and Disease
Philip J. Hefner – Sex, for God's Sake: Theological Perspectives
Sarah Blaffer Hrdy – The Primate Origins of Female Sexuality and Raising Darwin's Consciousness: Was There a Male Bias?
Lynn Margulis – Sex in the Microcosm
Dorion Sagan – Sex in the Microcosm
Peter H. Raven – The Meaning of Flowers: Evolution of Sex in Plants
John Maynard Smith – Theories of the Evolution of Sex
1986 (XXII) - The Legacy of Keynes

Karl Brunner – The Sociopolitical Vision of Keynes
James M. Buchanan (Economics '86) – Keynesian Follies
Geoffrey C. Harcourt – The Legacy of Keynes: Theoretical Methods and Unfinished Business
Axel Leijonhufvud – Whatever Happened to Keynesian Economics?
Ronald Haydn Preston – The Ethical Legacy of John Maynard Keynes
Baron Stig Ramel – The Swedish Model: Keynesian Policies Put into Practice
Lester Thurow – Constructing a Microeconomics That Is Consistent with Keynesian Macroeconomics
James Tobin (Economics '81) – Keynesian Economics and Its Renaissance
1985 (XXI) - The Impact of Science on Society

Winston J. Brill – The Impact of Biotechnology and the Future of Agriculture
Daniel J. Kevles – Genetic Progress and Religious Authority: Historical Reflections
Salvador E. Luria (Medicine '69) – The Single Artificer
J. Robert Nelson – Mechanistic Mischief and Dualistic Dangers in a Scientific Society
Merritt Roe Smith – Technology, Industrialization, and the Idea of Progress in America
1984 (XX) - How We Know: The Inner Frontiers of Cognitive Science
Daniel Dennett – Can Machines Think?
Gerald Edelman (Medicine '72) – Neural Darwinism: Population Thinking and Higher Brain Function
Brenda Milner – Memory and the Human Brain
Arthur Peacocke – A Christian "Materialism"?
Roger Schank – Modeling Memory and Learning
Herbert Simon (Economics '78) – Some Computer Simulation Models of Human Learning
1983 (XIX) - Manipulating Life

Christian Anfinsen (Chemistry '72) – Bio-Engineering: Short-Term Optimism and Long-Term Risk
Willard Gaylin – What's So Special about Being Human?
June Goodfield – Without Laws, Oaths and Revolutions
Clifford Grobstein – Manipulating Life: The God-Satan Ratio
Karen Lebacqz – The Ghosts Are on the Wall: A Parable for Manipulating Life
Lewis Thomas – The Limitations of Medicine as a Science
1982 (XVIII) - Darwin's Legacy

Stephen Jay Gould – Evolutionary Hopes and Realities
Richard E. Leakey – African Origins: A Review of the Record
Sir Peter Medawar (Medicine '60) – The Evidences of Evolution
Jaroslav Pelikan – Darwin's Legacy: Emanation, Evolution, and Development
Edward O. Wilson – Sociobiology: From Darwin to the Present
Additional Presenters
Irving Stone – The Human Mind after Darwin
1981 (XVII) - The Place of Mind in Nature

Ragnar Granit (Medicine '67) – Reflections on the Evolution of the Mind and Its Environment
Wolfhart Pannenberg – Spirit and Mind
Richard Rorty – Mind as Ineffable
John Archibald Wheeler – Bohr, Einstein, and the Strange Lesson of the Quantum
Eugene Wigner (Physics '63) – The Limitations of the Validity of Present-Day Physics
Additional Presenters
Czesław Miłosz (Literature '80) – Reflections
1980 (XVI) - The Aesthetic Dimension of Science

Freeman J. Dyson – Manchester and Athens
Charles Hartshorne – Science as the Search for the Hidden Beauty of the World
William N. Lipscomb Jr. (Chemistry '76) – Some Aesthetic Aspects of Science
Gunther Schuller – Form and Aesthetics in Twentieth Century Music
Chen Ning Yang (Physics '57) – Beauty and Theoretical Physics
Additional Presenters
Isaac Bashevis Singer – On Beauty
1979 (XV) - The Future of the Market Economy
Robert Benne – Ought the Market Economy Have a Future?
Richard Lipsey – An Economist Looks at the Future of the Price System
Kenneth McLennan – Redefining Government's Role in the Market System
Baron Stig Ramel – Sweden: How a Mixed Economy Gets Mixed Up
Mark Willes – Rational Expectations and the Future of the Market System
1978 (XIV) - Global Resources: Perspectives and Alternatives

Ian Barbour – Justice, Freedom, and Sustainability
Barry Commoner – A New Historic Passage: The Transition to Renewable Resources
Garrett Hardin – An Ecolate View of the Human Predicament
Tjalling C. Koopmans (Economics '75) – Projecting Economic Aspects of Alternative Futures
Letitia Obeng – Benevolent Yokes in Different Worlds
1977 (XIII) - The Nature of Life
Max Delbrück (Medicine '69) – Mind from Matter?
René Dubos – Biological Memory and the Living Earth
Sidney W. Fox – The Origin and Nature of Protolife
Bernard M. Loomer – The Web of Life
Peter R. Marler – In the Mind's Eye: Perception and Innate Knowledge
Additional Presenters
Elizabeth Shull Russell – Panelist
1976 (XII) - The Nature of the Physical Universe
Murray Gell-Mann (Physics '69) – What Are the Building Blocks of Matter?
Sir Fred Hoyle – An Astronomer's View of the Evolution of Man
Stanley L. Jaki – The Chaos of Scientific Cosmology
Hilary W. Putnam – The Place of Facts in a World of Values
Steven Weinberg (Physics '79) – Is Nature Simple?
Victor F. Weisskopf – What Is an Elementary Particle?
1975 (XI) - The Future of Science
Sir John C. Eccles (Medicine '63) – The Brian-Mind Problem as a Frontier of Science
Langdon Gilkey – The Future of Science
Polykarp Kusch (Physics '55) – A Personal View of Science and the Future
Glenn T. Seaborg (Chemistry '51) – New Signposts for Science
Panelists
Ian Barbour, Theologian
John Cobb Jr., Theologian
William Dean, Theologian
Van Austin Harvey, Theologian
Hans Schwartz, Theologian
Christian Anfinsen (Chemistry '72)
George Beadle (Medicine '58)
Hans Bethe (Physics '67)
Felix Bloch (Physics '52)
Walter Brattain (Physics '56)
Leon Cooper (Physics '72)
André Cournand (Medicine '56)
Christian de Duve (Medicine '74)
Gerald Edelman (Medicine '72)
Ulf S. von Euler (Medicine '70)
Robert Hofstadter (Physics '61)
Charles Huggins (Medicine '66)
Simon Kuznets (Economics '71)
Willis Lamb Jr. (Physics '55)
Willard Libby (Chemistry '60)
Fritz Lipmann (Medicine '53)
Robert Mulliken (Chemistry '66)
Lars Onsager (Chemistry '68)
Julian Schwinger (Physics '65)
Emilio Segre (Physics '59)
William B. Shockley (Physics '56)
Ernest Walton (Physics '51)
Thomas Weller (Medicine '54)
Chen Ning Yang (Physics '57)
Additional Presenters
David Matthews – Closing Address
1974 (X) - The Quest for Peace
Rubem Alves – Diagnosis of a Sickness: The Will to War
Elisabeth Mann Borgese – The World Communities as a Peace System
Polykarp Kusch (Physics '55) – Is Enduring Peace a Realistic Hope?
Robert Jay Lifton – Survival and Transformation—From War to Peace
Baron Stig Ramel – Nationalism and International Peace
Paul A. Samuelson (Economics '70) – Economics and Peace
1973 (IX) - The Destiny of Women
Mary Daly – Scapegoat Religion and the Sacrifice of Women
Martha W. Griffiths – Legal and Social Rights and Responsibilities of Women
Beatrix Hamburg – The Biology of Sex Differences
Eleanor Maccoby – The Development of Sex Differences in Intellect and Social Behavior
Johnnie Tillmon – The Changing Cultural Images of the Black Woman in America
1972 (VIII) - The End of Life
Alexander Comfort – Changing the Life Span
Ulf S. von Euler (Medicine '70) – Physiological Aspects of Aging and Death
Nathan A. Scott Jr. – The Modern Imagination of Death
Krister Stendahl – Immortality Is Too Much and Too Little
George Wald (Medicine '67) – The Origin of Death
Additional Presenters
Edgar M. Carlson – Moderator
1971 (VII) - Shaping the Future
Norman E. Borlaug (Peace '70) – The World Food Problem—Present and Future
John McHale – Shaping the Future: Problems, Priorities, and Imperatives
Glenn T. Seaborg (Chemistry '51) – Shaping the Future—Through Science and Technology
Joseph Sittler – The Perils of Futurist Thinking: A Common Sense Reflection
Additional Presenters
Anthony J. Wiener – Faust's Progress: Methodology for Shaping the Future
1970 (VI) - Creativity

William A. Arrowsmith – The Creative University
Jacob Bronowski – The Creative Process
Willard F. Libby (Chemistry '60) – Creativity in Science
Donald W. MacKinnon – Creativity: A Multi-faceted Phenomenon
Gordon Parks – Creativity to Me
1969 (V) - Communication
Leroy G. Augenstein – A Little Black Box Called the Mind
Noam Chomsky – Form and Meaning in Natural Language
Abraham Kaplan – The Life of Dialogue
Eric H. Lenneberg – A Word between Us
Peter R. Marler – Animals and Man: Communication and Its Development
Additional Presenters
Edgar M. Carlson – Moderator
1968 (IV) - The Uniqueness of Man
Theodosius Dobzhansky – The Pattern of Human Evolution
Sir John C. Eccles (Medicine '63) – The Experiencing Self
Ernan McMullin – Man's Effort to Understand the Universe
W.H. Thorpe – Vitalism and Organicism
S.L. Washburn – The Evolution of Human Behavior
Daniel Day Williams – The Prophetic Dimension
1967 (III) - The Human Mind
Sir John C. Eccles (Medicine '63) – Evolution and the Conscious Self
James M. Gustafson – Christian Humanism and the Human Mind
Holger Hyden – Biochemical Aspects of Learning and Memory
Seymour S. Kety – Biochemical Aspects of Mental States
Francis O. Schmitt – Molecular Parameters in Brain Function
Huston Smith – Human versus Artificial Intelligence
Nils K. Stahle – The Nobel Foundation at Work
1966 (II) - The Control of the Environment
Kenneth E. Boulding – The Prospects of Economic Abundance
René Dubos – Adaptations to the Environment and Man's Future
Roger Revelle – The Conquest of the Oceans
Carl T. Rowan – The Free Spirit in a Controlled Environment
Glenn T. Seaborg (Chemistry '51) – The Control of Energy
Additional Presenters
Orville L. Freeman – Convocation Speaker
1965 (I) - Genetics and the Future of Man
Kingsley Davis – Sociological Aspects of Genetic Control
H. Bentley Glass – The Effect of Changes in the Physical Environment on Genetic Changes
R. Paul Ramsey – Moral and Religious Implications of Genetic Control
Sheldon C. Reed – The Normal Process of Genetic Change in a Stable Physical Environment
William B. Shockley (Physics '56) – Population Control or Eugenics
Edward L. Tatum (Medicine '58) – The Possibility of Manipulating Genetic Change
Additional Presenters
Philip S. Hench (Medicine '50) – Honorary Chair
Polykarp Kusch (Physics '55) – Symposium Chair