Jabber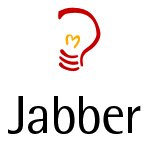 Jabber is a collection of open, XML-based protocols for instant messaging. Unlike most instant messaging protocols, Jabber is an open standard. As with e-mail, an account on any Jabber server can communicate with users on other Jabber servers.
Gustavus runs a Wildfire Jabber server at jabber.gac.edu. You'll need to download and install one of several available Jabber clients in order to use our Jabber server. Note that these software titles are not officially supported by Technology Services.
Adium
Adium is a popular multi-protocol instant messenger client for Mac OS X, that supports Jabber. To configure Adium to use your Jabber account, please do the following:
Choose Preferences under the Adium menu
Click on Accounts
Click the (+) to add the Jabber account.
Choose Jabber
Type in your Gustavus username for the screen name and your Gustavus password for the Password.
Click on Automatically connect on launch
Under the Options bar, type in jabber.gac.edu in the Connect Server field.
Click Ok.
Pidgin
Pidgin is a popular multi-protocol instant messenger client that supports Jabber. Gaim was renamed to Pidgin when version 2.0 was released.
Do the following to set up Pidgin to use your jabber account:
From the Accounts menu, choose Add/Edit
Click the Add button
Select the XMPP protocol
Enter your Gustavus username for Screen name
Enter gac.edu for the Server.
Enter your Gustavus password for Password
If you want, check the Remeber password box, but keep in mind that since Pidgin stores passwords in a file on your local computer in plain-text, this presents a security risk.
Under the Advanced Tab, enter jabber.gac.edu for Connect Server
Click the Save button
Digsby
Digsby is a popular multi-protocol instant messenger client that supports Jabber.
Do the following to set up Digsby to use your jabber account:
From the Digsby menu, choose My Accounts
Click the Add IM Account button and select Jabber from the list
Enter your Gustavus username followed by @gac.edu (username@gac.edu) in the Jabber ID box
Enter your Gustavus password in the Password box
Click on Advanced
In Host enter jabber.gac.edu
Click the Save button
Psi
Psi is a multi-platform Jabber client. To configure Psi to use Gustavus' Jabber server, do the following:
Under the Account tab, enter username@gac.edu for Jabber ID
If you want, enter your Gustavus password. Keep in mind that storing your password locally on your computer is a security risk.
Under the Connection tab, check the all of the boxes, and enter jabber.gac.edu for Host, using port 5223.
Click on the Save button and Close the Jabber Accounts window
Change your status on the bottom to Online
Miranda
Miranda is a free, open-source multi-network IM client for Windows. While still in fairly early development, it has a wide user-base and is extremely customizable. To configure Miranda to use your Jabber account:
In the IM Options menu, go to the Network section and click on Jabber
For Username, enter your Gustavus username (without the @gustavus.edu part)
For Password, enter your Gustavus password
For Login server, enter jabber.gac.edu
Check the Use SSL box
Under the Expert section, check Manually specify connection host
For Host, enter jabber.gac.edu
For Port, enter 5223
Check the Keep connection alive box
Click OK
From the main Jabber menu, choose online