Faculty-Student Summer Research in Science and Mathematics
Research is to see what everybody else has seen, and to think what nobody else has thought. —Nobel Prize Winner Albert Szent-Györgi (1893-1986) Austria-Hungarian-born U. S. biochemist.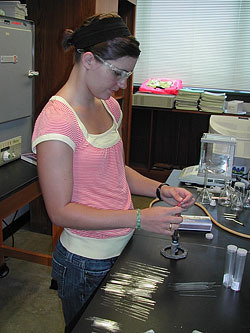 Students join faculty in conducting real investigations into real problems.
The Gustavus classroom contains a valuable and rigorous learning experience. But to expand knowledge itself requires imagination, dedication and risk. In science, this means research.
Real investigations into real problems place both student and professor in a common place. Everyone who conducts research becomes a student, and nature is the teacher. The Gustavus science faculty actively encourage students to join them in the careful planning, the daily challenge and the sometimes frustrating world of science—all for that great moment of discovery (as Isaac Asimov once said, this is usually characterized not by a "Eureka!, but by a "Hunh…that's funny.").
We are proud of our student-faculty collaborations and hope you enjoy browsing this website. The students each wrote their project descriptions in what we hope are accessible and exciting terms, and you can also learn about the various events that take place, from weekly summer lunches to impressive student symposia. Read both student and professor updates in our ScienceBlog, or view blog entries and news items in our annual Newsletter. And if you are (or are thinking of becoming) a Gustavus science student, then learn more about why you should start a research project.
Explore our Collaborations…

| | |
| --- | --- |
| The Students | View the research websites for individual students, with links to their advisors and departments. |
| Why research? | Read this if you are an undergraduate wondering why research is such a fun and important component of Gustavus. |
| Events | Our summer research schedule and photo gallery of serious (and not-so-serious) events. |
| Research Alumni | Here we profile select graduates who did research with us. Find out what research did for them! |
| Get Involved | Everyone can have a role in science, so learn what you can do to encourage the next generation of professionals. |
| Science Research Blog | Here we tout our achievements, ask our questions, and wonder about our future. Students, professors and alums are all welcome. |
What Our Researchers Say
The best part of doing research at Gustavus is the ability to explore pretty much whatever you'd like. There is so much freedom here, which really helps you develop not only laboratory skills, but life skills (such as responsibility, etc.) as well.
—Annie Berger, Class of 2011 biology student researcher