Office of the President
President Jack R. Ohle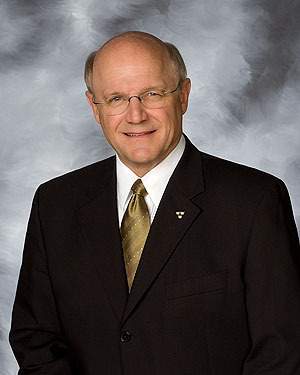 Jack R. Ohle, 16th president of Gustavus Adolphus College
On July 1, 2008, Jack R. Ohle officially became the 16th President of Gustavus Adolphus College. In his time at Gustavus, President Ohle has spearheaded several important initiatives, including the Commission Gustavus 150 strategic planning process, the construction of the newest academic building Beck Academic Hall, the creation of the Center for Servant Leadership, the celebration of the College's Sesquicentennial in 2011-2012, which will culminate with the Royal Visit of Their Majesties King Carl XVI Gustaf and Queen Silvia of Sweden, and the dedication of the Sesquicentennial Plaza and sculpture to be dedicated by the King and Queen of Sweden and the West Mall of the campus, another Sesquicentennial project.
Campaign Gustavus was kicked off at the start of the College's Sesquicentennial with the goal of $150 million. As of July 31, 2012, gifts and pledges to the Campaign total $90 million. The Campaign has brought funding to the campus for three new distinguished endowed professorships, support for endowed scholarships, and funding for the new Beck Hall, and support for the College's operating budget. Campaign Gustavus is scheduled to end on May 31, 2015.
Also during President Ohle's tenure at Gustavus, the College has undergone a rebranding study and marketing initiative, including the Make Your Life Count brand line. The College has strengthened its relationship with the Nobel Foundation in Stockholm, Sweden, developed an outreach office in the Twin Cities at the American Swedish Institute, started to publish an Annual Report, and the College's Board of Trustees has reorganized its operations and restated the College's bylaws.
Continue reading about President Ohle…
Prior to coming to Gustavus, Ohle served as President of Wartburg College in Waverly, Iowa for ten years. At Wartburg, Ohle oversaw significant growth and innovation while strongly emphasizing the College's mission of service, leadership, faith, and learning as a College of the Evangelical Lutheran Church in America. His tenure brought the completion of $104 million in capital improvements, including state-of-the-art centers for science and wellness. Fundraising grew significantly, with "Campaign Wartburg" achieving $90 million against an $88 million goal. Under Ohle, Wartburg added 21 full-time faculty positions, supporting more individual attention to students. The College expanded its campus ministry and began a vocational discernment program called "Discovering and Claiming Our Callings," made possible through a $2.5 million grant from the Lilly Foundation. The College also opened a Center for Community Engagement. Throughout his decade in the presidency, relationships with alumni and parents were strengthened, and the student body grew 25 percent larger and more diverse.
Before accepting the presidency at Wartburg, Ohle served Drake University in Des Moines, Iowa, for 12 years, first as vice president for institutional advancement and later as senior vice president for external affairs and secretary to the university. Prior to that, Ohle was vice president for institutional advancement at Nebraska Wesleyan University in Lincoln, Nebraska, for ten years.
Ohle, the most senior president continually serving as president of a Evangelical Lutheran Church in America (ELCA) College or University, has chaired the executive committee of the Council of Presidents of the ELCA Colleges and Universities. He has also chaired both the Lutheran Educational Conference of North America (LECNA) Presidents' Council and the board of trustees of the Council for Advancement and Support of Education (CASE). He has for eight years served in leadership roles on NCAA councils and committees and currently serves as the Division III Presidents Council Vice Chair and will serve as its Chair in 2013. He has served, and continues to serve, on local, state, and national not-for-profit boards during his professional career.
Ohle holds a B.A. in social work from Ohio Northern University and an M.A. in higher education administration from Bowling Green State University. He did graduate work toward a Master of Divinity degree at Hamma School of Theology in Springfield, Ohio, and holds honorary degrees from Wartburg Theological Seminary and his alma mater Ohio Northern.
Ohle is married to Kirsten (Kris) Lindquist Ohle. The couple has three adult sons: Robert, John, and Thomas (spouse, Michelle).