Gustavus, Sweden and Norden: Heritage and Connections
In 1862 Swedish Lutheran immigrants in Minnesota started the school that would, in 1876, be named Gustavus Adolphus College.
Gustavus continues to embrace the values shared by its visionary founders in their commitment to educate students for community benefit and personal development. Much has changed in Sweden and at Gustavus since 1862. Many new areas of shared interest, rich relationships, and deep connections have been and continue to be developed between Gustavus and organizations and people in Scandinavia. These provide meaningful opportunities for learning that greatly enhance the Gustavus experience for current students of all faiths, academic interests, and backgrounds.
Gustavus inspires and enables students to prepare for life and work in an ever more complex and interdependent world.  In doing so, Gustavus celebrates its Swedish immigrant heritage and draws inspiration from contemporary Sweden's emphasis on environmental stewardship, individual self-reliance, artistic, scientific and technological innovation, and humane and egalitarian public policies.
You are invited to read a short history of Gustavus Adolphus College.
Connections with Sweden and Scandinavia
Academic Lectures/Speakers Connections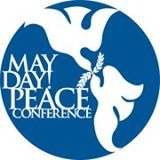 MAYDAY! Celebration of Peace and Justice
The annual MAYDAY! Peace Conference was established at Gustavus in 1981. The 2012 topic was "Multicultural Sweden", featuring Swedish journalist Dilsa Demirbag-Sten and playwright Jonas Hassen Khemiri.
Nobel Conference
The Nobel Conference is a signature program for Gustavus.  It is a world-renowned annual conference of laureates and researchers. The Nobel Conference is the only such conference in the U.S. officially sanctioned by the Nobel Foundation.
Out of Scandinavia Artist-in-Residence Program
The College initiated the Out of Scandinavia Artist-in-Residence Program in 1989 to develop stronger cultural ties with the Scandinavian countries and to make American audiences better aware of Scandinavia's contributions in the humanities and the arts.
Visual Arts
150 Years of Swedish Art display in the Hillstrom Museum of Art was on campus during the fall of 2012. It featured fourty-four paintings that provided an overview of the history of Swedish art since about 1862 until the present time.
https://gustavus.edu/calendar/hillstrom-museum-of-art-exhibition-150-years-of-swedish-art/36067
Wallenberg Lecture Series
The Wallenberg Lecture Series was started in 1983 as an annual lecture focusing on the cause of peace and justice. The lecture series the heroism and legacy of Raoul Wallenberg, a Swedish diplomat whose support of persecuted Jews during World War II saved the lives of many. Gustavus was the first college or university in the U.S. to confer upon Raoul Wallenberg an honorary doctorate, in absentia.  His sister, Nina Lagergren, accepted the degree on his behalf in April 1982.

Awards
Seaborg Scholarship
The Glenn T. Seaborg Scholarship, awarded by the Swedish Council of America, honors of chemist and Nobel laureate Dr. Glenn T. Seaborg who discovered or co-discovered numerous atomic elements. He also provided leadership to many Swedish-American organizations and was an SCA Chairman Emeritus. The award is presented to an outstanding student selected from a list of candidates nominated by each of the six Scandinavian-founded colleges that maintain an active connection with modern Scandinavia through language study, student exchange programs, and cultural events. These Colleges are: Augustana College, Rock Island, IL; Bethany College, Lindsborg, KS; Bethel University, St. Paul, MN; California Lutheran University, Thousand Oaks, CA; Gustavus Adolphus College, St. Peter, MN; North Park University, Chicago, IL.
The winner receives airfare and a stipend to participate in the Stockholm International Youth Science Seminar, a weeklong series of events arranged in conjunction with the Nobel Prize festivities which take place each December.
2012 - Dawn Comstock
Bjӧrling Scholarships
The Jussi Björling Music Scholarship rewards musical accomplishment and potential for continued growth as a musician.
Named for the great Swedish opera singer Jussi Björling. More than 100 recipients are each awarded an annual, renewable
scholarship.
Nobel Museum School for Young Scientists
Each year Gustavus is invted to nominate one student to participate in this summer scholarship program for science students held in Karlskoga, Sweden. The student awarded this honor is sponsored by the Nobel Museum Foundation, which pays for program, room and board, and travel expenses within Sweden. Gustavus is the only U.S. institution invited to nominate a participant, and our student joins 34 Swedish students for the summer's study which includes laboratory research and daily lectures in Swedish.
Maynard and Elaine Jacobson Award for International Pre-Medical Studies
The Jacobson Award of $2500 is given annually to up to two Gustavus pre-medical students for travel, living expenses, and additional costs relevant to the experience. A particular focus of this Award is medica care and systems in the Scandinavian countries, particularly Sweden and Norway.
Bernadotte Institute on World Affairs
From 1950 to 1965, the annual Bernadotte Institute brought world leaders to campus for discussion of current affairs. The institutes served as a catalyst for the creation of the Peace Education Program at Gustavus.
Department of Scandinavian Studies    
A Scandinavian Studies program began at Gustavus in 1971. The program continued to evolve and in 1982 the Scandinanvian Studies Department was created. The Department of Scandinavian Studies explores the Nordic countries' cultures, histories, and their place in the global society. The department offers language and culture courses in Swedish, and a breadth of courses taught in English on Nordic literature, film, culture, and history. The department fosters connections and dialogs across disciplines and beyond campus about the Nordic countries, and actively promotes the College's historical and contemporary connections to Sweden. 
Study Abroad in Sweden
Gustavus has a long history of students studying abroad in Sweden. The academic connections with Sweden started with a trip by the Gustavus Choir to Sweden in 1967 and then in 1973 the first Gustavus students studied at a Swedish university. Since these early experiences, Gustavus has maintained an active interest in encouraging students to study in Sweden.
Academic Institutional Partners
Beginning in the early 1980's Gustavus has had exchange relationships with the following institutions of higher education in Sweden. 
Uppsala University (Since 1985)
Växjö University/Linnaeus University (since 1980)
Mora Folk University (since 1985)
January Courses
Gustavus has a long history of January off-campus programs traveling to Sweden, Scandinavia, and other parts of the globe. Among those who have led students on a course to Scandinavia in the past fifteen years are faculty in Economics and Management, Health and Exercise Science, and Scandinavian Studies. Course topics have included innovation in Scandinavia, multicultural Sweden, and Olympic venues.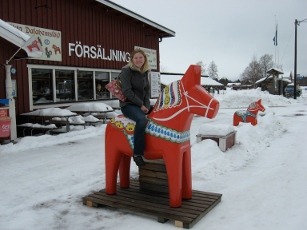 Semester in Sweden Program   
A new Semester in Sweden Program was launched in January 2009. This five-month, five-course program takes students to the far north (Jokkmokk, located on the arctic    circle), the eastern seaboard (Stockholm), the heartland (Mora and Dalarna), the western seaboard (Göteborg), and the southern most Swedish provinces.   
Gustavus Music Ensembles Travel in Scandinavia
Gustavus Choir traveled to Scandinavia in 1967
Gustavus Jazz Lab Band traveled to Scandinavia in 1976, 1982, 1988
Gustavus Wind Orchestra traveled to Scandinavia in 1985, 1990, 1998, 2002

Athletics
1960s Swedish basketball team played at Gustavus
Men's basketball team traveled to Sweden
Swedish International Students
Bernadotte International Student Scholarship Program
The Bernadotte International Student Scholarship Program was started in 1950 with the funding of the Bernadotte Library on campus. The College encouraged a strong contingent of international students to enroll at Gustavus with the support of a scholarship fund in honor of Count Bernadotte. 
Student Travel Grants
Since 1994 donors have provided funding for a student in the sciences who speaks Swedish to participate in a summer research program at the Alfred Nobel Museum School for Young Scientists at Karlskoga.  Since 1999 a donor has provided funding for a  premedical student to have an internship at one of the Karolinska hospitals in Stockholm, the University Hospital in Uppsala or a rural hospital, Mora Lasarett. 
Campus Facilities

Folke Bernadotte Memorial Library
1950 - The original Folke Bernadotte Memorial Library was a memorial to Count Bernadotte, and was dedicated by his widow, Countess Estelle Bernadotte Ekstrand and son, Count Bertil
1972 - The current building was dedicated by Princess Christina
Jussi Bjӧrling Recital Hall
Gustavus has honored the artistry of world renowned Swedish tenor, Jussi Bjӧrling, by naming its primary concert hall after him in 1970. Björling made his Metropolitan Opera debut in 1938 and sang as the leading tenor for the prestigious opera house for the next two decades.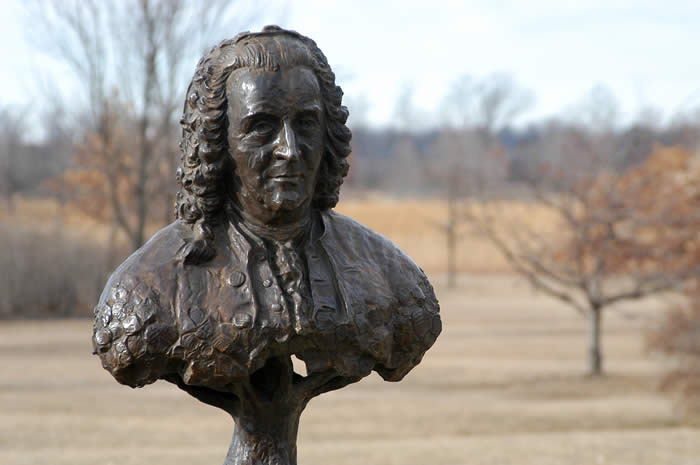 Linnaeus Arboretum
The first trees for an arboretum were planted in 1973 by Gustavus biology professor Charles Mason. As part of the College's 125th anniversary celebration in 1988, the College dedicated the spaces as the Linnaeus Arboretum in honor of Swedish botanist, Carl Linnaeus.
Nobel Hall of Science and Wallenberg Lecture Hall  
Authorized by the Board of the Nobel Foundation, the Nobel Hall of Science was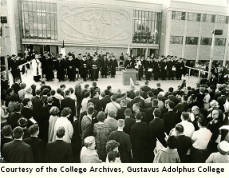 dedicated in 1963 in the presence of the Chairman of the Board of the Nobel Foundation, its executive director, and 26 Nobel Laureates. That occasion gave the impetus for the annual Nobel Conference.  The Knut and Alice Wallenberg Auditorium was dedicated as partof a building renovation in 1996.         
Swedish House
The Swedish House serves as a cultural center and Swedish language residence for students of Swedish language and native Swedish speakers.
1972 – The Holly House, a campus owned house on 7th Street, was designated to have a Swedish theme
1976 – The Wolf House, also on 7th Street, became the new location of the Swedish House
1990 – The Wolf House painted yellow and blue
1998 – The Swedish House was destroyed in the tornado
1999 – The Peterson House on campus was designated as the Swedish House
2001 – The Barbro Osher Svenska Huset was dedicated as part of the new Carlson International Center residence Hall.  The new Swedish House includes a tapestry by Anita Graffman, commissioned by Ms. Osher for the House.
Campus Events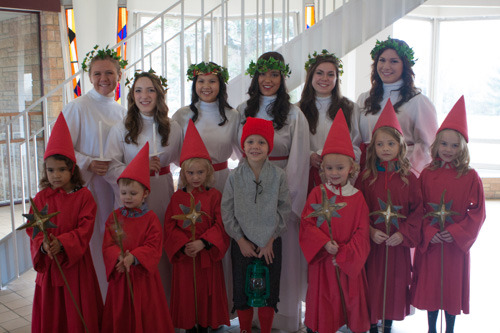 Festival of St. Lucia
The Festival of St. Lucia, which is traditionally celebrated on December 13, begins the Christmas season in Swedish custom.  The festival is celebrated at Gustavus with a chapel service featuring a court of five sophomore women chosen for their leadership, service to the College and others, charity, kindness, and thoughtfulness. The service is followed by a Scandinavian smörgåsbord luncheon and program.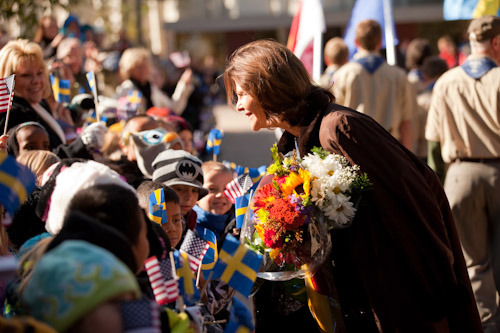 Swedish Royal Family Visits
Many members of the Swedish Royal Family have visited Gustavus since the 1950s. Read a complete history of Royal Family Visits.
Campus Visitors
Many visitors have come to the Gustavus campus. The College is continually working on compiling a complete historic list.
Tomas Tranströmer and Robert Bly - 1971
Gunnar and Alva Myrdah, Nobel Prize Winners - 1971
Gunnar Hallingberg, Swedish literary historian and media expert - 1972
Ulf von Euler, Nobel Prize winner - 1972 and 1974
Gunnar Hultgren, Swedish Archbishop - 1972
Krister Stendahl, theologian, Bishop of Stockholm
Ann Charlotte Harvey, in conjunction with "Snoose Boulevard Festival" - 1973
Dag Schelderup-Ebbe, Norwegian composer and musicologist - 1973
Danish Dance Troupe -1973
Lasse Holmqvist and Swedish TV-team filming "På luffen i America." - 1977-78
Nils Sahlin, Professor Emeritus of Quinnipiac College – donated Selma Lagerlöf collection to Gustavus - mid 1970s
Ulf Beijbom, Director of Emigrantinstituteti Växjö
Jørgen Leth, Danish filmmaker - late 1970s
Rolf Björling, Swedish tenor - early 1980s
Jöran Mjöberg, literary historian/exchange with Växjö University - 1980
Göran Palm, Swedish writer -1985
Augustin Mannerheim, Swedish Poet - mid 1980s
Anders Franzén, located the Vasa Ship - mid 1980s
Per Sjöstrand, directed Moberg's A Time on Earth  at Gustavus - 1988   
Hans Strååt, played lead in  A Time on Earth - 1988
Jan-Arvid Hellström, writer, musician and Bishop of Växjö - 1990
Jan Myrdal, writer and social critic - early 1990s
Alice Babs, Swedish singer - 1992 and one more time
Peter Wallenberg, Swedish banker and industrialist - 1998
K. G. Hammar, Swedish Archbishop - late 1990s-early 2000s
Ranarim, Swedish folk group - 2003
Lillbabs and Malin Granhagen, Swedish entertainers - 2003                                   
Hans Odöö, Linnaeus impersonator - 2007
Ben Olander, Swedish singer and journalist - 2008
Krister Stoor, Department of Language Studies, Umeå Universitet -- taught here for January 2008
Hannah Outakoski, Department of Language Studies, Umeå Universitet -- taught that course here in January 2012
Campus Clubs
Swedish Singers - Started in 1972 and actively rehearsed and performed until 1983
Swedish Folk Dancers - Started in 1976 or 1977 and actively rehearsed and performed until 1986
Sauna Society - Started in 1993 and has been intermittently active
Other Swedish Connections
Three Crowns Logo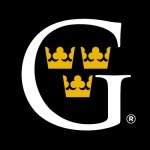 The use of the three crowns started at Gustavus in the 1950s in conjunction with the College's link to the Bernadotte Foundation of Sweden. The three crowns is the national emblem of Sweden, yet that history has long been debated. Some say the three crowns represent the "Swedes, Goths and Wends" kingdoms in Sweden. Some say that it represents the Kalmar Union of Sweden, Denmark and Norway. Others say it represents Magnus Eriksson's (early 1300s) three kingdoms, Sweden, Norway and Scandia. Though we may never know its exact origin, we do know that the three crowns is a symbol of our heritage. In 2008 a redesigned Gustavus logo added a "G" to the three crowns to make a more distinct version for the College.
Board of Trustees
Baron Stig Ramel, former Executive Director of the Nobel Foundation – Board member from 1993 to 1996
Åke Bonnier, Bishop of the Skara Diocese, Sweden - Board member since 2008
In the summer of 2011, the Board of Trustees held a meeting in Stockholm, Sweden to help Board members develop further awareness of the College's heritage and deepen relationships with Swedish partners.
Augustana Lutheran Synod
A Lutheran church body created in 1860 and merged with the Lutheran Church in America in 1962 which merged into the Evangelical Lutheran Church in America in 1986.  Gustavus was founded and governed by members of the Augustana Lutheran Synod.
Off-Campus Swedish Connections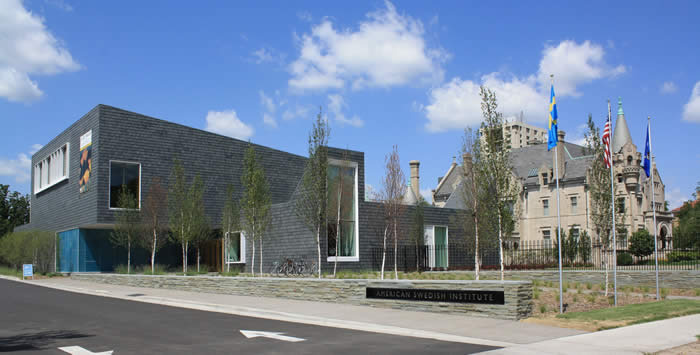 Gustavus Office Suite at the American Swedish Institute
In 2012, Gustavus opened the Edward and Patricia Lindell Office Suite in the Nelson Cultural Center at the American Swedish Institute in Minneapolis. The space provides Gustavus a Twin Cities presence for outreach to alumni and prospective students and allows for educational programming for the entire Gustavus community. It also symbolizes a more intentional partnership between Gustavus and the American Swedish Institute.    
Concordia Swedish Language Village
In 1974 the staff of the Concordia Language Villages approached Roland and Edi Thorstensson to create a Swedish language village. Sjölunden was opened in 1975. The Thorstenssons worked with Linda Wallenberg and other Gustavus students studying Swedish to develop the curriculum and the camp concept. Wallenberg is a 1975 Gustavus graduate and the first person to be certified as a teacher of Swedish in Minnesota. She served as Dean of Sjölunden from1977-1993. Currently, many Gustavus students are employed every summer at Sjölunden as Swedish teachers and camp counselors.