Research and Instrumentation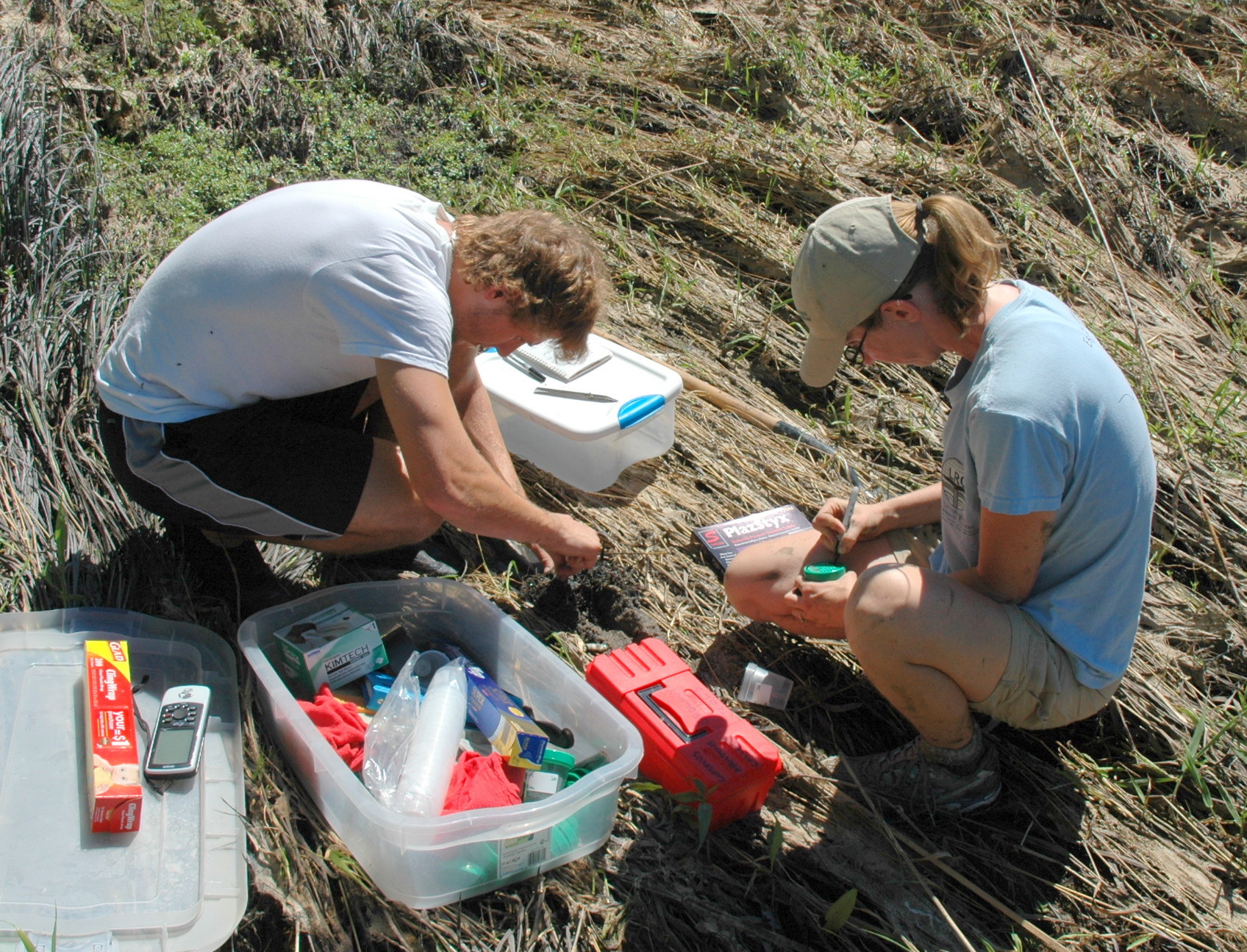 We regard research as an integral part of our department's educational program because it inspires scientific creativity and teaches rigorous thinking. The faculty is engaged in research and the students have opportunities to be involved. Nearly every class includes research questions and problem solving. The 'capstone' course of the Geology Department is GEO 392-393 Geology Research, a two-semester research course taken during the junior and senior years. Students are encouraged to pursue their own research questions or to help with faculty members' on-going projects, some of which are listed below.
Students may do research projects independently prior to the Geology Research course. Students present results at the spring Sigma Xi Research Symposium; several have delivered papers at regional and national meetings of the Geological Society of America and the American Geophysical Union. There are opportunities for both on-campus and off-campus funding for research including the Youngquist Fund (Geology Department) and First-Year Research Experiences (college). Our majors have been successful in gaining positions on other Research Experiences for Undergraduates (REU) projects throughout the country, funded by the National Science Foundation.
Instrumentation available in the Geology department
Inductively-coupled plasma mass spectrometer for elemental analysis of rock and sediment
UV-visible spectrophotometer for elemental analysis of water and solutions
Total organic carbon analyzer for high-precision measurement of carbon in rock and sediment
Cathololuminescence microscope for identification of mineral phases, textures and alteration in rocks
Laser diffractometer for measuring sediment grain sizes down to the sub-micron scale
Petrographic microscopes for identification and description of minerals in rocks and sediments
Rock crusher, rock saws, rock polishers for sample preparation
Muffle furnace for sediment analysis and to perform lithium borate fusions
Faculty research
Current faculty research areas are in the subdisciplines of metamorphic petrology, geomorphology, human impacts to earth systems, and the environment and evolution of life on the early Earth. Active research areas include:
tracing sources of sediment pollution in the Minnesota River
studying the co-evolution of life and environment during the Proterozoic Eon (2500 to 542 million years ago)
exploring deep-earth processes through studying metamorphic rocks in the Pioneer Mountains, Idaho
investigating the biogeochemical cycle of silica in the Platte River (Nebraska)
describing the environment, chemistry and life of the 1.9 billion year-old Gunflint Iron Formation
determining how best to search for fossil traces of life in the rocks of Mars

mapping landslides along the Minnesota River valley, in order to understand landslide risk and prevention
Please contact the individual faculty members to learn more about their research projects.
Student research
Titles of student research projects, 2019
Titles of student research projects, 2018
Titles of student research projects, 2017
Titles of student research projects, 2016
Applying New AHP and GIS Methodology to Modeling Landslide Susceptability in Scott County, MN, Robert Marshall Bell
Titles of student research projects, 2015
Titles of student research projects, 2014
Sediment mobilization: Le Sueur River, Minnesota, Emily Ford
Titles of student research projects, 2013
Oxygen isotopic analysis of belemnites: Implications for water termperature and life habits in the Jurassic Sundance Sea, Amanda Adams
Evaluation of the potential trace metal contamination in an abandoned shooting range, Jeffrey Allen
Geomorphic and sedimentologic origins of a terrace in Seven Mile Creek Park, Nicollet County, Minnesota, Jacob Bruihler
Analyzing and presenting resistivity data from Emerald Mound archaeology site in attempt to discover a Mississippian trail, Michael DeLucia
Using conondonts to determine the depositional variability within the Decorah Formation of eastern Minnesota and Iowa, Matt Illies
Identification of a landform in Seven Mile Creek Park, Nicollet County, Minnesota, Adam Lund
Mapping depth to bedrock in a tropical pre-montane wet forst, Rachel Oien
Qualitative and quantitative assessment of taphonomic patterns in modern algae and cyanobacteria: Implications for identifying Precambrian fossils, Tara Selly
A comparison of biogenic silica analysis using ICP-MS and UV-VIS, Zachary Wagner
Titles of student research projects, 2012
Titles of student research projects, 2011
Titles of student research projects, 2010
Titles of student research projects, 2009
Titles of student research projects, 2008
Titles of student research projects, 2007
Climate During the Last Glacial Maximum in the Wasatch Mountains Inferred from Glacier Mass-Balance and Ice-Flow Modeling; Eleanor A. R. Bash
Titles of student research projects, 2006
Titles of student research projects, 2005
Titles of student research projects, 2004
Titles of student research projects, 2003
Magnetic Analysis of a Lake Tanganyika Core; Joe Malkovich
Blue Earth Siltstone: Extent, Description, and Processes of Origin; Joe Beer
Ichnofossils of the Cedar Mountain Formation (Northeastern Utah) and Their Paleoenvironmental Implications; Emily Tremain
Depositional Process of the New Ulm Till; Adam Long
The Reptile Fauna and Depositional Environment of a Wellington Formation (Lower Permian) Fossil Site; Jim Foote
Titles of student research projects, 2002
Titles of student research projects, 2001
Reaction Zones of Metamorphosed Ultramafic Rocks: Marble Mountain Terrane, Siskiyou County, California; Amy (Iverson) Horn
A Stratigraphic and Sedimentological Study of the Minnesota Valley Minerals Inc. Cretaceous Clay Mine near Courtland, Minnesota; Gregory D. Joslin
Microstructure Analysis of a series of Brittle-Ductile Shear Zones near Granite Falls, Minnesota; Ryan Erickson
Orientation of quartz veins in the Virginia Horn area, Minnesota; Timothy R. Sundby
Titles of student research projects, 2000
Interpretation of Glacial Outwash Fan, Portage County, Wisconsin; Paul Grittner
Glaciotectonism at the Des Moines Lobe Margin and Origin of Ice-Contact; Sheryl Horton
Description and Analysis of Wisconsin Age Till Deposits on the Watunwan; John Lindstrom
Geochemical Implications of Tectonic Setting for the Powell Creek Volcanics, Southwestern British Columbia; Nicholas Pester
A Reevaluation of the Permian Reptile Dictybolos; Erin Rasmussen
Paleotopography of the Cambrian-Ordovician Contact near Mankato; Andrew P. Smith
Downstream Variation in Outwash Clast Characteristics from an Active Glacial Margin: Application to Ancient Deposits; Brooke Swanson
Titles of student research projects, 1999
Permian Vertebrates of Oklahoma: A Background Paper for Summer Research; Susan Joy
Description and Analysis of an Outcrop of Metagabbro cut by shear zones and Malic Dikes in Granite Falls, MN; Michael Durfee
Titles of student research projects, 1998
Description, pollen analysis, and structural analysis of a fossiliferous diamicton near New Ulm, Minnesota, Scott Brown
Boulder pavement under the New Ulm till, southern Minnesota, Sheryl Filby
Tempestite deposition in the Ordovician Decorah Formation at the Spring Grove underpass, Charles Lessman
Titles of student research projects, 1997
Colluvial fan at Unimin Plant, Ottawa, MN, Tim Armato
Correlation of tills found in south-central Minnesota with those found in north-central Minnesota, Janet Mann
Geology of the Good Thunder quadrangle, Jason Meek
Origin of Minnesota Valley terraces, Jared Smith
Structure contour map of the Jordan Oneota contact, Jon Turner
Titles of student research projects, 1996
Titles of student research projects, 1995
Paleomagnetism of varve sedimentation in western Minnesota and eastern Wisconsin, Kris Addis
Colluvial fan at Unimin Plant, Ottawa, MN, Tim Armato
Geologic Map of the Minnesota River valley, Jon Blaha
Paleomagnetism studies of Pleistocene varves in northwest Wisconsin, Lisa Ferber
Paleohydrology and sedimentology of River Warren, Brian Kraatz
Blue Earth Clay, Tom Marks
Stomatolite Morphology and Depositional Characteristics of the Lower Ordovician Prarie Du Chien Group, Willow River Member; Andrew McGrath
Ancient bedrock valleys in southern Minesota and the relationdship of preglacial drainage, Geoff Goodwin
Titles of student research projects, 1994
Discharge of River Warren calculated from large bedload clasts, Bryan Bear
Petrographic description and interpretation of the Hornblende-bearing granitoid rocks contained in the Giants Range Batholith, near Virginia, Minnesota, Julie Fitzke
Stromatolites of the Shakopee Dolomite, Andrew McGrath
Proterozoic mafic dikes of the Virignia Horn region, Mike Schlagel
Origin of the New Ulm till. Molly Swenson
Interpretation of the structural deformation in lake sediments above the Old Gray till, Andrew Tarara
Titles of student research projects, 1993
Relationship between particle size and slope angle, Kathy Bonnifield
The Nature of the Depositional Environment of the Hager City Member of the Oneota Formation in the Mankato Area, Southeastern Minnesota, Hans Neve
The Paleoecological Significance of the Receptaculitid Concentration of the Galena Formation, northeastern Iowa, Anissa Mediger
The Relationship of a Quartz Porphyry Intrusion to Regional Deformation of Archean Metasediments of the Virginia Horn, Minnesota, Nathan Stamm
Investigation of Sand and Gravel Terraces of the Minnesota River Valley, St. Peter, Minnesota, David M. Davis
Alluvial Fan development in the Minnesota River Valley, Cara Larsen