Fall Warmer - Annual Meeting of the Friends of Linnaeus Arboretum
Sunday, November 7, 2010 @ 12:30p.m., Alumni Hall
FLA members: $10.00 ($12.00 for non-members)
Students: $5.00 (lecture only is free)
**Registration deadline is November 3, 2010.** Please register online or send checks to: Linnaeus Arboretum, Gustavus Adolphus College, 800 W. College Ave., St. Peter, MN 56082.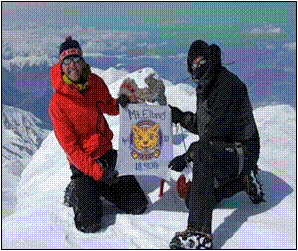 Christian Gilbert '98 is an 8th Grade Geography Educator and Mountain Climber. He is also Co-founder of G4theSummit* "...an online learning environment geared to serve learners of all ages in order to provide a deeper understanding of world places and culture." A seasoned mountain climber, Mr. Gilbert has climbed Mt. Aconcagua (South America, 2008), Mt. Kilimanjaro ((Africa, 2009) and Mt. Elbrus (Russia, 2010). His next destination is Mt. Kosciuszko in Australia.
Questions? Call 507-933-6181 or email arboretum@gustavus.edu.