Facility Rental
The Linnaeus Arboretum and Melva Lind Interpretive Center are available for rental for family gatherings, meetings, weddings, or other private events. Please e-mail or call Shirley Mellema at (507)933-6181 for availability and costs.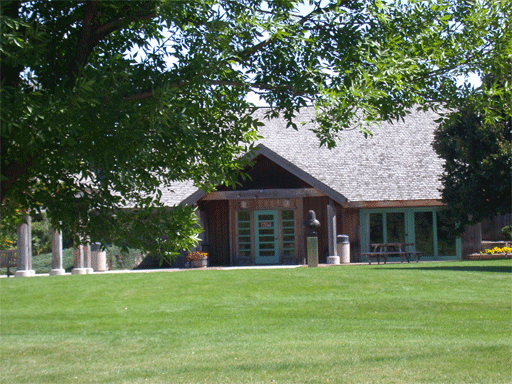 The Melva Lind Interpretive Center.
Parking for the Melva Lind Interpretive Center is conveniently located 25 yards from the main entrance. An easy walk to the building, the sidewalk passes under a vine-covered arbor to a plaza adjacent to the Johnson Waterfall and outdoor shelter. The Center has no steps to maneuver making it accessible to everyone.
The Interpretive Center features 20-foot high ceilings with exposed beams. Its wood paneled walls add charm to this warm, intimate setting. Patio doors provide an airy atmosphere on spring and summer days and a yellow-tiled wood-burning fireplace lend ambiance during the cooler Minnesota months. The Center is an ideal space for friends and family to gather to celebrate special events such as rehearsal dinners, bridal showers, weddings, or anniversaries.
For anyone desiring a comfortable place to meet the Melva Lind Center provides all the amenities needed for meetings. This space provides an ideal location for meetings, retreats, workshops or classes. Available are a pull-down screen, LCD projector with video/DVD player hook-up, overhead projector, and slide projector. A one-day permit for access to the internet can be arranged. The space is equipped with tables and chairs that can be arranged to suit your needs. It accommodates up to 75 people in a theatre-style seating arrangement.
The College Dining Service can provide an array of catering services ranging from snacks, to bag lunches to elegantly served dinners or receptions. The building is equipped with a small kitchenette and restroom facilities. The grounds (plaza, picnic shelter) can be reserved for outdoor weddings, gatherings or picnics also.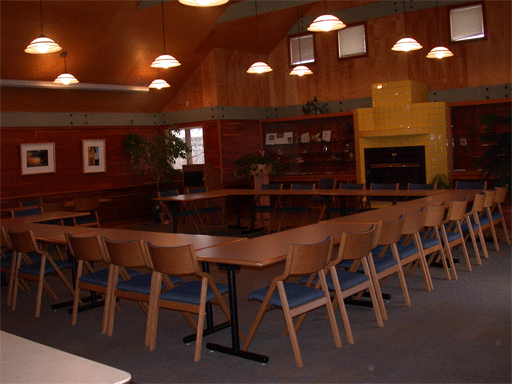 Inside the Melva Lind Interpretive Center meeting room.