3 Crowns Curriculum
Connections, Ideas, and Values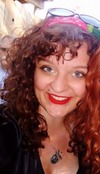 Above all, the images are an invitation. Amy Harvey '15, Artist
---
The Three Crowns Curriculum is a unique way for you to fulfill General Education requirements at Gustavus. College classes generally fall into one of three categories: General Education, your Major, or Electives. Unlike your Major and Electives, courses in General Education are designed to introduce you to different ways of understanding the world. Liberal arts education as a whole aims to encourage you to think for yourself, ask questions, and link different ways of knowing. Our special Three Crowns Curriculum takes this a step further. It consists of a specially prepared sequence of interdisciplinary discussion-oriented courses that students take together in a group. What distinguishes our program from most General Education curriculums is the Three Crowns Curriculum makes the idea of connection paramount. We emphasize connections between disciplines; between ideas and values; between past and present; between learning and life; between students and faculty; and between students themselves.
Together as a cohort you will consider the "big questions," such as:
What are different ways of knowing?
What does it mean to be human?
What can we learn about the human condition or human history from an artistic or literary work?
What constitutes moral and ethical behavior?
How did society come to be this way?
How do individuals construct local and global community?
What makes for a good life?
A theme of "the individual and community" is seen throughout our program as we examine the artistic, literary, religious, philosophical, and scientific heritage of the Western tradition within a global perspective. Three Crowns courses are small and discussion oriented. Out-of-class field trips and retreats provided for our students enrich this sense of belonging to a learning community. Three Crowns faculty participate in our off campus events, giving you a chance to talk with your professors informally (and beat them in broomball!). These shared experiences deepen the discussions and examination of values and ideas emphasized in our classes and cultivated by our program. All of these experiences contribute to a sense of group interconnectedness, which forms quickly among Three Crowns students. Many alumni tell us that they value the life-long friends they made in the Three Crowns Curriculum.
Three Crowns courses and opportunities are open to Three Crowns Curriculum students only. The program is available to any entering first-year student subject only to a limitation of 60 students per entering class, with preference for early applicants. The program is supported by a grant from the National Endowment for the Humanities and enrolls students from all the major fields of study. I believe the Three Crowns Curriculum to be an exciting and richly rewarding program. It may be for you!
Yours,
Blake Couey
Director, Three Crowns Curriculum