Skype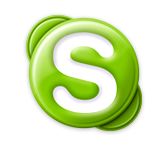 Skype is a text and proprietary voice over Internet Protocol (VOIP) chat program.
How to use Skype
To open the program, double-click on the Skype icon in the Applications folder. If you have never used Skype before you will have to create a new Screen Name. The program should take you through this part step-by-step. If you have any problems, please call the Technology Helpline.
Once you are ready to use Skype, you will have to enter the screen name(s) of your intended partner(s) by clicking on the little person icon with a green + and adding their screen name(s).
Downloading and installing Skype
You may download Skype by going to http://www.skype.com/download/ and selecting your operating system, Skype is available for Mac, Windows and Linux operating systems. Make sure you "Save to Disk." Once the installer has downloaded, double click on the Skype.dmg file and follow the installation instructions.
Setting up a Skype event
Please contact the Telecommunications office (507-933-7025) for setting up a Skype camera or laptop for your Skype video or voice call. These Skype events can be video interviews or bringing in a speaker for your class. If your event is outside normal business hours, please contact Event Services (507-933-7462).
External links