Linux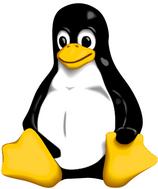 Linux is an open source operating system. Because of its open source nature, there are many different distributions and variations of the Linux operating system available. Tux (pictured to the right) is the Linux mascot.
At Gustavus
Several of Technology Services' servers that power services at Gustavus run on Linux (specifically, many of the servers run a Linux distribution called Fedora Core).
Popular Distributions
The following are among the most popular "mainstream" Linux distributions:
Support
Although GTS strives to support the technological needs of all users, due to the complexities of Linux and sheer variety of distributions and versions, we cannot officially provide support Linux at the same level as Microsoft Windows or Mac OS X.
External link