Asit K. Biswas
2009 Presenters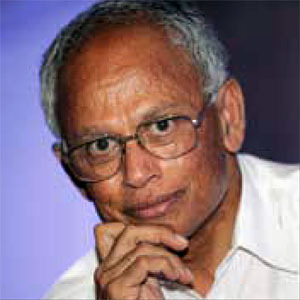 Asit K. Biswas
Asit K. Biswas, founder and president, Third World Centre for Water Management, Atizapan, Mexico, and Distinguished Visiting Professor, Lee Kuan Yew School for Public Policy, Singapore
"There are a lot of psychological hang-ups that have to go in the next few years. In the U.S., the hang-up is about recycled water. We all drink reused water. We recycle it, treat it, then dump it into the reservoir and it gets mixed up. Nobody knows. This happens everywhere, even in the U.S. In Singapore, they have tried blind tests with recycled water and bottled water. Surprisingly, the majority seems to like recycled water. But if you take recycled water per se, which is much easier and it's a good resource, once people, especially in the U.S., realize it is recycled water, they don't want to drink it. It's just psychological."
One of the world's leading authorities on water and environmental management, Asit Biswas has earned renown over the years as an out-of-the-box thinker. An adviser to six heads of United Nations agencies and the governments of 17 countries, he regularly travels throughout three continents spreading his ideas and sharing his knowledge. He was instrumental in establishing the International Water Resources Association and World Water Council, and has been one of the most active members of the World Commission on Water.
Born in Balasore, India, and a graduate of India's elite engineering university, the Indian Institute of Technology at Kharagpur, he worked as a civil engineer for a British firm before taking positions as a research fellow at Loughborough University of Technology, England, and lecturer at the University of Strathclyde, Scotland. He moved to Canada in 1967 as a visiting professor at Queen's University, Kingston. In 1974 he was invited to help in formulating the program of the newly established United Nations Environmental Programme (UNEP) in Nairobi, Kenya, where he spent 15 months under an exchange program of the government of Canada. Biswas spent 1981–1997 at Oxford University, England, pursuing research interests, advising governments and international organizations, and chairing the Middle East Water Commission during 1993–1997.
Read a more detailed Nobel Conference profile of Biswas written by freelance science writer A.J.S. Rayl.
TOPIC: Biswas will speak to the importance of water resources in alleviating poverty in developing countries and about the crisis in management and governance of water. He will discuss the many myths surrounding the issue, and how at least three developing countries have superceded American cities—including environmentally-conscious Los Angeles—with their water management, treatment, and delivery systems.