Purpose and History
Lindau Residency in Conservative Thought
With generous funding from Phil and Nancy Lindau and the Lindau family, Gustavus Adolphus College has established the endowed Lindau Residency in Conservative Thought. The goal of the Lindau Residency is for Gustavus students to engage on campus in an active learning environment with a prominent conservative thinker.
The Residency will ensure that Gustavus students are given the opportunity to examine the pressing issues of the day from a variety of viewpoints and that a conservative voice will always be represented and heard on the Gustavus campus.
Ultimately, the hope is that this will encourage dialogue among Gustavus faculty and students to promote broad-based intellectual rigor and appreciation of all viewpoints in order to cultivate a campus-wide respect for civil discourse for future generations.
Liberal arts colleges are a microcosm of the entire marketplace of ideas, and those ideas must be clearly articulated and debated. Often, more liberal social, philosophical, economical and theological viewpoints create an environment on campuses today that is less tolerant and civil toward conservative values and views. Thoughtful evaluation of competing world views is a critical component of a liberal arts education, leading students and those involved in campus life to assess the value of ideas based on merit rather than on prevailing public opinion. Presenting and discussing intellectual and philosophical differences is crucial to any institution pursuing the ideals of a liberal arts education, and is a critical component in preparing college students to be engaged, thoughtful leaders in a civil society.
The Lindau Residency in Conservative Thought will host a prominent conservative thinking on campus for two to three days. The planning will rotate between the Departments of Political Science, Economics and Management, and Religion
The focus of the Lindau Residency is on student interaction and creating an engaged learning environment for the students with the scholar-in-residence. Depending on the preference of the scholar-in-residence and hosting department, the visit might also include an event open to the public. However, rather than centering the visit on a single public lecture, our goal is to facilitate intentional and meaningful interactions with the students.
The original gift funded the a symposium, which focused on a public lecture. Seeking to have deeper impact and connection to Gustavus students, the concept evolved in 2016 to a residency allowing the guest to work closely with faculty and students for several days of learning and discussions.
History of Lindau symposium and residency guests
---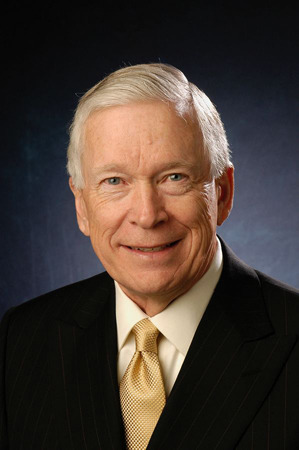 Phil Lindau '58 devoted many years of his life to help ensure the future success and advancement of Gustavus. He served the College as a member of both the Alumni Association Board and the Board of Trustees, which he chaired from 1992 to 1995. Lindau also chaired the Building a Greater Gustavus Campaign following the 1998 tornado and was awarded the Greater Gustavus Award in 2003 for his commitment and generosity to the College.