2011 Lindau Symposium
Featuring Dinesh D'Souza
On Thursday, April 14th, 2011, Gustavus hosts the 2011 Lindau Symposium featurig best selling author and scholar, Dinesh D'Souza.
Due to a recent health complication, Michael Novak is no longer able to present for this year's Lindau Symposium. Fortunately, Dinesh D'Souza has agreed to present an address entitled
America: Why America is Love, Why America is Hated.
Dinesh D'Souza has a distinguished 25-year career as a writer, scholar, and public intellectual. A former policy analyst in the Reagan White House and current President of The King's College in New York, D'Souza has been named one of America's most influential conservative thinkers by the New York Times. The World Affairs Council lists him as one of the nation's 500 leading authorities on international issues, and Newsweek cited him as one of the country's most prominent Asian Americans. Starting early in his career D'Souza was considered one of the nation's most articulate spokesmen for a reasoned and thoughtful conservatism. He has published 10 books including the bestsellers Illiberal Education, The End of Racism, What's So Great About America and The Enemy at Home.
Dinesh D'Souza's full biography
Lindau Symposium
Thursday, April 14, 20117:00 p.m. Symposium Address
America: Why America is Love, Why America is Hated
Alumni Hall, Gustavus Adolphus College
8:30 p.m. Reception and informal dialog with Mr. D'Souza
Linner Lounge, O.J. Johnson Student Union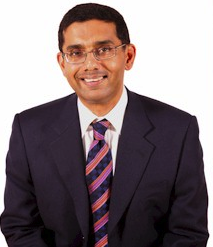 Gustavus Adolphus College has established the Lindau Endowed Symposium with generous funding from Phil '58 and Nancy Lindau and the Lindau family.  The goal of the Symposium is to encourage dialogue among Gustavus faculty, staff and students and to promote broad-based intellectual rigor and appreciation of all viewpoints in order to cultivate a campus-wide respect for civil discourse for future generations.  The Symposium will ensure that Gustavus students are given the opportunity to examine the pressing issues of the day from a variety of viewpoints and that a conservative voice will always be represented and heard on the Gustavus campus.
The Lindau Endowed Symposium will not only support the College's core values of excellence, community, and justice, but ensure the free flow of ideas and open dialogue on the campus.