Pre-Engineering Program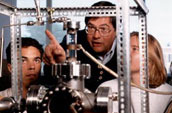 The baccalaureate and graduate degrees in engineering or applied science may be earned through several combinations of course and degree work at Gustavus and at schools of engineering. Professional registration in engineering usually requires a B.S. degree in engineering. However, the combination of the B.A. in physics with the M.S. and/or Ph.D. in engineering is one often exercised by Gustavus graduates preparing for work in industrial research and development.

Program Information Department Information Personnel

Catalog Information

The Gustavus General Catalog is available online as a PDF (portable document format) file that allows you to check current information about Gustavus major, minors, and courses.