2018 Keynote Speakers
2018 Building Bridges Conference
Leah Harris has been a grassroots advocate for rights and access to support for individuals and families in crisis for over thirteen years. Leah is herself a survivor of multiple adverse childhood experiences, suicide attempts, and self-injury. As an adolescent, she was traumatized by poor quality mental healthcare.
Both of her parents were diagnosed with mental illness, and she witnessed firsthand how poor quality treatment led to their untimely deaths. Her mother's tragic cycle of psychosis, episodic homelessness, and incarceration in jails and psychiatric hospitals motivated Leah to work toward "enlightened social policy and legislation" to prevent others from going through what her mother experienced.
As a patient in unresponsive and inadequately equipped systems, Leah experienced firsthand the indignity of approaches that do not adequately address trauma. Her recovery came as a result of a combination of support, access to education, and stable housing. Essential to her recovery process were embracing a meaningful life as a friend, mother, advocate, and community member. Leah is now a nationally recognized mental health and suicide prevention advocate. The depth of her personal experience fuels her commitment to ensuring recovery and rights for all people who undergo emotional distress and crisis.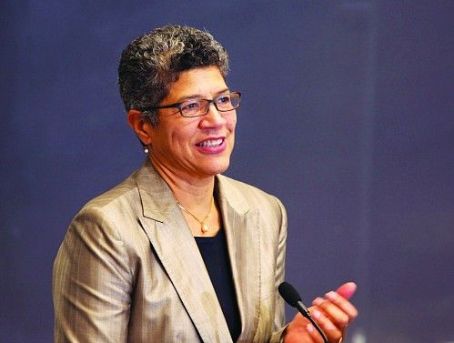 Deborah Prothrow-Stith, M.D. is Dean and Professor at Charles R. University College of Medicine in Los Angeles, CA. She advised top-tier healthcare institutions on leadership as a principal at Spencer Stuart and she served as the Henry Pickering Walcott Professor of Public Health Practice and Associate Dean for Diversity at Harvard School of Public Health where she created the Division of Public Health Practice and secured over $14 million in grant funding for health programs.
Dr. Prothrow-Stith is a nationally recognized public health leader. As a physician working in inner-city Boston, she broke new ground with her efforts to have youth violence defined as a public health problem; not just a criminal justice issue. Her passion for prevention was not satisfied with the emergency room work of "stitching people up and sending them out." She turned to public health and, with others, created a social movement to prevent violence that has affected Boston and the nation. While working in inner-city Boston, she broke new ground with efforts to define youth violence as a health problem. She developed The Violence Prevention Curriculum for Adolescents, a forerunner of violence prevention curricula for schools and authored or co-authored numerous books and articles.