Reading In Common Program
2015: The Immortal Life of Henrietta Lacks
About the Book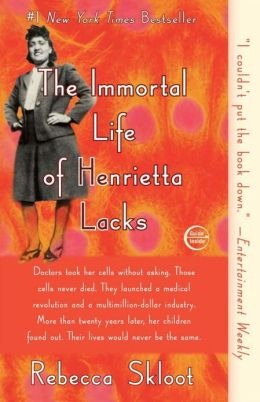 "Doctors took her cells without asking. Those cells never died. They
launched a medical revolution and a multimillion-dollar industry. More than twenty years later, her children found out. Their lives would never be the same." - Rebecca Skloot
Henrietta Lacks known as HeLa to the scientific world, was a poor, southern, African American farmer diagnosed with cervical cancer in the 1950s. While
in the hospital, samples of her cells were taken without her knowledge and became the first human cells to grow in a lab and remain alive outside the human body.
Henrietta's story continues today as her cells are still alive. The HeLa cells became one of the most important tools in medicine, assisting in the development of the polio vaccine, cancer drugs, invitro fertilization, and more. These cells have been used by millions of people, but Henrietta remained unknown until the publishing of this book. The HeLa cells were a huge part of medical advancement, but they brought pain and suffering to the Lacks' family. Behind the HeLa cells was a mother, a wife, a sister, and a friend, all who lost Henrietta in a tragic way. Though it was a struggle to accept the truth of what happened to their mother, the Lacks' family has begun to focus on Henrietta's postive contributions to today's scientific world. This book will challenge you to see all sides of the story.
Henrietta's cells
Henrietta and David
About the Author
When author, Rebecca Skloot, was in college, she first heard about Henrietta Lacks in her biology class and was eager to learn more about her. She was shocked to discover that no one knew anything about her. This set her on a mission to research and write this book that took more than a decade to write. The Immortal Life of Henrietta Lacks was Skloot's debut book and instantly hit the New York Bestseller list, where it remained for almost four years.
Skloot has a B.S. in Biological Sciences and a MFA in Creative Nonfiction. She specializes in narrative science writing and has written on a large range of topics including the HeLa cells, goldfish surgery, tissue ownership rights, race and medicine, food politics, and packs of wild dogs in Manhattan. Skloot gives talks at conferences, universities, and other groups throughout the U.S. on numerous topics.
Two Lacks' family members are scheduled to speak at Gustavus on Tuesday, September 15, 2015, at 7pm in Alumni Hall. This Meet and Greet and Q&A is open to the public.
What do first-year students need to do?
Actively read this book before arriving on campus
Take notes
Highlight passages you think are important
Be prepared to discuss the book with your Gustie Greeter and group facilitator during orientation
Obtaining Your Copy
Books can be purchased for $9-$16 (used/new) each while on campus during summer registration. The Book Mark, located on the lower level of the Campus Center, has many copies of the book available with a special Reading in Common insert. If you miss the opportunity at registration, you may also purchase the book online at The Gustavus BookMark.
Goals and aims of the program
Encourage intellectual interaction among students in conjunction with faculty
Welcome students to the academic life of Gustavus
Facilitate a shared academic experience for all students
Emphasize reading as a significant component of the college experience
Tie together transition and integration experiences of first-year students
Provide opportunities for first-year students to explore issues and ideas relevant to our community and our world
How is the Reading In Common Program used?
All first-year students and Gustie Greeters read the book over the summer. These students will meet with faculty members during orientation to discuss the book. The book is often used as a reference or resource in students' First Term Seminars (FTS). A website is maintained with discussion boards and other resources relating to the book and its subject matter. Finally, the author and/or representative visits Gustavus in the Fall to speak about the book and the issues raised in the book.
History of the program
The Reading In Common Program began in the 2000–2001 Academic Year. Books in the Reading In Common Program have included:
2015: The Immortal Life of Henrietta Lacks by Rebecca Skloot
2014: Where Am I Wearing?, Where Am I Eating? by Kelsey Timmerman
2013: A Pearl in the Storm by Tori Murden McClure
2012: The Other Wes Moore by Wes Moore
2011: The Wolf at Twilight by Kent Nerburn
2010: Hotel on the Corner of Bitter and Sweet by Jamie Ford
2009: Enrique's Journey by Sonia Nazario
2008: Chinese Lessons: Five Classmates and the Story of the New China by John Pomfret
2007: Mountains Beyond Mountains by Tracy Kidder
2006: Honky by Dalton Conley
2005: The Kite Runner by Khaled Hosseini
2004: When the Emperor Was Divine by Julie Otsuka
2003: The Things They Carried by Tim O'Brien
2002: The Legacy of Luna by Julia Butterfly Hill
2001: The Chosen by Chaim Potok
2000: The Samurai's Garden by Gail Tsukiyama
Books are chosen based on their literary quality, reading manageability (college level reading but not too long), interdisciplinary nature, and whether author is available for a campus appearance.
Suggestions?
Have a suggestion for next year's Reading in Common book? Complete our suggestion form!