Reading In Common Program
2013: A Pearl in the Storm
About the Book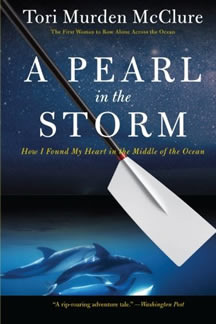 In June 1998, Tori McClure began rowing across the Atlantic Ocean solo in a twenty-three-foot plywood boat with no motor or sail. Within days, she lost all communication with shore but decided to forge ahead - not knowing that 1998 would turn out to be the worst hurricane season on record in the North Atlantic. When she was nearly killed by a series of violent storms, Tori was forced to signal for help and head home in what felt like disgrace. But then her life changed in unexpected ways. She was hired by Muhammad Ali, who told her she did not want to be known as the woman who "almost" rowed across the Atlantic. And at thirty-five, Tori fell in love.
(text from back cover of book)
A bookmark with discussion questions and list of terminology is available to download.
About the Author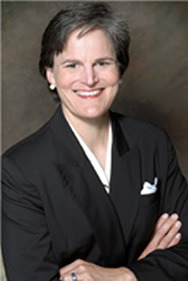 Tori Murden McClure is President of Spalding University. Her firsts include being the first woman to row solo across the Atlantic and to ski over land to the South Pole. She holds several degrees, including a master's in divinity from Harvard University. Tori lives in Louisville, Kentucky, with her husband. More information can be found at apearlinthestorm.com
(text from book)
Tori Murden McClure is scheduled to speak at Gustavus on Thursday, September 19, 2013. Her lecture and book signing will begin at 7:00 p.m. in Christ Chapel and is open to the public.
What do first-year students need to do?
Actively read A Pearl in the Storm before arriving on campus
Take notes
Highlight passages you think are important
Be prepared to discuss the book with your Gustie Greeter during orientation
Obtaining Your Copy
Books can be purchased while on campus during summer registration. The Book Mark, located on the lower level of the Campus Center, has many copies available with a special Reading in Common insert. A portion of the proceeds from the sale of the books goes to support the program. If you miss the opportunity at registration, you may also purchase the book online at The Gustavus Bookmark, or other online retailers.
Goals and aims of the program
Encourage intellectual interaction among students in conjunction with faculty
Welcome students to the academic life of Gustavus
Facilitate a shared academic experience for all students
Emphasize reading as a significant component of the college experience
Tie together transition and integration experiences of first-year students
Provide opportunities for first-year students to explore issues and ideas relevant to our community and our world
How is the Reading In Common Program used?
All first-year students and Gustie Greeters read the book over the summer. These students will meet with faculty members during orientation to discuss the book. The book is often used as a reference or resource in students' First Term Seminars (FTS). A website is maintained with discussion boards and other resources relating to the book and its subject matter. Finally, the author visits Gustavus in the Fall to speak about the book and the issues raised in the book.
History of the program
The Reading In Common Program began in the 2000–2001 Academic Year. Books in the Reading In Common Program have included:
2013: A Pearl in the Storm by Tori Murden McClure
2012: The Other Wes Moore by Wes Moore
2011: The Wolf at Twilight by Kent Nerburn
2010: Hotel on the Corner of Bitter and Sweet by Jamie Ford
2009: Enrique's Journey by Sonia Nazario
2008: Chinese Lessons: Five Classmates and the Story of the New China by John Pomfret
2007: Mountains Beyond Mountains by Tracy Kidder
2006: Honky by Dalton Conley
2005: The Kite Runner by Khaled Hosseini
2004: When the Emperor Was Divine by Julie Otsuka
2003: The Things They Carried by Tim O'Brien
2002: The Legacy of Luna by Julia Butterfly Hill
2001: The Chosen by Chaim Potok
2000: The Samurai's Garden by Gail Tsukiyama
Books are chosen based on their literary quality, reading manageability (college level reading but not too long), interdisciplinary nature, and whether author is available for a campus appearance.
Suggestions?
Have a suggestion for next year's Reading in Common book? Complete our suggestion form!