GAC tag
GAC Tag, GAC TAG or Gac Tag. The GAC Tag is an inventory control device used for all technology equipment at Gustavus.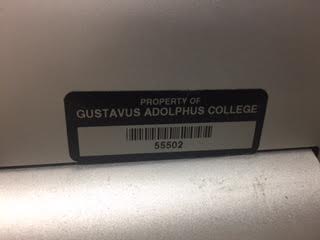 What Is a GAC Tag?
A GAC Tag is a small, rectangular, silver-and-black, identification sticker with a 5-digit code and bar-code used by Technology Services for inventory control purposes.
GAC Tags are found on desktop and laptop computers, printers, monitors, and other pieces of technology equipment. The tag itself is typically located somewhere out of immediate sight, such as the back or underside of a computer.
How Is It Used?
Technology Services maintains a hardware database, in that database the GAC Tag is the unique identifier for all equipment.
When equipment first arrives on campus, after being purchased, a GAC Tag is added to the equipment and information is manually entered in the hardware database. Other information entered includes equipment specifications (hard drive size and RAM), serial number, location, and the current users's username, if there is one.
Anytime equipment moves around campus the information in the hardware database is updated.
This Computer Doesn't Have a GAC Tag, What Do I Do?
Sometimes GAC Tags are removed or fall off. If you need another way to identify equipment. The easiest way is to check the serial number or username in the hardware database. Be sure to update the computer's information and get a new GAC Tag on the machine before resolving the ticket.