DVD2one

DVD2one is a program for copying DVDs. It is installed on the Mac computer in the Media development station. At the Culpeper Language Center this program is most often used to make a region-free copy of a region encoded DVD. The program is to be used for educational purposes only and not to be used to make copies of library DVDs!!
Making a Full Disk Copy of a DVD
1. Rip the DVD to the hard drive using Mac the Ripper.
2. Go into the Applications folder and double-click on DVD2one, this will launch the application.
3. From this menu, choose Make a full disk copy, including all menus and extras.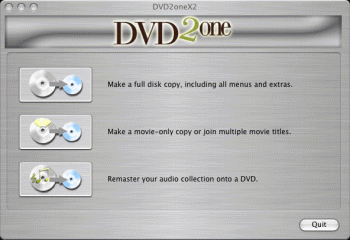 4. Find the VIDEO_TS folder of the movie you ripped, and select it. It should then take you to this screen: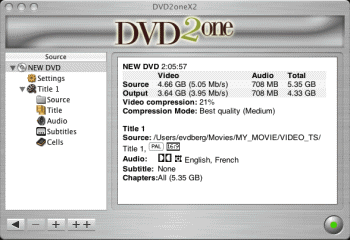 5. Make sure there is a blank DVD in the tray, then click the green button at the bottom-right corner. It will then bring up a box, make sure the settings look like the image below, and then click Ok.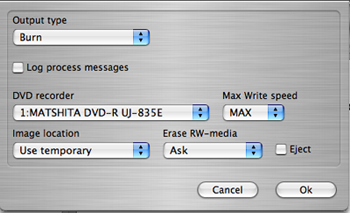 Other Helpful Links