User:Nhamberg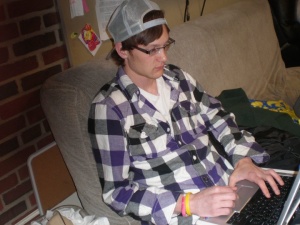 Nick Hamberg is currently a junior Mathematics and Computer Science Major at Gustavus Adolphus College. He is involved in a number of activities and organizations on campus including Music, the Crossroads Program, KGSM Student Radio, and the Technology Helpline.
Technology Helpline
Nick has been working at the Gustavus Technology Helpline since March of 2010. He currently holds the position of Senior Consulting Assistant and worked full time for the Helpline during the summer of 2011.
Music
Nick is currently a member of the Gustavus Wind Orchestra, Gustavus Symphony Orchestra, and the Adolphus Jazz Ensemble. As a member of these ensembles he has toured Eastern Europe in January of 2010, participated in Christmas in Christ Chapel 2011, will be embarking on another musical tour, this time in South Africa, on January 21st, 2012, and will be participating in the Gustavus Music Showcase in March.
Other Activities
In addition to work and music, Nick is involved in other ways on campus. Currently he is a chair of the Crossroads Public Relations Committee, a member of the KGSM Radio staff, as well as webmaster for that organization.