Mozilla Thunderbird
Mozilla Thunderbird is an e-mail client made by the Mozilla Corporation. To download Thunderbird, visit Mozilla's Thunderbird website. When installing for the first time, the Account Wizard will launch. After putting in your email address (username@gustavus.edu) and password, it will auto-configure all the required settings.
GusMail users
Please see our Google Mail web page for instructions on setting up GusMail on Mozilla Thunderbird.
Configuring Thunderbird
Windows IMAP
Please verify that you are running the most current version of Thunderbird.
From the Tools menu select Account Settings, and verify the following: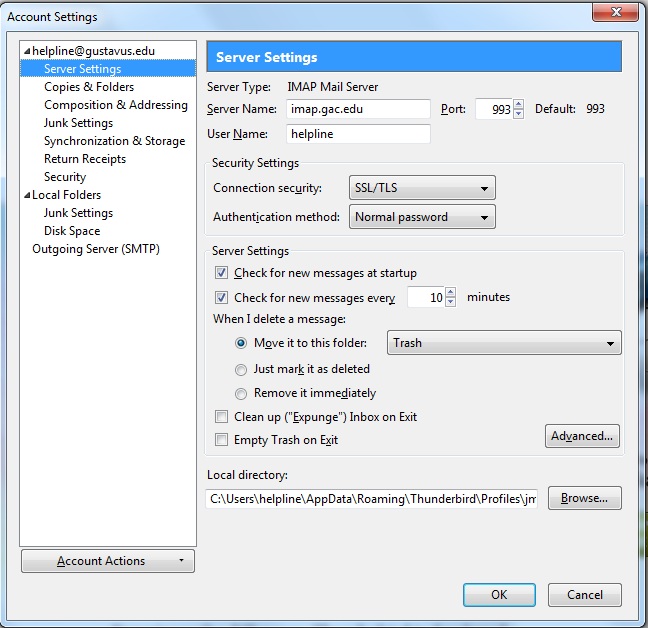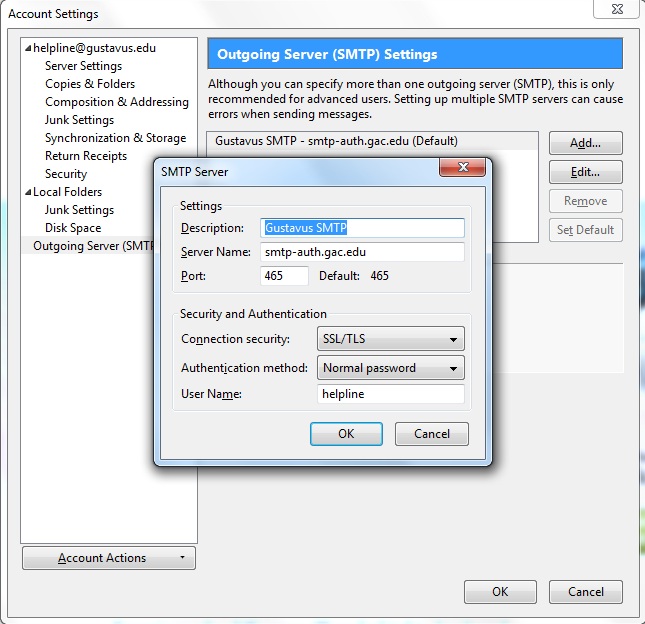 Macintosh IMAP
From the Tools menu select Account Settings
Fill in the first window as seen below: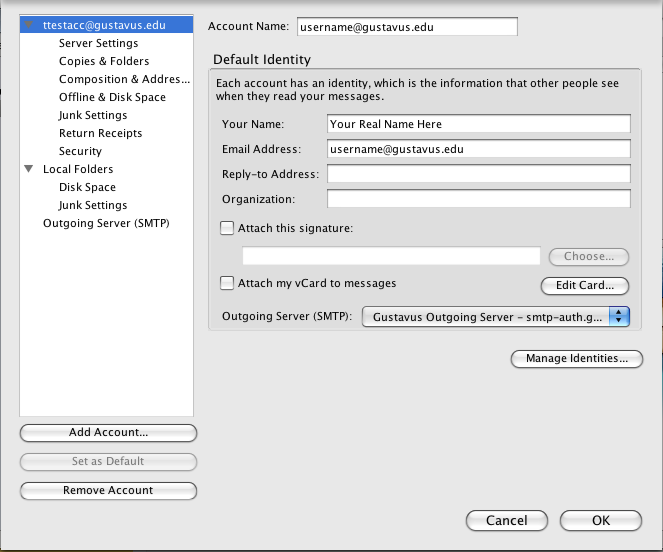 Also, go to Server Settings on the left pane and select SSL. DO NOT select User Secure Authentication.
The incoming server should be set to imap.gac.edu, port number 993 and fill in your own Gustavus username WITHOUT "@gac.edu" or "@gustavus.edu" in the username field.
Click on the Outgoing Server tab on the bottom of the left pane, click add or edit and change the data to match what is shown below: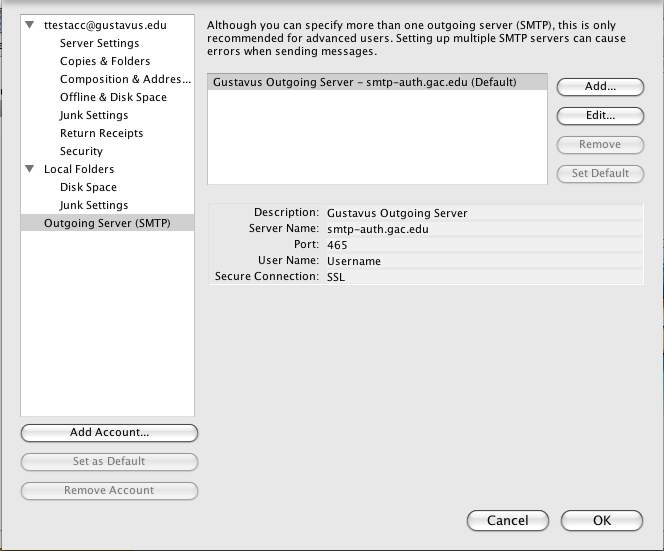 How to allow local addresses
Removing a Saved Password
Go to Tools then Options (PC) (Go to Preferences on a Mac)
Select the Privacy Tab, and the Password Tab within Privacy
Select Edit Saved Passwords
Remove the old password
Restart Thunderbird, and you should be prompted for your new password you wish to have saved
Setting Thunderbird as the default mail program
Click the Start Button
Click Settings
Select the Control Panel
Go to Internet Connections
Click the Programs tab
Choose Thunderbird as the default program
Converting from Eudora
Converting Eudora Mail
Visit http://www.mozilla.com/en-US/thunderbird/ to download the newest version of Thunderbird.
Follow directions for Configuring IMAP email. If they were former IMAP users, they can skip down to the Converting the Eudora Addressbook If they were former POP users, please follow the directions below:
While in Thunderbird - Open the Tools menu and select import....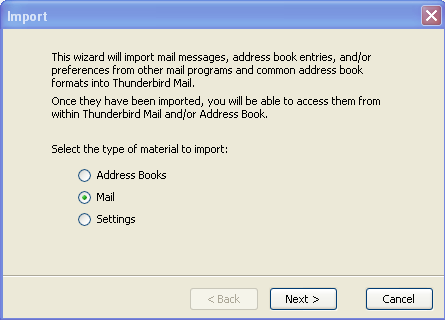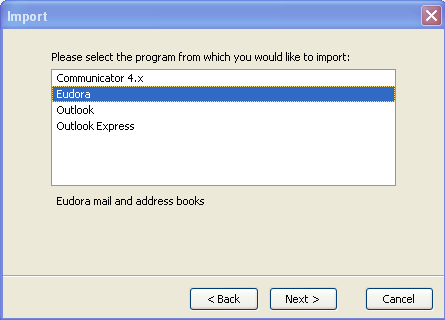 It will ask you where your Eudora folder is located, please click on the word Eudora either in your MyLocalData folder (Windows 2000) or MyDocuments folder (Windows XP)
After you select your Eudora folder and click OK, your email will begin to import into Thunderbird, you will see a results window saying how many emails were transferred.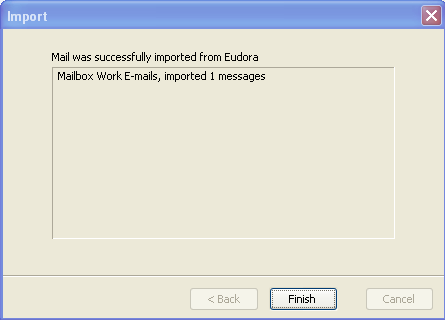 Your POP mail from Eudora will be stored on your computer under the Local Folders, but your new email will be listed under the @gustavus.edu heading (IMAP)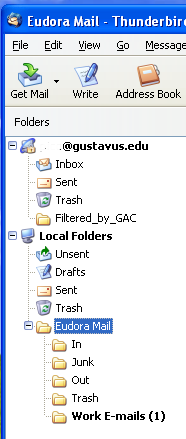 Converting Eudora Address Book
In Thunderbird, click the Tools menu
Click Import
Make sure Address Books is selected, click Next
Make sure Eudora is selected, click Next
This will go through and import your contacts, click Finish when done
If you open up your address book in Thunderbird, you will notice that you will see an Eudora address book in your collection of address books.
You will need to modify any addresses that are only usernames. All email addresses will need the full address (e.g. helpline@gustavus.edu)
Setting up the built-in RSS reader
Setting up a Signature
Open a Word document
In the open document compose your signature (including images if you so desire)
Go to File and down to Save and save a copy of that message as a .html file locally on your machine
Go to Tools and then Account Settings
Check the box that says Attach the signature from a file instead (text, HTML, or image)
Click Choose and choose the locally saved image created previously
Click OK
See also
You can also visit the MozillaZine Signatures Information page regarding how to set up extensions to make signatures a little easier in Thunderbird.
Subscribe to Folders
Mac
Go to the File menu
Click Subscribe
Click Refresh
Click once on the folder you want to subscribe to
Click the subscribe button.
Click OK.
Windows
Go the File menu
Click Subscribe
Click Refresh
Check the folders you want to subscribe to
Click OK.
Configuring Directory Services
Go to Tools --> Account Settings.
In options, click on composition and addressing.
Click on use a different LDAP server and click edit directories.
There you will need to click "add" and put in the settings displayed in the picture.
Also go to Tools --> Options and under the Composition tab check the Directory Server: box and select ldap.gac.edu
Turning off LDAP
On campus at Gustavus, Thunderbird is typically configured to use LDAP look up when composing messages. This feature will populate the To: field with matches when you begin typing an email address. To configure Thunderbird to use LDAP see Mozilla_Thunderbird#Configuring_Directory_Services
This feature needs to be turned off if a machine (laptop) goes off campus, as access to the LDAP information is blocked by a firewall.
To turn LDAP off:
From the Tools menu - select Account Settings
In the Composition and Addressing section - under the Addressing area - toggle the Use a Different LDAP Server to None.
Setting up Templates
Create a new email message in Thunderbird by clicking the Write button.
Compose the message with any text and formatting.
When you have finished composing the template, click the File menu and then click Save As.
From the drop-down list, choose Template. The message has now been saved as a template for future use.
To access templates you have made, scroll down to the Local Folder section in the Folders List.
Under Local Folders, click on the Templates folder. This folder lists all the templates you have created in Thunderbird.
Double-click on the template you wish to use. You can now customize, address and send the message as desired.
Migrate Thunderbird profile to new machine
The paths linked below will tell you which folders to move in order to migrate your Thunderbird profile to a different machine.
Thunderbird Profile Paths
http://kb.mozillazine.org/Profile_folder_-_Thunderbird