Community Conversation
Minnesota Population Projections by Race and Hispanic Origin 2000-2030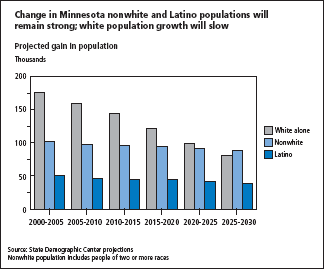 Minnesota's nonwhite and Latino populations are projected to grow substantially faster than the white population.
Nonwhite and Latino populations are younger than the white population, and will continue to be so in the future.
In every racial and ethnic group, the middle-aged and older population is projected to increase more rapidly than the younger population.
Minnesota's population will become more diverse in the future. In 2000, 9 percent of Minnesotans identified themselves as nonwhite. This is projected to rise to 13 percent by 2015 and 16 percent by 2030. The fraction who are Latino is projected to rise from 3 percent in 2000 to 6 percent in 2030.
The more rapid population gains among nonwhite and Latino population groups are attributable to higher rates of in-migration, higher birth rates and a younger age composition.
Minnesota's future growth will rely increasingly on the contribution of nonwhites and Latinos. Between 2005 and 2010, the projections show a total state population gain of 255,000. About 38 percent of the total gain will occur among the nonwhite population. By the 2025 to 2030 period, the total population gain will be about 169,000 and the nonwhite population will account for more than half of the increase.
This publication includes projections for four race alone groups—white alone, black or African American alone, American Indian or Alaska Native alone and a combined Asian alone and Hawaiian or other Pacific Islander alone group—and for the two or more races group. The report also contains projections for the Hispanic Origin or Latino group. Latinos may be of any race.