On-Campus Retreats
Church Relations
We are pleased to welcome our Association ministry partners to campus for overnight and day retreats. We have programs for teenagers, adults, and older adults. Information on each option is listed below.
Guidelines for the Retreat Center and Guest House are available. (Requires login)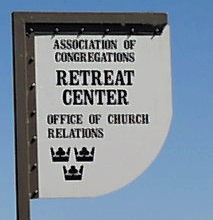 Adult Retreats: GACAC Retreat Center
The Association of Congregations Retreat Center has comfortable space for group discussions and meetings, a small kitchen for light refreshments, and a conference room equipped with overhead, easel, and TV/VCR. The Center has seven bedrooms and can accommodate up to 18 guests. Linens and towels are provided, and meals are available through the dining service for additional charge. First priority for this facility is given to adult retreat groups. The Retreat Center is available year-round. The following rates apply.
· Group Overnight Retreats: $20/person per night.
· Group Day Retreats: $15/person per day.
· Individual Clergy Sabbath: No cost. Limited availability.
To see pictures of the Retreat Center click here.
For reservations contact (Retreat-Center@gustavus.edu)
or (507) 933-7001.
Note: A $75 deposit is required to reserve the Retreat Center. This amount will be applied to your final bill.
Youth Retreat Programs
Gustavus welcomes overnight and day-only Confirmation and Youth Retreats on campus. On-campus meeting space, use of the athletic facilities, and programming through Gustavus Youth Outreach are usually available for reservations made 6-8 weeks in advance. The charge for overnight accommodations is billed at a flat rate depending upon the group size. Meals in the cafeteria or catered service is also available for additional charge. Confirmation and Youth Retreats are available only during the school year.
Reservations
Printable Reservation Form
Confirmation-Retreats@gustavus.edu
(507) 933-7001.
Note: A $50 deposit is required to reserve your requested date. This amount will be applied to your meal charges.
Wednesdays at Gustavus for Older Adults
The Wednesday's at Gustavus program is intended to allow groups of retired adults an opportunity to experience a day on our campus. Program highlights include several presentations by Gustavus faculty members, Daily Chapel (during the school year), interaction with current students, and Lunch. The cost per person is $15.00 and the programs last from approximately 9:00 AM – 2:00 P.M. The Wednesdays at Gustavus program is available year round.
Reservations
Church-Relations@gustavus.edu
(507)-933-7001