Coaches
Junior Summer Speech Institute
Kristofer Kracht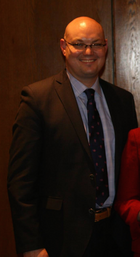 Kristofer Kracht is starting his thirteenth-year directing the Gustavus Adolphus College Forensics program and his eighth year directing the Gustavus Summer Speech Institute. Last year he tried to grow a beard, but it ruined his bald man glare ratio, so he decided to shave. During his tenure, Gustavus became 1 of 11 schools in the history of collegiate forensics to be ranked in the elite top 10 five consecutive years. He's getting pretty old now, but that is okay. Gustavus placed 6th at the 2014 American Forensic Association National Individual Events Tournament and 7th at the 2014 National Forensic Association National Championship while earning a National Championship in Presidents D-I. Woo! Kris has coached fourteen national finalists, 69 state champions, qualified ten students for the Interstate Oratorical Association National Contest, and coached five AFA-NIET All-Americans. He also made such good hot dogs at the last AFA-NIET that his team of 13 students consumed 40 hot dogs in a little under an hour. Additionally, he received the 2006 Bob Derryberry Award For Outstanding New Forensics Educator, the 2009 Pi Kappa Delta Brightest Star Award, and the 2010 Swenson-Bunn Memorial Award for Teaching Excellence, and the 2011 AFA District Four Larry Schnoor Distinguished Service Award. He's also the best coach in the world. Kris has two children, Eva and Noah, who are pretty neat.
Cadi Kadlecek
Cadi Kadlecek starts her third year as the Associate Director of Forensics at Gustavus Adolphus College. She is originally from Ceresco, NE, where she competed at Raymond Central High School and was a member of a multiple state Championship team. In addition, she was an Octa-Finalist in Humorous Interpretation at the NFL National Tournament her senior year. As a college competitor, she competed in Public Address, Limited Prepration, and Interpretation winning not only the Nebraska state title in Dramatic interpretation, but also a National Championship in Prose Interpretation. In addition to success in forensics, Kadlecek demonstrated success in the classroom and service to the community by receiving the AFA-NIET All-American Award. Kadlecek now serves as a college coach and has coached students at Illinois State University, Bradley University, Concordia College, and Gustavus Adolphus College; managing to coach nationally competitive students in each of the 11 events at the AFA-NIET. In her spare time, she bakes cupcakes and likes to play with her two cats, Ira and Sophia.
Emily Meyer
Emily Meyer is a rising senior member of the Gustavus Forensics Team from Andover, Minnesota. In her collegiate career, she has competed in both interpretation event and public address events. She competed for four years in Extemporaneous Reading and two years in Original Oratory at St. Francis High School. She qualified for the state tournament in E.R. her senior year. She also participated in Public Forum and Lincoln-Douglas debate for three years and Congressional Debate for four years. During her first year on the collegiate circuit, she qualified two events to the AFA-NIET: Prose and Informative. She also placed second in the district in Informative. Her sophomore year she qualified four events to the AFA-NIET: Persuasive Speaking, Informative Speaking, Program Oral Interpretation, and Prose Interpretation. She also was a national quarterfinalist in Persuasive Speaking. This past year, she qualified five events to AFA and was a semi-finalist at the Interstate Oratorical Competition, the oldest competitive speaking competition in the United States. Emily is a Biology major with a concentration in botany and a Studio Art minor; she enjoys reading, watercolor painting and, being around plants.
Noelle Anderson
Noelle Anderson starts her fourth year of collegiate speech, and her second at Gustavus Adolphus College. She is originally from Simi Valley, California, where she competed at Moorpark College for two years as a member of a ten-time national champion team. During her two years of competing with Moorpark, she earned multiple final rounds in Dramatic Interpretation, Program Oral Interpretation, and Duo Interpretation, on both the State and National level. She was a two-time State Champion in Prose Interpretation at the CCCFA State Tournament. She has continued focussing on Interpretation events with Gustavus Adolphus College this past year and is looking forward to the next. In addition to her success in forensics, she has earned Associate Degrees in Communication Studies and Child Development. Noelle is also a former gymnast, enjoys puppies, and loves babies
Kari Grundmeier
Kari will be a senior on the Gustavus Adolphus Forensics Team. This year will be her 7th year being involved in forensics. In high school, she competed in Creative Expression, Extemporaneous Reading, and Drama. In college, she competed in Drama, Prose, Program Oral Interpretation, Informative speaking, and After Dinner Speaking qualifying for the 2015 national tournament in ADS. Fun Fact: Kari was born in Incirlik Turkey while her father was in the Air Force.
Rodrigo Vazquez
Rodrigo was born in Tijuana Mexico in 1996. He moved to Minnesota in 1998 for his parents to pursue a PHD in the University of Minnesota. For his elementary education he attended a Montessori Magnet school named Crossroads. He attended a Montessori Charter High School named Great River School where he pursed the IB diploma. His school did not have a speech program. Instead he spent the majority of his time in Lego League and Robotics, eventually becoming the Build captain of his team. When he found the time, he enjoyed doing extracurricular activities related to public speaking such as debate, theater and poetry out loud. In addition, he participated in a summer camp at William Mitchel Law School doing Future in Learning Law. He learned about forensics through the SSI program. When he participated in 2012, he had never written a speech before. Through the support of mentors and hard dedication he was able to achieve second place in Public Address through Original Oratory. His ability to work through the lack of experience and confidence was reflected by the Growth Award. This won him an $8000 scholarship to attend Gustavus Adolphus and a love for forensics. Because of that scholarship he is entering as a Gustavus freshman and a new member of the forensics team.
Clay Sletta
I enjoy green tea, playing piano, jogging, meditating, and speech. In high school, I did prose and duo interpretation. I'm currently studying music and psychology. Fun fact: Although I am mostly vegetarian, I have eaten dog meat. It tasted like a cross between deer and beef.
Ryan Eichenauer
Ryan is just finishing his first year at Gustavus Adolphus College as a Psychological Science/Communication Studies double-major. In high school, Ryan competed primarily in Duo Interpretation, Creative Expression, and Dramatic Interpretation. He went to state sophomore, junior, and senior year and finished his high school career by finaling at state. Ryan now competes in ADS and Dramatic interpretation, where he qualified those events for the AFA National Tournament in Spring 2015. Outside of speech Ryan is obsessed with pastries and desserts; you will most likely find him eating a donut or a cinnamon roll in the cafeteria.
Karin Nordin
Karin Nordin just finished her last year of competing for Gustavus Adolphus College. Waaayy back in high school she competed for three years in Creative Expression, making the final round at the MN State Tournament her senior year. Throughout her four years in collegiate speech, she competed in Prose, Impromptu, Duo, Program Oral Interpretation, Persuasion, Drama, and Poetry. During her junior year at the AFA-NIET, she was a four-time quarterfinalist, as well as a semi-finalist in Impromptu and a finalist in Persuasion and Poetry. During her senior year, she placed 5th in the nation in Prose Interpretation and was a national champion in Oratory. Next year, she'll be heading down to the University of Alabama to coach their forensics team (Roll Tide, right Kris?). In all seriousness, she'll always be a proud Gustie and can't wait to spend the rest of her life passing on the incredible experiences Forensics has given her.
Megan Johnson
In high school, I participated in all three genres of speech, which includes Prose, Informative, and Impromptu. Informative was my favorite! I also competed in congressional debate and public forum debate all four years. I had the opportunity to compete on the national circuit at tournaments in Minneapolis and also The Harvard Debate Tournament. In college, I compete in Extemporaneous speaking, Persuasive speaking, Impromptu, and Informative. This past year I qualified all four events to the American Forensics Association national tournament in Portland, Oregon. Fun Fact: I've moved seven times and managed to not change schools.
Kari Roll
I am a Chemistry and Education major with the intent of teaching at the High School or Middle School level. In High school, I participated in storytelling, prose, and drama. In college, I have done prose, drama, informative, communication analysis, after dinner speaking, impromptu, and extemporaneous speaking. In 2014, I Quarter-finaled my After Dinner Speaking piece at the national tournament. Fun fact: I am the queen of puns; I love every pun no matter the shape or size
Lizzie Hjelle
Lizzie is a junior member of the GAC Forensics team originally from the small community of Elbow Lake, Minnesota where she competed in high school speech for six years doing Prose Interpretation. Since coming to college, she's expanded her repertoire of events to include Drama, Duo, Informative, and even Extemp Speaking for one tournament. Lizzie competed in Slam Poetry at the 2015 Minnesota Collegiate Forensics Association State Tournament where she earned 4th place. She has also competed at the American Forensic Association National Individual Events Tournament for two years, taking Duo and Informative her freshman year and taking Duo, Informative, and Drama her sophomore year. Aside from speech, Lizzie loves studying Russian language and literature, going to music festivals, eating pizza several times per week, and spending quality time with her cat.
Vanessa Condon
Vanessa Condon is the Assistant Director of Forensics at South Dakota State University. Originally hailing from Mound, Minnesota and competing on the high school circuit for four years, Vanessa performed a diverse group of categories including Humorous, Original Oratory, and Prose. In her collegiate career, she competed in Dramatic Interpretation, Poetry, Program Oral Interpretation, and Prose while qualifying her POI and Poetry to the American Forensic Association National Individual Events Tournament. Her senior year at Gustavus, she also participated in the experimental event at the Minnesota Collegiate Forensics Association State Tournament- taking third in Minnesota Informative. In her spare time, she loves to learn how to groom dogs, go to poetry slams, and canoe on Lake Minnetonka.
Kelsey Abele
Kelsey a 2014 Gustie Grad competed from middle school all the way through college. Highlights of her competitive career include placing second at the Missouri State Tournament in Prose and Dramatic Interpretation in high school, winning Minnesota Collegiate State Tournament in Prose (2014), POI (2013, 2014), and Dramatic Interpretation (2012). At the National level, she placed 5th in Prose at AFA in 2014, and took 2nd in Communication Analysis (similar to Great Speeches) in 2014 and has national out rounds in POI, Drama, Impromptu, and Poetry. Now she is a graduate student at Kansas State University teaching Public Speaking and coaching students there. When she was three years old, her parents got her a pony, which she promptly named after her preschool classmate, "Hartley."
Andrew Boge
Andrew Boge was a national qualifier to the NSDA tournament his junior year of high school advancing to quarterfinals in poetry. In IHSSA speech, he advanced to All-State junior and senior year of high school in Radio News Broadcasting. Runner up in Duo his senior year at the Iowa State Forensic League Tournament he as also dabbled in Public Forum debate, being as two-time State Debate Tournament quarterfinalist. Fast forward to college and Andrew is a qualifier to the AFA-NIET in 5 events spanning all three genres, state champion in Communication Analysis, and HFO semifinalist in Informative Speaking! Andrew has a deep emotional hatred for comic sans font. Seriously, the font is pointless.
Alekhya Tallapaka
Alekhya Tallapaka is an incoming sophomore at Gustavus. Starting her forensics career as an 11 year old in middle school Declam, speech and Al go way back. Alekhya has competed in both speech and debate for four years at Rosemount High School, and was captain of the team since her junior year. Alekhya has participated in Extemp speaking, Poetry, Prose, Impromptu, Drama, Duo, and Humor throughout her high school speech career. Alekhya was named All-Conference in Prose Interpretation, and has earned the Legacy Award from Rosemount High School. On the Gustavus Forensics team, Alekhya participated in After Dinner Speaking, Persuasion, Impromptu and Extemp. This past season (2014-2015), she was the State Champion in After Dinner Speaking. This is her second year back at camp, and she is pumped! At Gustavus, Alekhya is a Sociology and Gender/Women/ Sexuality Studies major. In her free time, Alekhya enjoys reading, sleeping, becoming angry with various injustices around the world, and tweeting sarcastic remarks at world leaders