FOCUS IN/ON - William Gropper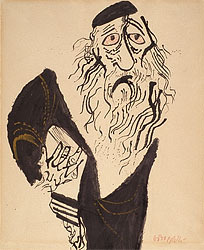 William Gropper, 1897-1977 The Wanderer, c. 1960 Ink with wash on paper, 16" x 14" Hillstrom Museum of Art, gift of Reverend Richard L. Hillstrom ('38)
Suggested Reading
Freundlich, August L., William Gropper: Retrospective, The Ward Ritchie Press, Los Angeles, with the Joe and Emily Lowe Art Gallery of the University of Miami.
Lozowick, Louis, William Gropper, The Art Alliance Press, Philadelphia, 1983.
Meed, Vladka, On Both Sides of the Wall, Holocaust Library, Israel, 1993 (originally published in Yiddish in 1948).
Sorini, Emiliano, Gropper, Catalogue Raisonné of the Etchings, Alan Wofsy Fine Arts, San Francisco, 1998.
Young, James, The Texture of Memory: Holocaust Memorials and Meaning, Yale University Press, New Haven, 1993.