User:Mbehboud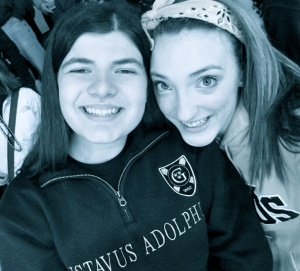 Meishon Behboudi
Meishon is from Eden Prairie, MN and is currently a sophomore here at Gustavus. She plans on majoring in Psychology and minoring in Peace Studies. On campus this year Meishon is involved in Intramurals and works for the Gustavus Technology Helpline. She also has a radio show here on campus every Thursday night with Maura Bremer from 6:00-8:00 PM on KGSM Radio.
Interests
Meishon enjoys hanging out with her friends, listening to music, being outside, long romantic strolls through the Arb, and listening to the crazy antics of her dear friend Callyn Woodley.
Fun Fact
One fun fact about Meishon is that she is a third generation Gustie. Her grandparents met and married while going to Gustavus.