Poly Blackwire 3325
A headset with earphones and microphone that would connect to your laptop via a USB cable. This option would allow you to simultaneously provide clear audio to your classroom and any remote students who are connected with Zoom or Google Meet. The earphones would also ensure that remote conversations are clearly heard by the instructor. A headset would be a great choice for those wanting to record lectures, screencasts, and Powerpoint presentations to post in Moodle.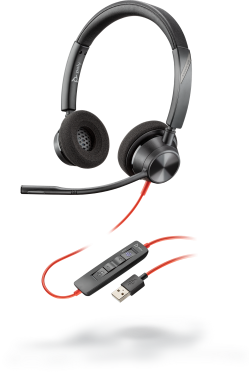 Pros
Great to minimize distractions
High quality audio
Aids interaction between instructor and remote students
Great option for recording lectures, screencasts, etc.
Easy to set up and operate
Cons
Limited usefulness in a face-to-face only setting
Setup
macOS
To select the Poly Blackwire 3325 as your mic/speaker, please go to System Preferences and then to the Sound menu. System Preferences is located in the Apple Menu in the upper left hand corner on your screen.
Windows 10
To select the Poly Blackwire 3325 as your mic/speaker, please go to the Sound Settings menu, by clicking the Windows key, and typing Sound Settings, and press enter. Select Headset Earphone (Poly Plackwire 3...) and Headset Microphone (Poly Blackwire...) for your output and input devices, respectively.
Zoom
While in Zoom, please visit your settings menu and click the audio menu. You will need to choose the Poly Blackwire 3325 for both speaker and mic if not already selected.
See also
https://www.poly.com/us/en/products/headsets/blackwire/blackwire-3300