Books in Bloom
Books in Bloom - 2015
May 1-3, 2015
Folke Bernadotte Memorial Library
Friday, May 1st 3:00 p.m. - 6:00 p.m.
Saturday, May 2nd 10:00 a.m. - 4:00 p.m.
Sunday, May 3rd 11:00 a.m. - 3:00 p.m.
Free and Open to the Public
Featuring:
David & Goliath
Knowing Rolf: A Wreath for My Son
Life Reimagined: Discovering Your New Life Possibilities
Americanah
The Book Thief
Cinderella
The Little Engine That Could
The Rainbow Fish
A Wrinkle in Time
The Goldfinch
Ordinary Grace
Honor
The Monuments Men: Allied Heros, Nazi Thieves, and the Greatest Treasure Hunt in History
Black Aperture
Twelve Years a Slave
The Gustie Gourmet II Cookbook
The Fault in Our Stars
A Pearl in the Storm: How I Found My Heart in the Middle of the Ocean
Red: Passion and Patience in the Desert
The Language of Flowers
Flora & Ulysses
The Warmth of Other Suns
The Divine Art of Dying
Cutting for Stone
The Christmas Wish
Founding Mothers
Books in Bloom - 2013
Click below to see pictures!
2013 pics
Books in Bloom - 2012

Books in Bloom - 2011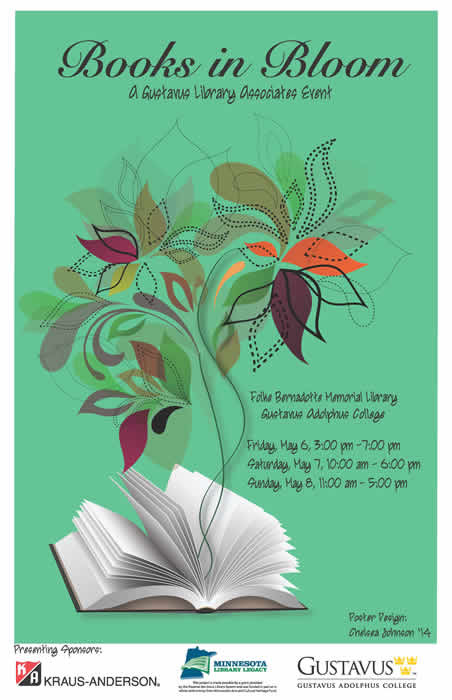 Books in Bloom was designed to tickle the creativity of floral/plant arrangers to illustrate selected media from the library.
In this inaugural year, twenty-two blooms were sponsored and designed and enjoyed by over 400 guests over the weekend.
If you missed it, or would like to enjoy it again, click on Flickr for photos of the event.
Thank you to our Presenting Sponsors: