Church Relations: Service Award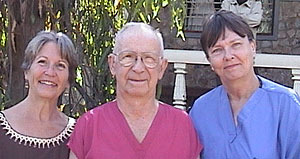 Paula and Dennis Lofstrom, and Mary Ellen Kitundu
The Association of Congregations Service Award recognizes alumni and former students of Gustavus Adolphus College who have made distinctive commitments and contributions to the service of others. On November 3, Mary Ellen Kitundu '65 and Dennis Lofstrom '51, who direct projects with International Health Partners and the Evangelical Lutheran Church in Tanzania, were recognized jointly as recipients of the 2008 Service Award.
Mary Ellen (Torsden) Kitundu '65
Mary Ellen (Tordsen) Kitundu '65 has been working and living in Dar es Salaam, Tanzania. President of IHP in Tanzania, she has developed three projects in the Nyakato Lutheran Hospital in Mwanza, a pediatric hospital working with victims of HIV/AIDS in Dar-es-Salaam, and work with St. John's University Nursing School, Iowa. The scope and depth of her work far exceed her love of nursing, traditionally including art as a tool for the exchange of knowledge and sharing of cultures. Creative and willing to share her talents, she has chaired revitalization programs and the Stephen Ministry program in the church, co-led a service trip to Jamaica, designed altar cushions, and more.
Dennis Lofstrom '51
Dennis Lofstrom '51 is Vice President and Chief Operations Officer with International Health Partners. He has worked at three hospitals in Tanzania, one of the poorest countries in the world. Most recently he steers a project at Nyakato Health Center to create a self-sustaining health care system that will provide ongoing care of the best possible quality in this developing country. Previous work has included the Iambi Lutheran Hospital expansion project, and he previously served as a mission doctor at Kiomboi Lutheran Hospital.
The award was presented during daily Chapel at 10:00 a.m. on Monday, November 3.
Service Award Recipients
Year
Name
1992
Rev. Thomas Neilson, '73
1993
Claire Hobart, '35
1994
Rev. James Wiberg, '61
1997
Joanna (Lundgren) Kuehn, '64
1999
Marjorie (Knudson) Olson, '42 & (the late) Robert Olson, '41
Mark W. Monson, '76 (posthumous)
2005
Jean-Paul Bigirindavyi '00
2006
Mary K. Nelson '61
2007
Ellen Ruiters '97
Donn Escher '50 (posthumous)
2008
Mary Ellen (Torsden) Kitundu '65
Dennis Lofstrom '51
2009
Susan J. Alexis '71
2010
Travis Dahlke '00
Nathan Dahlke '02
2011
The Rev. Gerald (Jerry) Hoffman '59
2013
Dr. Daniel Dewey '93