Church Relations: Service Award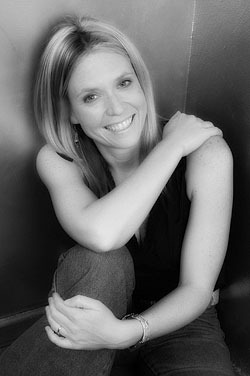 2007 Service Award winner Ellen Ruiters '97
The Service Award was first presented in 1992 by the Gustavus Association of Congregations, intended to recognize alumni and former students of Gustavus Adolphus College who have made distinctive commitments and contributions to the service of others, through participation in service activities through volunteer work, involvement in the church, and extraordinary professional accomplishments. Through a mature understanding of the faith, they view their "life's work as a vocation, a call to service for the greater good of the community."
Gustavus President Jim Peterson presented the 2007 Service Award during daily chapel on Tuesday, October 30, 2007 to Ellen Ruiters '97 for service to the benefit of others through work towards a free and peaceful world; and to Donn Escher '50 (posthumously) for service for the greater good of the community. Ruiters presented the homily during the chapel service.
Ellen Ruiters '97
Ellen Higginbotham Ruiters is the founder and Executive Director of Africa Jam, a Christian youth empowerment organization serving high school youth in Cape Town, South Africa. Two years after graduating from Gustavus, Ellen spent some time volunteering in Cape Town. Ellen led an after-school small group at a high school in one of the poorest township in Cape Town. When the youth attending the after school small group grew from 50 students at the beginning of the year to nearly 1,000 by year end, Ellen knew the youth were hungering for more. The next year Ellen founded Africa Jam, which grew into an organization that today employs eight full- and part-time employees and serves more than 10,000 youth annually through after school programs in 22 Cape Town high schools with multiple weeks of summer bible camp. Ellen's dedication to serving the youth of South Africa is making a measurable difference in Cape Town; the number of children served by Africa Jam has increased by more than 300 percent in six years, they have added more than 20 schools to the network of service, and in 2004 received the South African Department of Education endorsement for excellence in after school programming.
Ellen lives in Cape Town, South Africa with her husband Quinton and 2-year-old daughter Mayah.
Donn Escher '50
Donn Escher (deceased 2006) is remembered for his readiness to be a witness to the love of God in Jesus Christ in all that he did. Donn has served various organizations, committees, and church groups for many years and in many capacities. Most recently, Donn served on the Minneapolis Synod Candidacy Committee of the ELCA. As a member of the Candidacy Committee, he conducted one-on-one interviews with candidates who were preparing for ordained church ministry, and he sat on panels that interviewed candidates along progressive stages of their seminary preparation. He was a mentor and friend to seminary students, frequently hosting them in his home for dinner, praying for them, and taking time to visit with them at seminary and in their congregations. Donn actively lived out his vocation as a servant to the church and his community. He is considered by friends and colleagues as "a second-mile person"—an example of a person who has gone above and beyond.
Donn's wife, Eileen Ludtke Escher '51, died in 1991. He is survived by his three daughters, Dawn Berg, Sandra Bergner, and Christine Escher, his son Gary Escher, and much beloved grandchildren. His granddaughter Danielle Berg '08 is a physics and mathematics major at Gustavus.
Service Award Recipients
Year
Name
1992
Rev. Thomas Neilson, '73
1993
Claire Hobart, '35
1994
Rev. James Wiberg, '61
1997
Joanna (Lundgren) Kuehn, '64
1999
Marjorie (Knudson) Olson, '42 & (the late) Robert Olson, '41
Mark W. Monson, '76 (posthumous)
2005
Jean-Paul Bigirindavyi '00
2006
Mary K. Nelson '61
2007
Ellen Ruiters '97
Donn Escher '50 (posthumous)
2008
Mary Ellen (Torsden) Kitundu '65
Dennis Lofstrom '51
2009
Susan J. Alexis '71
2010
Travis Dahlke '00
Nathan Dahlke '02
2011
The Rev. Gerald (Jerry) Hoffman '59
2013
Dr. Daniel Dewey '93
The board of directors of the Gustavus Adolphus College Association of Congregations welcomes nominations for the Service Award. If you would like to nominate someone that you deem to be worthy of this award, please contact the Office of Church Relations at (507)933-7001 for a nomination form.