MAYDAY! Peace Conference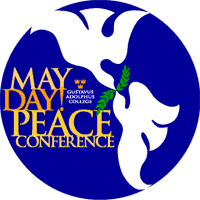 Troubled Water
Wednesday, April 30, 2008
"Troubled Water" was the topic of Gustavus Adolphus College's 28th annual MAYDAY! Peace Conference to be held Wednesday, April 30, 2008 on the college campus.
Dr. Aaron Wolf, department of geosciences at Oregon State University and a leading expert on international water politics, opened the daylong conference at 10:00 a.m. in Christ Chapel. The afternoon keynote speaker hosted in Alumni Hall was Wenonah Hauter, executive director of Food and Water Watch, a consumer advocacy organization in Washington, D.C.
Conference organizers planned several topic-related workshops, a resource center, the touring "Native Waters: Sharing the Source" exhibition at the Folke Bernadotte Memorial Library, a film series, and other social-action activities.
Schedule
Time
Event
Location
9–11 a.m.

Registration

Linner Lounge, Johnson Student Union
9 a.m. to 4:15 p.m.

Resource Fair

Jackson Campus Center, Upper Level
10 a.m.

Welcoming Service

Opening Service

Cloudburst, Gustavus Choir

Welcome

Jim Peterson, president, Gustavus Adolphus College

Greeting

Richard Leitch, MAYDAY! Committee Co-chair

Opening Keynote

Introduction

Mark Bjelland, MAYDAY! Committee Member

Aaron Wolf, educator and research scientist, Oregon State University

"Conflict and Cooperation Over Shared Waters: Lessons from Around the Globe"

Christ Chapel
11:30 a.m. to 12:30 p.m.

Meal Break

12:30–2:15 p.m.

Afternoon Keynote Address, Alumni Hall

Introduction

Gregory Mason, MAYDAY! Committee Co-chair

Wenonah Hauter, social activist, writer, and environmentalist, Food and Water Watch, Washington D.C.

"The Water Commons: Corporate Control or Democratic Governance"

Q&A Session

Aaron Wolf and Wenonah Hauter

Alumni Hall
2:30–3:45 p.m.

Workshops

"The Colorado River, Many Uses, Major Problems"

Bob Moline, emeritus professor of geography

Nobel Hall, Room 105

"The Difference between Wet and Dry: Community Water Development in Burkina Faso and Indonesia"

Jim Dontje, director of the Center for Environmental Innovation

Three Crowns Room

"Seven-Mile Creek: Lessons from Our Backyard Watershed"

Mark Bjelland, associate professor of geography, Jeff Jeremiason, assistant professor of chemistry

Alumni Hall
4 p.m.

Closing Ceremony and Reception

Hammarberg Memorial Fountain, Christ Chapel Circle West
MAYDAY! After Dark/Wednesday Evening

Presentation on the "politics of water" in India as witnessed by Gustavus students who traveled on a Social Justice, Peace, and Development in India study-abroad program.

Resource Fair

The Heritage Room of the Jackson Campus Center served as this year's resource center. Representatives from a variety of organizations will be on hand to share information and conversation.

Native Waters: Sharing the Source
WET Foundation Traveling Exhibition

The Folke Bernadotte Memorial Library hosted a multifaceted exhibit designed to help both children and adults explore the importance of water in their lives.