Nature: a walking play
Linnaeus Arboretum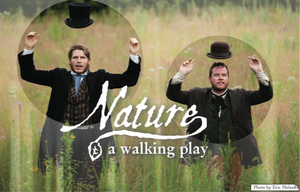 Heralded as "Best in Twin Cities Theater 2014"
The mythic telling of Emerson and Thoreau's mutual love affair with the natural world. This professional ensemble of actors will take you on a journey through the natural environment as scenes and sets unfold around you, as bagpipes, ancient flutes, drums and rich choral arrangements are intricately woven into the experience.
All-outdoors, rain or shine, engaging and family-friendly. Blankets or folding chairs welcome.
Four performances
Friday, September 25, 2015 at 5:30 p.m. – Special Members-only Reception following
Saturday, September 26 at 12:00 noon
Saturday, September 26 at 5:30 p.m.
Sunday, September 27 at 1:00 p.m.
Tickets
General admission: $15 in advance, $18 at the gate
Current Gustie students/staff: $5 in advance (limit one per Gustie)
Kids 12 and under: Free
More Info