Linnaeus @ 300
View Schedule
Printable Registration Form (pdf)
Please note that registration is required
whether or not you plan to attend the banquet.
Links to Linnaeus Resources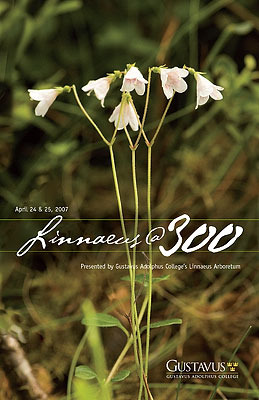 Linnaeus Symposium
Among the objectives of Linnaeus Arboretum, education is clearly its foremost priority. The Linnaeus Symposium, established in 2003, was designed to help enrich faculty, student, and larger community thinking about environmental stewardship and wise use of resources. The first Linnaeus Symposium was presented by Wade Davis, National Geographic Explorer in Residence and Ethnobotanist. Dr. Davis presented a public lecture to an audience of 600 on "The Healing Forest: The Ethnobotanist Search for New Medicines." In addition he visited several classes and talked with students and faculty informally.
The second Linnaeus Symposium comes at a fortuitous time, a time of preparing to celebrate the 300th anniversary of the birth of Carl Linnaeus. This Linnaeus Symposium will be held in conjunction with a series of events that will be celebrated by the Linnaeus Arboretum in honor of Linnaeus. It is natural for the symposium to focus on Linnaeus and in particular Linnaeus's work as an ethnobotanist.
Symposium attendees will have opportunities to listen, learn, and dialogue with these ethnobotanists and Linnaean scholars. Events include formal public presentations and informal conversation with students, faculty, and visitors. All educational events are open to the public at no charge.
Meals will be available throughout the day in the Jackson Campus Center. Tours of the Linnaeus Arboretum will be held throughout the day between the speakers' presentations.
Symposium Presenters
Paul Alan Cox

Professor Paul Alan Cox is Director of the Institute for Ethnomedicine in Jackson, Wyoming. He has served King Carl XVI Gustaf as Professor of Environmental Science in Sweden. In that role, he leads a team that's researching Swedish healing plants. He has written several books including Nafanua: Saving the Samoan Rain Forest, a description of his ethnobotanical research in Samoa. He has published numerous articles and has received several prestigious awards, including the Rachel Carson Award and the Goldman Environmental Prize. He has been recognized repeatedly as an outstanding teacher. Dr. Cox has studied and written about Linnaeus and has agreed to present a talk about Linnaeus along with Hans Odöö.

Hans Odöö

Hans Odöö, from Uppsala-Sweden, has portrayed Swedish botanist Carl Linnaeus (1707-1778) 2600 times. His audiences have been schoolchildren as well as scientists, kings and presidents. He has performed on endless occasions on national as well as international radio and TV. He has organized Linnaeus Week in Uppsala since 1994. Hans has also traveled as a writer and photographer in the footsteps of both Linnaeus and Linnaeus's students all over the World. Odöö has worked with Paul Cox on multiple occasions including before The King and as a plenary presentation at the International Botanical Congress.

Mark Plotkin

Renowned ethnobotanist and author of Tales of a Shaman's Apprentice, Mark Plotkin has been recognized by Smithsonian magazine as one of 35 individuals nationwide who is making a difference. Dr. Plotkin has spent 20 years working with the shamans in the rainforests of Central and South America and has written and lectured extensively about healing plants and shaman traditions. Dr. Plotkin currently serves as President of the Amazon conservation team, a non-profit organization dedicated to protecting biological and cultural diversity of the tropical rain forest.

Paula Robbins

Paula I. Robbins, Ph.D. is a freelance medical editor and writer, part-time garden guide at the North Carolina Arboretum, and active volunteer at the North Carolina Center for Creative Retirement. Paula has studied and written about Pehr Kalm, one of Linnaeus's "apostles" to America. She is the author of four books and many articles, and holds degrees from Vassar College, Boston University, and the University of Connecticut. She also spent 20 years as a university administrator.
---
Continuing Education Event
Linnaeus Turns 300—Happy Birthday!
The year 2007 marks the 300th anniversary of the birth of Carl Linnaeus, Swedish taxonomist and ethnobotanist. He invented a naming system for plants and animals and is considered "the Prince of Botany." He was also a medical doctor, mineralogist, ethnographer, economist, adventurer and a most prolific writer. The Gustavus Arboretum is named in his honor. He was a dedicated teacher whose students went to every continent to further their Master's field of natural history, bringing back exotic plants and animals for him to name. Roland Thorstensson (Gustavus Scandinavian Studies) and Cindy Johnson-Groh (Gustavus Biology/Linnaeus Arboretum Director) will help you get better acquainted with Linnaeus. This presentation will be preview of the upcoming Linnaeus Symposium. Monday, March 26, 2007, 7:00 p.m. Melva Lind Interpretive Center, Gustavus (cost for attendance is $8.00, includes refreshments)
---
Skåne to Lappland—Travels through Sweden with Carl Linnaeus
A photo exhibit and presentation by Anders Björling and Roland Thorstensson. Photographer Anders Björling and Gustavus Professor of Scandinavian Studies Roland Thorstensson followed Linnaeus's trail from Uppsala to north of the Arctic Circle and into Norway in spring of 2006. This stunning photographic exhibition chronicles their journey, including photographs from Linnaeus's birthplace in Småland, his academic homes in and around Uppsala, and his travel in Lappland. Photo exhibition in the Melva Lind Interpretive Center will open April 11, 2007, 7:00 p.m. The full exhibit will be at the St. Peter Arts Center April 12–30.