Church Relations: Service Award
Mary K. Nelson '61, 2006 Recipient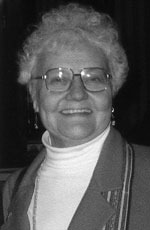 The Service Award was first presented in 1992 by the Gustavus Association of Congregations, intended to recognize alumni and former students of Gustavus Adolphus College who have made distinctive commitments and contributions to the service of others. through participation in service activities through volunteer work, involvement in the church, and extraordinary professional accomplishments. Through a mature understanding of the faith, they view their "life's work as a vocation, a call to service for the greater good of the community."
Mary K. Nelson '61, founder and CEO of Bethel New Life on Chicago's West Side, is the 2006 recipient of the Service Award. In 1979 the West Side, a predominantly African American neighborhood, was in ruin, and Nelson spearheaded social action programs needed in the community. Bethel New Life is a 25-year-old faith-based community development corporation on Chicago's West Side that grew out of those programs. Bethel has built more than 1,000 affordable home units, developed employment and training programs that have placed over 4,000 people in full employment, has organized family support, schools, and daycare centers. The corporation serves 12,000 clients each year, employs over 300 people, and has brought over $110 million in investments into the West Side. (To learn more about Bethel New Life, visit www.well.com/~bbear/bethel.html. Nelson, a 1961 graduate of Gustavus, has been voted one of Chicago's ten most influential women; she has advised the governor of Illinois Rod Blagojevich on community and economic development, and she has met with every U.S. president from Jimmy Carter to the current administration.
Gustavus President Jim Peterson will present the 2006 Service Award to Dr. Mary Nelson during daily chapel at 10 a.m. on Monday, October 30, 2006, and Nelson will preach during the chapel service.
Nelson will present a lecture at 7:00 p.m. in the Heritage Room, Jackson Campus Center. The public is invited. There is no cost for this event.
The board of directors of the Gustavus Adolphus College Association of Congregations welcomes nominations for the Service Award. If you would like to nominate someone that you deem to be worthy of this award, please contact the Office of Church Relations at (507)933-7001 for a nomination form.