Frequently Asked Questions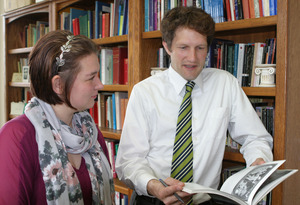 Who should apply to the 3 Crowns Curriculum?
If you love to read and discuss, are intrigued by ideas and questions of meaning and values, and are interested in relationships (past to present; culture to knowledge; general theories to your own life) then Three Crowns is for you. While a strong interest in liberal arts and interdisciplinary learning describes many Gustavus students, it defines Three Crowns students as a group.
What is the main difference between the Challange Curriculum and the 3 Crowns Curriculum?
The Challange Curriculum allows students to choose among a list of courses to fulfill the various area requirements. The Three Crowns Curriculum is an integrated sequence of interdisciplinary discussion-oriented courses that students take together. The program also includes retreats and trips to cultural events in the Twin Cities to enrich classroom learning and nurture the group as a learning community.
If the 3 Crowns courses are interrelated and some courses build on previous ones, is it the same as a major, that is, a study in depth?
No. Three Crowns is a general education program. The courses build on each other in that first year courses introduce you to the foundations of our society and culture and to fundamental questions about life. Second and third year courses introduce you to a variety of ways of knowing and the senior seminar draws on all you have learned to examine issues in contemporary life. Three Crowns gives you a core of common experiences inside the classroom and out that with your range of majors and other experiences we think make for richer and deeper class discussions.
Can I choose any major and still participate in the 3 Crowns Curriculum?
Yes. If you choose a major that has a large number of required courses (16 or more courses), it is probably in your best interest to plan carefully, but Three Crowns fits with all majors. On average, approximately 1/3 of our students major in the Humanities, 1/3 major in the Social Sciences, and 1/3 major in the Natural Science Division. Approximately 1/2 of our juniors each year have also found time to spend either a semester or an entire year abroad.
Is the 3 Crowns Curriculum an honors program?
Three Crowns is not an honors program—anyone academically qualified to attend Gustavus is eligible. Current upperclassmen represent a wide range of entering test scores. Although our program attracts some of our best students, intellectual curiosity, and a desire to explore connections are the most important qualifications. Still, although our courses are not designed to be more difficult, some students say that they work harder in their Three Crowns classes. However, most students feel that the course demands are not excessive and that the rewards are worth their efforts.
What if I decide after a year or two that I don't want to be in the 3 Crowns Curriculum?
You can switch from 3 Crowns to the Challange Curriculum if you need to. Three Crowns courses apply to Gustavus general education requirements. We want you to make your initial decision carefully, however, since you cannot switch from the Challange Curriculum to the Three Crowns Curriculum, nor can anyone "transfer" in to take your place.
Will I get to know 3 Crowns students only?
No. Approximately 2/3 of your classes are outside this curriculum; housing is completely open; music, athletic and social organizations are for everyone. The benefit of 3 Crowns is that you will come to know a group, who have varied backgrounds and professional interests, but who have a common core of knowledge. In fact, it may increase the number of students you get to know well.