Research Highlights
Faculty-Student Events
Gustavus Adolphus College offers many opportunities for students to become involved in math and science. Faculty-student research is prominently featured during annual events including the Chemistry-Biology Fall Research Symposium, the Sigma Xi Campus Symposium and the Celebration of Creative Inquiry. Students also become engaged in science and mathematics by opportunities like the Nobel Conference, oncampus student clubs and presenting at professional conferences. To learn more, visit the Get Involved page or view the list of Upcoming Research Events at the Kendall Center for Engaged Learning.
Summer research includes Tuesday lunch socials, Friday seminars and local outings. Of course, many Gustavus faculty-student teams are working hard and having fun off-campus as well!
Please enjoy the photos below, and if you have photos you would like to submit for this page, e-mail the site editor.
Summer research students fix a lunch for everybody, demonstrating their cooking, um, skills.

Student researchers make brief presentations to each other and the faculty. Students often present twice a summer, giving everyone a chance to see how they have met their research challenges.

Here are some photos from our great 2007 canoe trip on the Minnesota River. Thanks to Dr. Jeremiason for organizing the canoes!

Off-campus Gustavus science students and faculty
Below are Cindy Johnson-Groh's 2007 Moonwort Conservation Research crew riding into the sunset. When they find their plant species, do they use lassos?
Gustavus students Jen Mueller, James Baker, Evan Hill, Peter Weeks and Joe Lewis (below) all worked on the 2008 Bison Behavior / Ecology Project at Ordway Prairie in South Dakota with Dr. Jon Grinnell of the Biology Department. The project is a cooperative venture with The Nature Conservancy whereby we share the pay of college students or recent grads to work on conservancy projects and bison research for the entire summer.
Conferences and Symposia
Drs. O'Brien and Nienow escorted Gustavus Chemistry students to the 2008 Undergraduate Research Symposium at the University of Minnesota.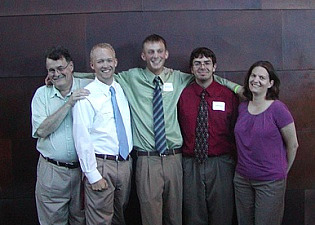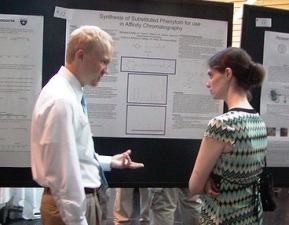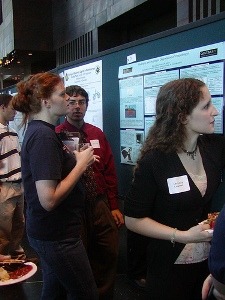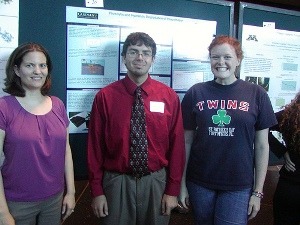 GAC Student Science & Math Groups
For more student activities in the natural sciences and mathematics, visit the following: