News from Gustavus Adolphus College
Office of Public Relations ~ 800 W. College Ave. ~ St. Peter, MN 56082-1498
News Director Stacia Senne ~ (507) 933-7510 ~ ssenne@gustavus.edu
---
Gustavus Adolphus College President
Announces Resignation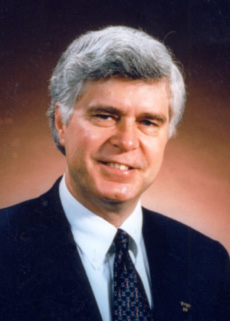 Axel Steuer

ST. PETER, Minn. (Jan. 21, 2002) – Axel Steuer, the thirteenth President of Gustavus Adolphus College, announced he would resign as president of the College at the end of the current academic year. He agreed to remain in an advisory capacity to the Board through May 2003. Appointed in 1991, Steuer's tenure will be noted by marked advances in the College's national academic standing and a significantly strengthened financial condition. President Steuer also led the institution through a major rebuilding process that was required after a devastating 1998 tornado that resulted in over $60 million in damage to the campus.



"While it is difficult to leave this wonderful job at Gustavus Adolphus College, I am ready for new challenges and hope eventually to return to my first love of teaching bright college students," said Steuer. "These past 11 years have been very rewarding years for Loreli and me, and we will miss the special contacts we have had with the many extraordinary people who constitute the extended Gustavus family."



A founding president of Minnesota's acclaimed Campus Compact for community service, Steuer was awarded a John S. and James L. Knight Foundation Presidential Leadership Grant in 1999 and in the same year was honored by the Templeton Foundation as one of 50 Presidents Effectively Promoting Character Building at Their Colleges. He was awarded the Royal Order of the Polar Star by His Majesty, Carl XVI Gustaf of Sweden in 1996 and was presented the "Greater Gustavus Award" by the 20,000 member Gustavus Alumni Association "for having notably advanced and aided Gustavus Adolphus College."



"We congratulate President Steuer for his many accomplishments and thank him for his years of faithful service to the College," said Ruth A. Reister, Chair of the College Board of Trustees. "Gustavus Adolphus College has further enhanced its national academic reputation among liberal arts colleges during his tenure while preserving the important values and church affiliation of this 140-year-old institution. Students, alumni, faculty, staff, college supporters and the Lutheran Church have all been served well during his tenure."


President Steuer's resignation as president of the College will be effective in June 2002. He will remain with the College through May 2003 as Executive Advisor to the Board of Trustees to assist with the completion of current fund-raising initiatives and the transition to a successor. An interim president will be named prior to the end of the current academic year.


Gustavus Adolphus College is a private liberal arts college in St. Peter, Minn., that prepares 2,500 undergraduates for lives of leadership, service, and lifelong learning. The oldest Lutheran college in Minnesota, Gustavus was founded in 1862 by Swedish immigrants and named for Swedish King Gustav II Adolf. At Gustavus, students receive personal attention in small-sized classes and engage in collaborative research with their professors. Fully accredited and known for its strong science, writing, music, athletics, study-abroad, and service-learning programs, Gustavus hosts a chapter of Phi Beta Kappa and is internationally recognized for its annual Nobel Conference.