News from Gustavus Adolphus College
Office of Public Relations ~ 800 W. College Ave. ~ St. Peter, MN 56082-1498
News Director Stacia Senne ~ (507) 933-7510 ~ ssenne@gustavus.edu
---
Out of Scandinavia Residency at Gustavus
Features Ylva Eggehorn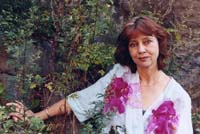 Ylva Eggehorn

ST. PETER, Minn. (March 26, 2002) – Hear the poetry and spiritual messages of Gustavus Adolphus College's 2002 Out of Scandinavia writer-in-residence Ylva Eggehorn at two public events during the week of April 20-27. She will speak at 10 a.m. Wednesday, April 24 in Christ Chapel and lead a lecture at 7:30 p.m. Thursday, April 25 in Banquet Room A in the C. Charles Jackson Campus Center. Both events are free and open to the public. During the weeklong residency, Eggehorn will also visit various Gustavus classes.


Born in Sweden in 1950, Eggehorn learned to read at the age of 4 and published her first book of poetry, Child of the Sea, at age 12. Two of Eggehorn's early collections of poetry, Let us Share (1970) and Jesus Loves You (1972), exemplify the difference between her vision, which is characterized by praise and jubilation, and that of her contemporaries.


During the past decade, Eggehorn has also written several novels, numerous hymns, and collaborated with other writers, theologians, and historians on a new translation of the Bible. Her hymn "Before Dawn," with music by former ABBA member Benny Andersson, represented Sweden during the Sweden millennium celebrations. In December 2001, Eggehorn was recognized with an award from the Swedish Academy for the "humanitarian qualities" of her writing. In March 2001, Eggehorn received the prestigious Evert Taube Award for her work with poetry and music.


The Out of Scandinavia writer-in-residence program gives Gustavus students the chance to directly interact with Nordic writers and authors, and is one way the college recognizes and continues its Swedish legacy. Since 1989, the college has welcomed such guests as actor Max von Sydow, Sami multi-artist Nils-Aslak Valkeapää, Icelander Einer Kárason, Greek-Swede Theodor Kallifatides, and Norwegian author Linn Ullmann.


The specific goals of the Out of Scandinavia program are to enhance the college's academic program, develop stronger cultural ties with the Nordic countries, and make American audiences better aware of Scandinavian contributions to the arts.


In addition to hosting an Out of Scandinavia residency, the college – named for Swedish King Gustav II Adolf – maintains other Swedish ties. For example, it hosts the annual Nobel Conference® – the first ongoing educational conference in the U.S. to have the official authorization of The Nobel Foundation in Stockholm, has exchange programs in Scandinavia, and has many buildings that extol the Swedish heritage.


Gustavus Adolphus College is a private liberal arts college in St. Peter, Minn., that prepares 2,500 undergraduates for lives of leadership, service, and lifelong learning. The oldest Lutheran college in Minnesota, Gustavus was founded in 1862 by Swedish immigrants and named for Swedish King Gustav II Adolf. At Gustavus, students receive personal attention in small-sized classes and engage in collaborative research with their professors. Fully accredited and known for its strong science, writing, music, athletics, study-abroad, and service-learning programs, Gustavus hosts a chapter of Phi Beta Kappa and is internationally recognized for its annual Nobel Conference.