Off-Campus Access
No matter where you are, as long as you have access to an Internet connection and you can get to our library website, you can use our online databases.
When you click on a link to resources that are limited by license to Gustavus community members, you will have to log in first using your:
Username: The 14-digit barcode number from your valid Gustavus ID (located on the upper left corner)
Password: Your last name OR the first 8 letters of your last name (not case-sensitive)
Below is a screen shot of the off-campus login screen. Note: do not attempt to login from the screen shot below. Rather, login by clicking directly on a database name on the article databases menu on the library's home page.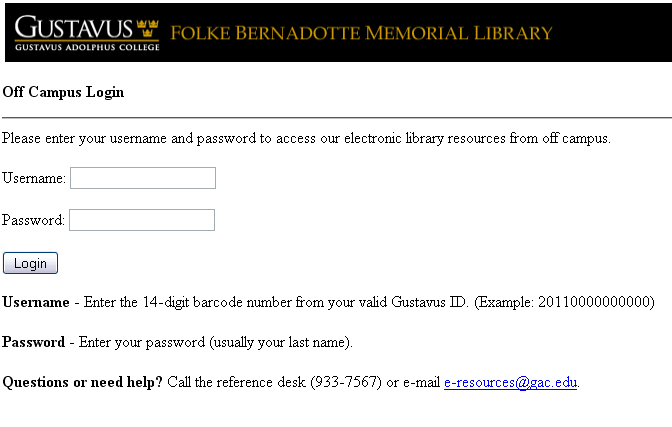 Enter your barcode number (the 14 digit number beginning with 2011 on your Gustavus Adolphus College ID) and password (last name), then click on "Login."
For users with barcodes issued earlier than 2005, passwords MAY be the FIRST EIGHT LETTERS ONLY of your last name.
---
Study Abroad
Studying abroad? Don't leave the library behind! Learn about ways to stay connected.
---
Accessing Netlibrary electronic books from off campus
The former NetLibrary collection is now available via the EBSCOhost eBook Collection.
---
Accessing your RefWorks account from off campus
Members of the Gustavus Adolphus College community must set up an individual account from a computer on campus. After initial account set up, users may access RefWorks from off campus using a special Group Code (RWGustavusAC) as well as their individual account information. See Using RefWorks for more information.
---
Most problems occur when the barcode on your Three Crowns card does not match the number in your library patron record. This is very easy to fix! If you have problems logging in, please:
---