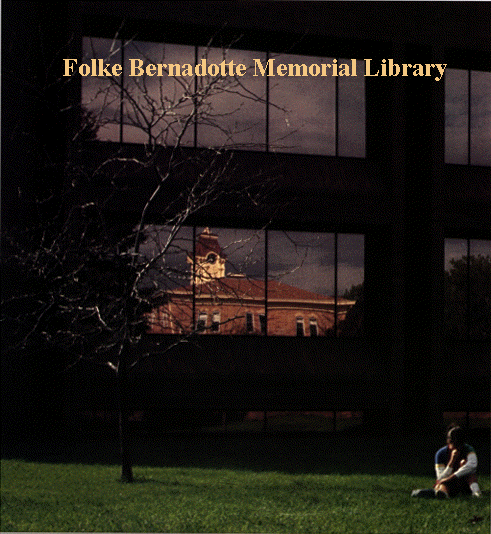 Annual Report
1997/98
We seem to have been visited by the proverbial Chinese curse this year: we have been living in interesting times. The library has seen many changes, including some that were planned, some that were serendipitous, and some that were completely unanticipated. Among the changes: we have a new reading room and have redesigned the look and layout of the library. We have worked together to create a strategic plan and a new committee structure. We have made progress with technology needs and helped other libraries in the state evaluate the options for a new statewide library system. We have designed a new electronic classroom and have explored funding possibilities for its support and support for faculty development. And we have survived a tornado.
We learned in the days following the March 29th tornado that our advance planning and collegial decision making style would serve us well in times of trouble. We also learned through the community's response to the disaster that the library does indeed hold a special place on campus. In the final analysis, through this year of changes and surprises we have made much progress toward the goals we articulated in our strategic plan—and we still have a great deal of work ahead of us.
The year began with a retreat in late May in which the entire staff engaged in preparation work for creating a strategic plan. After sorting through the many issues we identified as important ones, we classified them into five categories and set up teams to investigate each. The groups researched the issues, proposed solutions, and solicited input from library staff and the wider community. The plan went through several drafts before being submitted in January 1998.
We took time out in the fall to celebrate the building's 25th birthday with colorful banners designed by Jan Jensen, a birthday cake, and a gathering addressed by President Steuer and by the Swedish Cultural Attaché, Ove Joanson.
The Gustavus Library Associates held another Royal Affair and, as before, topped all previous efforts at throwing a great party that also put over $200,000 into the library's endowment. Their activities through the year included a visit with author Ann Patchett, sister of Heather Nancarrow of the development office.
Several projects were undertaken by library staff, among them migrating our serials records from a stand-alone system to PALS, barcoding the music scores to prepare the music library for automated circulation, creating book displays ("Women's Studies Recommends" and a display of international women's literature) and revising the selection process for the Student Senate Browsing Collection to include works more tailored to a college-level audience.
Libraries throughout the state worked together all year to choose a new web-based state-wide catalog system. MnLink will provide a common catalog for the University of Minnesota, the state university system libraries, other academic, public, and school libraries. It will consist of a common catalog for primarily academic libraries (dubbed rather sinisterly "System X") and a gateway so that libraries with other systems will be able to connect. In the winter six staff members traveled to Minneapolis several times to attend vendor demonstrations of products vying for the contract to provide System X and the gateway. We learned that this endeavor is unique and no software currently exists that can match the description in the RFP. Finally the decision was made to give the contract to DRA's Taos for System X and OCLC for the gateway. While the new system is under development, PALS will continue to provide an online catalog and continues to make some enhancements requested by member libraries. The PALS staff will likely move into system support for MnLink when it comes online.
Construction started on the new Hasselquist reading room, and was nearly finished in time for the tornado. Though some visitors were curious about its shape (and some began to call it "The Alamo") it will provide a beautiful focal point for the main floor. Fortunately our worries about how dowdy the surrounding carpet and furnishing might look were obviated by the storm. Though it will remain a striking presence, it won't be in poor company.
The Friday before the tornado struck the map library held an open house and the library, which is one of the best in the state, was named for Bob Moline who was retiring from the geography department. Among the anecdotes shared on that occasion was one about Bob's gleeful anticipation of a coming storm, using his meteorological equipment on the roof, many years ago. The tornado that struck a couple of days later destroyed his weather-watching equipment, but fortunately spared all but 365 of the maps.
The tornado struck on Sunday, March 29th. It took out the power supply for the library, broke most of the windows on the west and south sides of the building, blew out the reference/interlibrary loan office and the archives office, heavily damaged the Heritage Room and the BI classroom, and damaged the roof and some brick on the east parapet. Water damage was most significant along the west wall—particularly affecting the periodicals collection—and on the east side over the third floor, where the roof and some of the masonry had been damaged. The majority of the chairs in the public areas and the carpeting were a total loss. But the collection itself sustained remarkably little damage. Thanks to the quick work of the college disaster team, staff, and volunteers there was plastic draped over the books quickly and dehumidifiers were put to work to dry the air. Though power wasn't restored for many days, custodial staff labored to clear away glass and water and to sort out which furniture was salvageable. Staff returned to work as soon as possible to come up with ways to offer library services to a much-changed campus for the remainder of the spring semester. With chairs borrowed from other buildings, scrounged computers, and bare concrete floors we reopened for classes, extending our hours and offering homes to some displaced student services for the duration of the semester.
The Fine Arts building sustained serious damage and rescue efforts for the music library were limited and delayed. The rooms were hit hard by water and glass damage, the sky lights in the main room letting a great deal of water in (and a stray 20-pound sack of charcoal briquettes that landed in the middle of the library). The collection itself sustained some water damage and because access was delayed mold had set in before the damaged scores, books, and recordings could be dried. Even assessing the extent of the damage and replacing damaged items has been delayed because the boxed collection is stored in an inaccessible place. Assessing the extent of damage and making repairs and replacements will be a big job for the coming year, no doubt involving the expertise of music faculty.
After the storm the library staff had the pleasant task of choosing replacement furniture and carpeting. A committee formed to propose a new layout for the collection went into high gear to create a plan for relocating the collection as the building was recarpeted and putting everything back where we wanted it to go. Fortunately their advance planning and many hours of meetings, measuring, and consulting paid off as the work crews arrived in the summer. As of this writing we expect to have a much-improved library by the time classes begin in the fall. The furniture and carpeting that had served for 25 years will largely be replaced and the new floor plan should be both more sensible for library users and better suited for future expansion. There will be comfortable reading areas on all three floors and publicly-accessible computers on first and second floors. The periodicals office will move to the first floor, the government documents department will have a new home, and new quarters for the reference and interlibrary loan services will free up a central space for a new electronic classroom on the main floor.
In terms of the recommendations made in the strategic plan, we have made progress in several areas, particularly technology and facilities, largely thanks to the work that had to be done after the tornado. While there is much more to be done, we have made notable progress on 14 of the 37 recommendations.
Collections
Expand efforts to evaluate the collection. We made a comparative collection development study of collections at three libraries based on a 1993 study; a departmental academic assistant surveyed the condition of the collection.
Services
Increase the number of course related sessions. We taught more sessions, even though we had an interrupted spring term, than last year that was, in itself, a record year.
Explore means of offering instruction on electronic resources. The grant proposal submitted to the IMLS involved librarians, students, and faculty in an effort to define a state-of-the-art instruction program.
Facilities
Repair wall at entrance of the library. Done.
Replace or repair bathroom sinks and walls. Begun on the main floor.
Paint or refinish rusted ceiling tiles on all three floors. Done.
Air condition the music library. Anticipated as a post-tornado improvement.
Construct an office for the Government Documents librarian. It should be ready by the end of this summer.
Install new security gate. Purchased in May, to be installed after summer construction.
Provide increased space for instruction. The new classroom will be built this summer.
Technology
Purchase computers necessary for new state-wide catalog system. We've made progress toward this goal.
Purchase replacement machines for current instruction lab. We will have second-hand but newer PCs in the lab for fall.
Construct and furnish a new, larger instruction lab. Construction will be complete; furnishing will remain a goal for the coming year.
Add wiring for plug-in laptop network access. This will be available in the Hasselquist room; it will become available in future in the small offices on the south end of the library.
The library added 7,351 volumes to the collection this year, somewhat fewer than last year. The total now tops a quarter million volumes. We also added 15,034 government documents, 546 audio visual items, and 25 periodical titles. Increasingly, however, these statistics are misleading. With the advent of electronic full-text resources, our total resource base has increased without being in an easily tabulated form. The Lexis/Nexis database, for example, claims to include over a billion texts. Even allowing for hype, that is a large increase in the number of items our community can access. But we don't, of course, "own" the texts in the traditional sense. Nor do we have the luxury of selecting individual texts to fit the particular needs of our community. The meaning of the term "library collection" is undergoing a significant redefinition.
This year we added subscriptions to new electronic resources. Lexis/Nexis Universe is a new academic web-based version of the huge database that has been used for law and news research for many years, one that provides full-text access to newspapers, magazines, case and statute law, legal commentary, industry news, television and congressional transcripts, and more. We signed on with other Oberlin Group libraries in a consortial arrangement in October, 1997. We also subscribed to the Ideal project, in which all journals published by Academic Press can be accessed through the web as .pdf files. The ultimate value of this product remains to be seen, but the publisher made it attractive by offering subscription reductions to their print journals such that we actually saved money by subscribing—a prime example of the extremes to which electronic resource vendors are going to market new products. We switched our cd-rom subscription of the MLA International Bibliography to a web-based version in order to make it more accessible across campus and from off campus, an experiment that seems to have met with success. We also had access to Current Contents, Britannica Online and CINAHL with full-text nursing journals thanks to the generosity of Minitex and Minnesota taxpayers.
One difficulty we have encountered as we add electronic materials is knowing exactly what we have. The interlibrary loan office now must go through multiple lists to see if a requested article is, in fact, one we have access to through the web. But putting together a single serials list when a product like Lexis/Nexis offers a changing selection of hundreds of thousands of titles is impractical. A committee on electronic resources is working on creating a more centralized access point for all of our electronic and print subscriptions.
Among other major purchases of the year, we added The Encyclopedia of World Terrorism, The NASA Atlas of the Solar System, The Dictionary of Indian Tribes of the Americas, a large number of volumes of the Dictionary of Literary Biography, and The International Encyclopedia of the Dance to the reference collection. We purchased the microform sets of New England Women's Diaries and Southern Women's Diaries as well as additional volumes of the U.S. Serial Set to enlarge our collection of primary sources for research.
The acquisitions process has undergone some changes this year. The department created a useful home page which includes links to publishers and booksellers pages and an online order form (available at http://gustavus.edu/Academics/library/acquisitions.html). The web has also made it possible for us to connect to and search the catalogs of a wide variety of out-of-print dealers, something that has enriched our efforts to build a good collection. We were able to locate 96 out-of-print titles this year. We have begun to process rush-order books online through Amazon when we need them quickly; this process would be greatly enhanced if we were able to get a credit card for acquisitions, something that the finance office is investigating.
We also changed our method of acquiring books for the Student Senate Browsing Collection. Formerly, we leased books through the McNaughton company, a firm that caters chiefly to public libraries needing multiple copies of popular, current titles. Their list was not particularly well-suited to a college-age audience and since they were not purchased and cataloged they did not show up through a standard PALS search. Now we will compile lists of current best sellers from a variety of sources for the Student Senate committee to make selections and will add titles that are recommended by librarians and other members of the community. After a period of time they will be added to the general collection or withdrawn for the book sale. Because we receive a discount approaching 40% for trade books, the new process should not cost more and may actually cost less.
We have been concerned, even without the tornado, about the state of the collection. All libraries are faced with the problem of having shelves of books printed on acidic paper and with keeping up with deterioration due to heavy use of some materials. Our academic assistant, senior Becky Wetterling, conducted a small-scale study of the condition of the collection and reported that her sample of 2,146 books suggest that 86.77% of the collection is in good condition, 12.21% in fair condition (needing repair, but salvageable) and 1.03% in poor condition. This study, though based on a small sample, suggests that our goal of weeding the collection—which includes replacing books as needed—is certainly needed. Finding the time to do it, however, is the sticking point.
We are, as of this writing, still assessing the actual damage to collections caused by the tornado. Though the damage to the collection in the main library was limited, there were some periodicals and books damaged beyond repair and many of the books checked out to students and faculty were lost in dorm rooms and homes. The music library sustained rather more damage because the Fine Arts building was unsafe and recovery efforts were delayed.
One effect of the storm was that we lost some critical weeks of the collection development calendar. We encourage departments to spend all of their departmental funds by mid-February. After that the librarians try to find appropriate materials for the departments that haven't spent their funds. We also buy interdisciplinary and other materials. Some restricted funds were unspent and have been rolled over into the new budget. It will mean that we have some catching up to do.
One of the great strengths of this library is its dedicated staff. This year three projects engaged the entire staff's attention: writing a strategic plan, creating a new committee structure, and recovering from the March 29th tornado. It is a tribute to the individual staff members and to their ability to work collegially and professionally that these projects, as well as the ongoing work of the library, proceeded so successfully. It was also noted in the strategic plan that in spite of our relatively high output measures, our level of staffing is very low compared to our comparison colleges and to national standards. We hope that our needs, both for additional staff and for staff development support, will be considered in campus-wide planning.
In order to draft a strategic plan, we held a retreat and through a brainstorming process identified five areas of concern: collections, staffing, services, facilities, and technology. Each staff member served on a three-person team to gather information and coordinate recommendations for each of these areas. Drafts of the reports were reviewed by the entire staff and the final document was prepared by mid January.
In February, some of the concerns expressed in the report were considered as we redesigned our committee structure. Using Willamette University library's "Consultative-Planning Model" that Larry Oberg introduced us to in October, we decided to set up or continue the following committees:
Electronic Resources—to develop and recommend acquisitions and cataloging policies and procedures, create a union list of print and online journals, and create and maintain a list of electronic resources.
Long Rangers—to study the arrangement of the collection and make recommendations for change.
Space Committee—to evaluate space needs and make recommendations; to work with the Long Rangers Committee in planning a new collection arrangement.
Publications—to coordinate the production and maintenance of library publications, including the library's web site and a newsletter.
Staff Development—to develop and promote activities for staff development, including administering funds for staff development opportunities and planning all-staff events.
Wireheads—to plan for and implement solutions for the technology needs of the library.
Other committees, such as the disaster plan committee and the copyright committee, will form or reconvene depending on circumstances. In order to carry out the work, we agreed to some common rules. All committees are expected to:
identify issues within their area of concern;
research options;
seek input within the library and beyond where necessary;
draft policies;
facilitate implementation;
and evaluate results.
All committees share these obligations:
To establish regular meeting times at the beginning of the year;
keep minutes of meetings and ensure a copy is forwarded to library administration for record keeping;
communicate decisions of major discussion items to all staff by e-mail;
and prepare a summary of committee activity for the annual report.
Though the work of the committees was interrupted by the tornado, most of them at least had a chance to meet and establish some priorities, and some accomplished a great deal. The Electronic Resources Group has begun to collate information on electronic resources and their cost as well as investigating the options for integrating our periodicals list with electronic full-text resources. The advance planning of the Long Rangers and Space Committees proved invaluable as we began to recover from the tornado. The members of those groups have worked extremely hard ever since the tornado to rearrange our collection and public spaces. The Publications Committee set priorities for library publications, emphasizing the importance of a dynamic web site and a library newsletter. The Staff Development Committee planned Larry Oberg's visit and an informal luncheon gathering to view a video from a video conference. The Wireheads, a long-standing committee, was successful in getting support for replacing all of the dumb terminals with PCs by next fall, a good start for migration to MnLink and very helpful as we begin to teach WebPals.
A summary of the staff's professional development activities can be found in Appendix C.
It is difficult to measure the effectiveness of library services, either quantitatively or qualitatively. The Association of College and Research Libraries has recently begun to examine the ways in which academic libraries can assess outcomes and how national standards could more accurately reflect outcomes assessment rather than inputs. We will be exploring methods of data collection and analysis of services in the coming year both to produce a departmental assessment plan consistent with other departments on campus and to anticipate the growing focus of accreditation bodies on outcomes.
Reference and instruction have always been primary services provided by the library. This year we began to keep count of the numbers and kinds of questions at the reference desk to map out when we are busiest. Don Zhou created a database for reference questions so that librarians could record interesting questions and resources to answer them. We taught more classes than ever before, reached more FTS students than previously, and met with classes in all but two departments.
The circulation department handled fewer transactions than last year, largely because of the weeks of inactivity following the storm. In general circulation was only slightly lower than the year before—activity for September through March was 95% of last year's. More dramatically, use of print periodicals has declined, a trend seen in earlier years, quite possibly because so many periodicals are now available in full text through the campus network. We made an effort for the first time to advise faculty putting materials on reserve of what falls within the legal definition of "fair use" and offered to process the payment of copyright fees for any materials that fell outside that definition.
A similar, though less dramatic, effect is appearing in interlibrary loan. There, oddly enough, the decline is in books borrowed, not articles. Our ratio of loaned items to borrowed items has increased somewhat. An optimistic interpretation might be that an improved book collection has led to this drop in borrowing from other libraries. Until the music library has an automated library circulation system it is impossible to tell how much it gets used, though it seems to have maintained the same level of activity as last year. We have made progress toward automating the music library by barcoding music scores. Fewer items were used in-house or checked out from the government documents collection, which is partly because of the storm—this year's use of documents pre-tornado was a little over 90% of last year's—but may also be due to much federal government information becoming available through the Web. However, it remains useful to have print version of longstanding time series and substantial monographs, reports and investigations, and the depository program will continue to furnish these and other materials to depository libraries.
The College Archives and the Lutheran Church Archives deal with unique requests, both from the immediate community and beyond. Questions were fielded from a wide variety of organizations, from the Office of the President, the Public Affairs staff, News Services, faculty committees, Minnesota Public Radio, alumni of the college and a great many amateur genealogists. They also coordinated the loan of the exhibit, Sweden in America.
Access is a service the library provides that is somewhat behind the scenes. This year, in addition to barcoding the scores, we have made some progress toward cataloging special collections by entering the Barnwell Children's Literature collection into PALS. We have worked to clean up the catalog database preparatory to migration to MnLink. We have processed about 12,000 items, including new books, binding of materials, mending nearly 300 books, reclassification of materials so they can be found more easily on the shelves, and so on. And we have continued to catalog and process new materials at a speed that would be the envy of many libraries.
One "service" the library provides that is not often considered is providing meaningful employment for students. The library employs over 100 students to do fairly complex jobs. The staff that train and supervise these students spend a great deal of time helping them learn the ropes, correcting mistakes, bringing out their strong suits, and evaluating their work. The work they do is taken very seriously. The library depends upon student employees in order to run, but it also considers the educational side of student employment.
The library provided some special services after the tornado. With a miscellany of chairs cobbled from around campus we were able to provide study space to students who lost some of their dormitory common areas. We became the temporary home of the counseling center. A satellite music library was set up in the Audio Visual department with some key music library materials. We set up listening rooms in the main library for the music appreciation courses. And we extended our hours on evenings and weekends in order to accommodate the six-day class schedule and the shortage of space on campus.
Changes in technology affect every aspect of library work. We held a focus group on technology issues preparatory to the writing of the strategic plan, inviting Terry Metz of Carleton to help us sort out our priorities. Two priorities that emerged from that conversation were the need for the hardware infrastructure for the new catalog system and for a facility in which to teach electronic and print resources more effectively. (We still were using dumb terminals in many areas of the library and the small instruction lab that we had, furnished with elderly Macintosh hand-me-downs was an increasingly frustrating place to try to teach.) After establishing priorities, we held focus groups with faculty and students for their input into a grant proposal for a state-of-the-art library instruction program involving a new electronic classroom and faculty development workshops. We hope to have made significant progress on those two priorities by next fall.
The grant proposal, submitted to the Institute of Library and Museum Services, a new federal agency, gave us an opportunity to spell out our concerns about teaching and learning in a hybrid world, in which print and electronic resources exist simultaneously. We came to the conclusion that we needed not only a facility for learning—an electronic classroom with reliable equipment large enough to accommodate an average sized class—but also the time with faculty to thoughtfully consider what is necessary to teach research skills well and the opportunity to meet classes in the library repeatedly, so that these skills can be taught developmentally. We won't know whether this proposal will meet with success until September 1998, but we have started construction on the classroom, committed to the project by one means or another.
The coming of a new statewide system to replace PALS and the University of Minnesota system meant that we spent a lot of time evaluating the competing vendors and sharing our observations with the Library Planning Task Force. We made progress toward doing away with all of the dumb terminals in the library, something that will improve maintenance and reliability and that will make it possible for library users to choose command-language searching or the use of the Web-based PALS interface, an interface we will teach for the first time this coming fall. A new committee was formed to address ways to get a handle on the proliferation of electronic resources and their contents, and we spent a great deal of time evaluating various new electronic products, many of which were consortial deals under negotiation, with conditions and prices changing all the time. Simply sorting out the options, figuring out the license agreements, consulting with faculty, and deciding which are the most important to go with is enormously time-consuming, but we began to get a handle on the problem so we can work toward a systematic solution.
Our Web site has undergone some improvements, with contents updated during the summer, several new home pages tested for effectiveness through the year, the placement of web-accessible databases on the front page, and the addition of pages on acquisitions and government documents. It is now possible to place interlibrary loan requests and book orders through our Web site. But as with all Web sites, it is permanently under construction.
The library celebrated its 25th anniversary in the fall, and though we acknowledged that replacing the aging furnishings was problematic we felt cheered that the building had aged so well. The Hasselquist reading room construction began, promising a bold new look for the main floor, as well as prompting some collection rearrangement. Ironically the storm brought even greater changes to the look of the library than we ever anticipated, even in our most optimistic strategic planning.
The changes to the main library will be marked when recovery work is complete. The old beige carpet has been replaced by a darker carpet with red and plum overtones. The furniture will largely be replaced by carrel furniture and lounge seating that will have a more traditional look. The upholstery will pick up the colors in the carpet and provide a richer, more subtle palette than the 70s-era primary colors. Long-requested repair work will be complete, from painting the rusted ceiling panels to replacing the damaged brick walls at the front and back entrances of the library. And some new walls are going up for a new government documents office, a large electronic classroom space, and new offices for reference and interlibrary loan. Finally, we were able to purchase a new security gate for the front entrance, to be installed over the summer, providing both more effective security for our collection and accessibility as the old turnstiles are retired.
Perhaps even more startling to veteran users of the library will be the new floor plan. Plans to improve the collection layout were underway all year, involving two committees and a long process of consultation with library staff and focus groups. The new floor plan is designed to place all of the periodicals on one floor in two alphabetical sequences, current and older. The books will be arranged in order (a radical concept!) with the alphabet starting on the third floor, A-PQ, and continuing on the main floor with PR-Z. The reference section will be moved to a more prominent position and low shelves and tables will be scattered throughout it to provide surfaces for consulting reference materials. There will be comfortable reading areas on all three floors. This arrangement is intended both for current functionality and with future growth in mind. With periodicals on the first floor, we will have the option in future of going to compact shelving or digitized collections of periodicals, allowing for growth for the monograph collection.
The library's endowment received a couple of major boosts during the year, though the yield will not appear in budget lines right away. The GLA's Royal Affair was, as has become traditional, a record-breaking fund raising event that raised well over $200,000. The Hasselquist gift, which made the new reading room possible, will also furnish a significant endowment for books with an international focus, particularly for international business and law. That's good news, since endowment creates a stronger budget, but it does not necessarily mean the budget will be any larger.
The library budget, much improved from a slump in the early 90s, has leveled off for the past few years. Unfortunately, that means we are in danger of slipping behind again. The increases in book and periodical prices mean that we, like Alice in Through the Looking Glass, have to run to remain in place. Even though the library budget was flat funded again this past year, an effort was made to increase the portion of the budget dedicated to acquisitions to help offset the rise in costs. Many of the operational expenses of a library, such as binding, cataloging utilities, even new shelving, are tied to acquisitions rates and they too will inevitably rise as we order more materials.
A budget is not just an expense ledger, it is a telling collection of data. In an attempt to spend the funds we have more rationally, we systematically set out to spend the unrestricted lines first this year and set up more lines that reflect costs of materials by format. We need to be able to use budget data to answer such questions as what percentage of our budget is spent on periodicals compared to books, how much is the cost of electronic subscriptions rising year to year, and so on. Unfortunately, our rational scheme may not be possible much longer. The financial policy of the college has been to offset increases in restricted lines by cuts in unrestricted lines. In 1996/97 the unrestricted budget line for books was slashed to make up for costs in periodicals and other formats, with the restricted lines providing leeway for book purchasing. As the unrestricted pool shrinks, however, it will not cover the cost of periodicals, electronic materials, AV and microform materials, and standing orders, much less monographs, so as we assign those to restricted accounts we will lose that data.
More importantly, as the endowed lines are used only as budget relief, we lose any growth to cover increased prices and much flexibility. Of the 19 restricted lines used for acquisitions, 10 are restricted in some way as to subject matter. Growing the library endowment is a sound strategy, but it should include some room for growth and adequate flexibility so that acquisitions will meet the Gustavus community's needs.
All academic libraries face similar problems trying to build collections in an environment in which more texts are published each year, costs per item increase each year, and by and large the library's share of the college budget shrinks as colleges provide more services. However, we don't look good comparatively. During 1996/97 in spite of a flat budget the library's acquisition budget increased by 1.5% thanks to cutbacks in the operational budget. In the same year the average increase in acquisitions in the Oberlin Group libraries was 6.1%. The median increase was 7%. Of 66 libraries reporting, only seven had flat-funded acquisitions budgets. Gustavus, with its 1.5% increase, was 13th from the bottom. Had we not adjusted our ratio of acquisitions to operations, we would have fallen to a position just ahead of the two libraries that had cuts in their acquisitions budgets. We have a frugal operations budget. That isn't an adjustment we can afford to make repeatedly.
We've made significant progress toward the goals expressed in our strategic plan. Our goals for the next year, apart from continuing to do our best to meet the needs of the Gustavus community, will include improving our efforts to make the library an important part of the curriculum and improving our ability to document and analyze our effectiveness.
The new classroom space will be a very visible sign of our commitment to finding effective ways of initiating students into the complexities of research. Getting that facility up and running and planning workshops will be one major project of the year. We will also be seeking funding for the project, either matching or total funding depending on how our proposal is received by the IMLS. In addition to that effort, there will be a much-improved orientation program this coming year that will help us start the year off well; all first year students will be brought to the library in small groups for a tour and introduction to our library system. We also will be in a position, for the first time, to teach new students the use of WebPals, a more intuitive web-based version of our online catalog, something that should make it easier for them to learn its use and easier for them to make the switch when System X, also a web-based system, goes online.
In terms of collection development, we will have to make up for lost time. We will have quite a bit of money rolled over from last year to spend this year given that we lost several weeks during what is generally the most busy period for acquisitions. We will also be faced with some need to replace materials lost in the storm. We should continue to find ways to analyze the collection, working with those departments and programs up for review and by developing new responsibilities for collection building by world regions in order to maximize our use of the Hasselquist funds and to strengthen our area studies holdings. We also should examine the uncataloged materials in Special Collections and come up with a strategy for selecting those items we wish to retain and disposing of the rest. Finally, we need to review both periodical requests and continuations, projects that were on the schedule for the spring that were canceled on account of inclement weather.
We anticipate being involved in evaluating new consortium arrangements for electronic subscriptions, looking for improvements in our current offerings and at newly available products and in crafting the final contract for System X.
Finally, we will consider new ways to examine the effect the library and its services has on students and faculty and find ways to be more intentional about using that information to improve what we do. We will build on ideas presented in a workshop Mike Miller organized over the summer and the suggestions of the ACRL task force on outcomes assessment to explore new ways of measuring our effectiveness.
In short, it looks as if the interesting times will continue.
Various units in the library compile statistics. The statistics here are selected to present an overall view of library operations. More detailed statistics are available in individual unit reports, on file in the library.
| | | |
| --- | --- | --- |
| Collection Statistics | 1996/97 | 1997/98 |
| books, scores, cd-roms, continuations | | |
| volumes added | 7,706 | 7,351 |
| volumes withdrawn | 668 | 1,299 |
| volumes--total | 248,034 | 254,086 |
| microtext | | |
| microfilm added | 240 | 138 |
| microfilm--total | 10,454 | 10,592 |
| microfiche added | 244 | 388 |
| microfiche--total | 20,224 | 20,612 |
| audio-visual | | |
| audio-visual added | 710 | 546 |
| audio-visual withdrawn | 263 | 3 |
| audio-visual--total | 12,699 | 13,245 |
| government documents | | |
| paper added | 1,529 | 1,907 |
| microfiche added | 11,406 | 11,684 |
| electronic added | 205 | 149 |
| maps added | 1,537 | 1,294 |
| paper withdrawn | 1,197 | 2,167 |
| microfiche withdrawn | 809 | 2,729 |
| electronic withdrawn | 7 | 220 |
| map withdrawn | na | na |
| paper total | 109,417 | 109,157 |
| microfiche total | 146,990 | 155,945 |
| electronic total | 561 | 490 |
| maps total | na | na |
| periodicals | | |
| current subscriptions | 1,027 | 1,094 |
| periodicals--older titles withdrawn | n/a | 58 |
| periodicals--total titles | 2,067 | 1,990 |
| | | |
| --- | --- | --- |
| Service Statistics | 1996/97 | 1997/98 |
| audio-visual services | | |
| film and video rental | 24 | 25 |
| film and video purchase | 266 | 359 |
| AV classroom use--AV I and II | 1,391 | 1,279 |
| AV classroom use--preview rooms | 1,396 | 1,296 |
| media services work requests | 1,371 | 951 |
| library instruction | | |
| orientation tours--new students | 410 | 275 |
| orientation tours--new faculty | 13 | 15 |
| sessions--students | 1,449 | 1,406 |
| no. of sessions total | 87 | 94 |
| tours and workshops--other | 97 | 168 |
| circulation services | | |
| circulation--general collection | 35,610 | 31,779 |
| circulation—browsing collection | 1,718 | 1,262 |
| circulation—reserves | 9,470 | 7,263 |
| circulation—gov. documents | 109 | 94 |
| circulation—AV materials | 1,534 | 1,842 |
| circulation—GAC circulation | 53,966 | 47,081 |
| circulation—external circulation | 1,697 | 1,696 |
| circulation—discharges | 50,506 | 65,334 |
| circulation—total | 58,516 | 50,893 |
| exits | 265,632 | 210,553 |
| Interlibrary Loan | | |
| from Minitex & Pals—books | 2,838 | 2,555 |
| from Minitex & Pals—articles | 3,295 | 3,277 |
| from TdS | 36 | 68 |
| from out of state—books | 41 | 66 |
| from out of state—articles | 47 | 19 |
| total requests made | 6,257 | 6,468 |
| from GAC to Minitex &Pals—books | 1,384 | 1,601 |
| from GAC to Minitex & Pals—articles | 188 | 111 |
| from GAC by TdS--books | 258 | 230 |
| from GAC by TdS--articles | 94 | 45 |
| from GAC by out-of-state | 34 | 34 |
| total requests filled | 1,958 | 1,976 |
| total interlibrary loan activity | 8,920 | 8,444 |
A word of explanation is in order for the following budget statistics. They reflect actual expenses, not adjusted figures. They do not show the $27,168 encumbered for acquisitions purchases. The figures for support staff wages are mysterious as always. They always come out considerably higher or lower than budget, although the number of staff hours remains virtually the same. They also include a much higher figure for student assistant wages than what appeared last year. Although we used approximately the same number of hours, the means of calculating the figure must have differed. To that extent, the total budget figures need to be understood bearing in mind some reported salary figure anomalies that are beyond our control.
| | | | | |
| --- | --- | --- | --- | --- |
| Budget Statistics | | | | |
| Salaries, Wages, Benefits | budget 1996/97 | budget 1997/98 | spent 97/98 | over/under |
| Faculty Salaries | $255,709.00 | $283,156.00 | $283,156.00 | $- |
| Support Staff Wages | $206,084.00 | $206,002.00 | $211,267.54 | $(5,265.54) |
| Student Assistant Wages | $60,913.00 | $102,507.58 | $100,245.54 | $2,262.04 |
| Student Assistants Summer/Holiday | $25,659.00 | $24,629.00 | $24,839.62 | $(210.62) |
| Academic Assist. Stipends | $550.00 | $550.00 | $550.00 | $- |
| Allocated Benefits | $141,757.00 | $150,773.34 | $150,773.00 | $- |
| Total salaries | $690,672.00 | $767,617.92 | $770,831.70 | $(3,214.12) |
| | | | | |
| Unrestricted budget | budget 1996/97 | budget 1997/98 | spent 97/98 | over/under |
| acquisitions—books | $160,549.00 | $35,506.00 | $33,729.00 | $1,777.00 |
| acquisitions—films | $1,500.00 | $1,500.00 | $1,584.00 | $(84.00) |
| acquisitions—gov. docs | $3,200.00 | $500.00 | $(3.50) | $503.50 |
| acquisitions—microforms | $9,200.00 | $11,040.00 | $17,371.00 | $(6,331.00) |
| acquisitions—recordings | $3,000.00 | $3,000.00 | $3,014.00 | $(14.00) |
| acquisitions—periodicals | $112,000.00 | $145,000.02 | $157,751.44 | $(12,751.42) |
| acquisitions—stand. orders | | $70,000.00 | $94,271.00 | $(24,271.00) |
| unres. acq. Subtotal | $289,449.00 | $266,546.02 | $307,716.94 | $(41,170.92) |
| | | | | |
| archives office supplies | $1,400.00 | $1,400.00 | $3,042.12 | $(1,642.12) |
| archives meetings and wks. | $500.00 | $500.00 | $593.18 | $(93.18) |
| audio visual material | $3,350.00 | $200.00 | $29.75 | $170.25 |
| av film rental | $150.00 | $150.00 | $34.11 | $115.89 |
| bibliographic services | $21,398.00 | $24,290.00 | $22,659.00 | $1,631.00 |
| book and periodical binding | $11,550.00 | $12,400.00 | $10,417.47 | $1,982.53 |
| computer equipment | $11,700.00 | $13,900.00 | $14,425.02 | $(525.02) |
| computer supplies | $1,300.00 | $2,500.00 | $1,850.19 | $649.81 |
| computer software | - | $- | $1,216.40 | $(1,216.40) |
| consultants and honoraria | $150.00 | $150.00 | $400.00 | $(250.00) |
| copying equipment (left out) | $12,000.00 | $12,000.00 | $9,325.03 | $2,674.97 |
| dues and memberships | $455.00 | $955.00 | $1,060.00 | $(105.00) |
| entertainment | $500.00 | $500.00 | $589.26 | $(89.26) |
| equipment repair | $2,300.00 | $2,300.00 | $1,682.00 | $618.00 |
| exhibitions | $250.00 | $250.00 | $- | $250.00 |
| library database research | $5,000.00 | $2,000.00 | $5,332.00 | $(3,332.00) |
| library equipment | $9,204.00 | $15,950.00 | $19,013.68 | $(3,063.68) |
| library supplies | $18,150.00 | $14,135.00 | $5,986.80 | $8,148.20 |
| Lutheran church college su. | $500.00 | $500.00 | $340.07 | $159.93 |
| meetings and workshops | $2,700.00 | $2,700.00 | $1,655.80 | $1,044.20 |
| office supplies | $1,300.00 | $1,300.00 | $748.06 | $551.94 |
| pals | $62,194.00 | $59,101.00 | $60,296.00 | $(1,195.00) |
| postage | $1,500.00 | $1,500.00 | $628.00 | $872.00 |
| printing and reproduction | $7,886.00 | $5,000.00 | $5,102.00 | $(102.00) |
| telephone | $1,700.00 | $1,700.00 | $836.00 | $864.00 |
| travel | $3,000.00 | $3,000.00 | $2,460.00 | $540.00 |
| subtotal op.budget | $180,137.00 | $178,381.00 | $169,722.00 | $8,659.00 |
| total unres.budget | $469,586.00 | $444,927.02 | $477,438.94 | $(32,511.92) |
| | | | | |
| restricted budget | budget 1996/97 | budget 1997/98 | spent 97/98 | over/under |
| C&M Johnson Heritage | $1,321.07 | $1,616.07 | $- | $1,616.07 |
| Emeroy Johnson Fund | $4,223.67 | $1,357.60 | $- | $1,357.60 |
| Alexis Library Fund | $1,964.87 | $2,743.87 | $1,714.22 | $1,029.65 |
| Almen Vickner Fund | $1,500.00 | $1,500.00 | $1,279.02 | $220.98 |
| Bush Library Endowment | $19,478.71 | $21,313.00 | $14,615.96 | $6,697.04 |
| Carleson, E.M. | $2,091.82 | $2,776.82 | $- | $2,776.82 |
| Ebba Carlson Biology Fund | $3,648.96 | $4,474.96 | $2,087.99 | $2,386.97 |
| Frederickson Fund | $7,921.92 | $9,705.92 | $5,142.05 | $4,563.87 |
| Gustavus Library Assoc. | $90,447.21 | $70,588.55 | $53,439.08 | $17,149.47 |
| GLA Diversity | $4,000.00 | $4,000.00 | $3,776.94 | $223.06 |
| General Edowment | $640.54 | $500.99 | $- | $500.99 |
| restricted budget, cont. | budget 1996/97 | budget 1997/98 | spent 97/98 | over/under |
| Misfeldt Library Fund | $422.57 | $517.57 | $- | $517.57 |
| Moe Endowment | $1,656.70 | $1,812.00 | $979.86 | $832.14 |
| NEH Challenge-Curriculum | $31,125.63 | $55,060.33 | $35,594.05 | $19,466.28 |
| Surdna | $6,000.00 | $6,000.00 | $7,146.59 | $(1,146.59) |
| Lolita Paulson Fund | $4,201.00 | $19,310.00 | $13,608.64 | $5,701.36 |
| Scandinavian Studies | $8,300.79 | $11,100.00 | $7,248.91 | $3,851.09 |
| Johnson, Jean | $1,370.00 | $1,370.00 | $163.34 | $1,206.66 |
| Johnson acquisition | | $100.00 | $- | $100.00 |
| Lutheran Heritage Room | $1,194.00 | $745.82 | $- | $745.82 |
| Special Library Acquisitions | $5,538.86 | $7,768.12 | $3,095.48 | $4,672.64 |
| subtotal restricted | $197,048.32 | $224,361.62 | $149,892.13 | $74,469.49 |
| subtotal rest. Acq. | $190,309.58 | $220,642.13 | $149,892.13 | $70,750.00 |
| total acquisitions | $479,758.58 | $487,188.15 | $457,609.07 | $29,579.08 |
| total | $666,634.32 | $669,288.64 | $627,331.07 | $41,957.57 |
| total with salaries | $1,357,306.32 | $1,436,906.56 | $1,398,162.77 | $38,743.45 |
The library compiles a detailed statistical profile for the Oberlin Group annually. These statistics are selected from those reports to show some changes between 1990/91 and 1996/97, the most recent year compiled. Some graphs of selected statistics follow.
| | | | | | | | |
| --- | --- | --- | --- | --- | --- | --- | --- |
| | 1990-91 | 1991-92 | 1992-93 | 1993-94 | 1994-95 | 1995-96 | 1996-97 |
| Total Library Expenditures | 922,838 | 825,740 | 944,032 | 1,060,711 | 1,184,651 | 1,321,836 | 1,325,993 |
| Library Expenditures/Student | 392 | 364 | 420 | 462 | 505 | 556 | 553 |
| % of College E&G | 3.4 | 3.1 | 3.1 | 3.5 | 3.08 | 3.2 | na |
| Professional Staff Salaries | 242,410 | 213,552 | 255,804 | 245,308 | 245,607 | 255,552 | 255,709 |
| Support Staff Salaries | 191,069 | 161,895 | 167,425 | 184,427 | 189,968 | 209,909 | 201,973 |
| Total Staff Salaries | 433,479 | 375,447 | 393,229 | 429,735 | 435,575 | 465,461 | 457,682 |
| Student Wages | 138,613 | 113,507 | 120,134 | 82,366 | 82,236 | 90,470 | 87,036 |
| Books Expenditures | 98,550 | 36,187 | 56,417 | 125,654 | 200,219 | 243,245 | 213,706 |
| Periodicals Expenditures | 112,718 | 124,648 | 138,695 | 110,555 | 120,883 | 135,433 | 156,215 |
| Total Serials Expenditures | 163,333 | 186,343 | 168,024 | 175,446 | 65,363 | 222,596 | 223,517 |
| Audiovisual Expenditures | 1,557 | 1,469 | 6,478 | 1,498 | 3,297 | 5,306 | 13,376 |
| Microform Expenditures | 8,746 | 7,309 | 7,892 | 9,006 | 9,045 | 9,543 | 11,323 |
| Electronic Materials Exp. | 4,882 | 3,000 | 525 | 3,493 | 17,461 | 22,682 | 25,313 |
| Preservation Expenditures | 3,500 | 5,846 | 5,453 | 6,266 | 6,976 | 8,262 | 11,651 |
| Total Acquisitions Expen. | 272,186 | 235,154 | 241,318 | 321,363 | 423,244 | 511,634 | 498,786 |
| Acquisition Expen./Student | 117 | 104 | 107 | 140 | 180 | 215 | 208 |
| Staff Total FTE | 18.8 | 15.2 | 15.5 | 16.2 | 15.75 | 16.25 | 15.5 |
| No. of Students/Staff Member | 123 | 149 | 145 | 142 | 149 | 146 | 155 |
| Annual Student Hours | 19,436 | 19,450 | 22,883 | 27,040 | 14,952 | 16,449 | 17,407 |
| Total Collection | 223,578 | 226,069 | 228,707 | 230,670 | 235,754 | 240,996 | 248,034 |
| Books & Journals added/ year | 4,758 | 2,751 | 3,048 | 3,704 | 5,492 | 6,277 | 7,706 |
| Documents Collection | 103,200 | 100,345 | 103,830 | 107,668 | 109,085 | 245,841 | 256,407 |
| Audiovisual-Total Collection | 11,997 | 11,568 | 11,941 | 12,276 | 12,252 | 12,852 | 13,209 |
| Total ILL to Others | 1,218 | 1,315 | 870 | 1,514 | 2,060 | 1,819 | 1,958 |
| Total ILL Received | 4,413 | 6,600 | 7,191 | 8,657 | 12,029 | 6,607 | 6,257 |
| Circulation-Total | 29,726 | 32,930 | 36,515 | 39,915 | 38,866 | 58,175 | 58,516 |
| Circulation-Reserves | 12,752 | 12,748 | 11,102 | 9,519 | 8,379 | 8,552 | 9,470 |
| Instruction Sessions | 45 | 53 | 60 | 84 | 77 | 83 | 87 |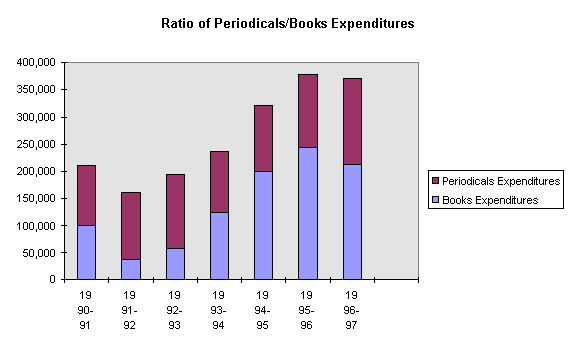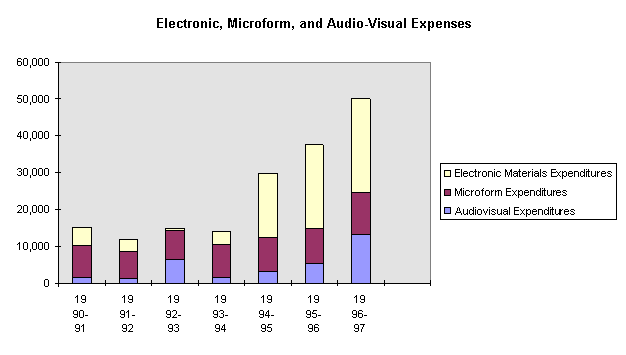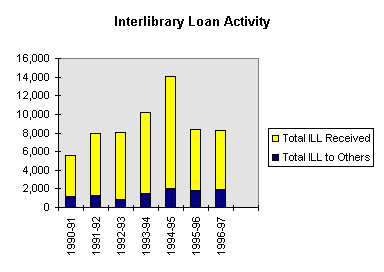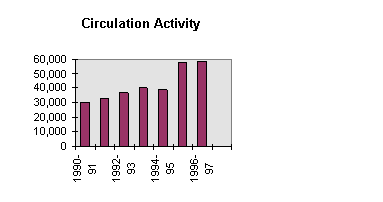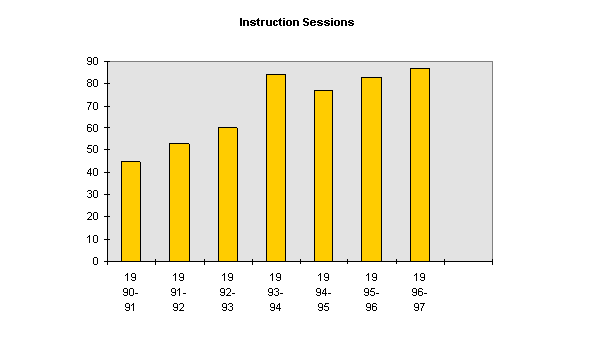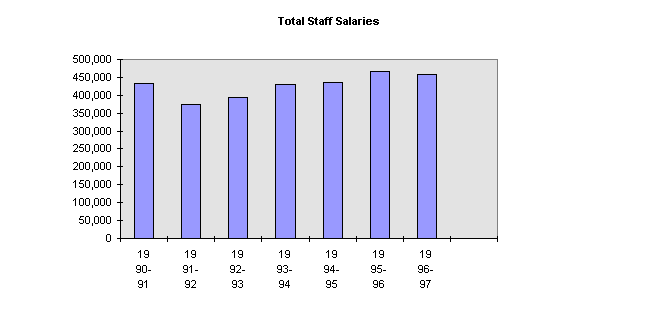 The library's staff development committee is charged with distributing funds for staff development and planning activities for the entire staff. This year Larry Oberg, director of the Willamette University library, came to us as a consultant, discussing with us changing roles in the library profession and ways for staff to work together to meet the challenges of change. In addition, staff members individually engaged in a variety of professional and service activities, some of which are summarized below.
Ginny Bakke attended Enhancing Quality Staff at the University of Minnesota, a Soaring to Excellence videoconference, and a government documents annual forum held at Mankato State University.
Lynn Burg attended PALS user group meetings, MnLink demonstration meetings, Enhancing Quality Staff at the University of Minnesota, and a videoconference on Telecommunications and Networking Technology.
Diane Christensen attended PALS user group meetings, MnLink demonstration meetings, a teleconference on "Developing Leadership for Change," a seminar on using the web for acquisitions and collection development, and Enhancing Quality Staff at the University of Minnesota. She also served on the campus United Way Committee.
Howard Cohrt visited seven Gothic cathedrals in France and attended a Minitex collection analysis symposium at the University of Minnesota, May 1998.
Barbara Fister contributed material to new editions of several Bedford texts: A Writer's Reference, A Pocket Guide to Writing in History, Research and Documentation in an Electronic Age, and A Student's Guide to History, served on the PALS Vendor Evaluation Team, representing private college libraries, and attended MnLink demonstration meetings and PALS user groups.
Kelly Francek attended Enhancing Quality Staff, University of Minnesota, PALS user group meetings, and a Soaring to Excellence teleconference.
Sandy Fuhr attended the Libraries and Librarianship Seminar, Bodlean Library, Oxford, May 1997 and Educom, October 1997. She served on several campus committees, including the Women's Studies, Peace Studies, and the Curriculum Committee
Sandee Georgacarakos gave an invited talk on communication and technology at the annual MN Library Association conference. She attended PALS user group meetings, and MnLink demonstration meetings, and served as Circulation User Group representative for private colleges to the Deans/Directors/Coordinators Executive Committee. She is currently the WebMaster for the Support Staff & Paraprofessional Interest Section of MLA.
Mike Haeuser attended the Oberlin Group annual meeting and was a seminar leader in a Minnesota Humanities Commission Teacher Institute on famous trials, speaking on the Salem witch trials. He attended a workshop on manuscripts and archives at the University of Wisconsin. As a member of the College Library Committee of the Council of Library and Information Resources he is involved in planning a conference on innovations in technology in libraries.
Jan Jensen continued her involvement with Habitat for Humanity, returning to the Cheyenne River Indian reservation in South Dakota where she has helped build homes before.
Kathie Martin served on the steering committee of the PALS Interlibrary Loan User Group and as co-chair of the Membership Committee of the Minnesota Library Association. She spoke at the Branch Out conference at the University of St. Thomas, and at three events at the Minnesota Library Association annual conference. She attended the Soaring to Excellence videoconferences and the annual Minitex interlibrary loan conference. She contributed to the Link Up! Newsletter and was profiled in Library Mosaics. On campus she served on several committees including the Domestic Partners Benefits Committee.
Dan Mollner attended a federal government documents conference in Washington DC and an annual GODORT meeting in Mankato, as well as a Minitex collection analysis seminar. He also served as chair of the Personnel Committee, 1997/98.
Jay Nordstrom attended PALS User Group meetings and MnLink demonstration meetings; she also served on the campus Staff Personnel Committee.
Sylvia Straub attended Enhancing Quality Staff, University of Minnesota and a Communication Skills for Women workshop in Mankato. As a coordinator of the Gustavus Cancer Support Group she helped arrange monthly meetings and speakers, set up an exhibit in Mankato for National Breast Cancer Awareness Month, and attended training at the American Cancer Society office in Minneapolis.
Don Zhou attended PALS User Group meetings, MnLink demonstration meetings, Educom, a Minitex interlibrary loan conference, and "Building your Leadership Toolkit," an ACRL Leadership Institute held in Boston. He also developed and taught beginning Chinese course and presented programs on the Chinese culture at several events during the year.