Eco Friendly Tips
Folke Bernadotte Memorial Library
There are a number of things you can do to help reduce waste and conserve resources at the library. If you have additional ideas for being more environmentally friendly at the library, let us know.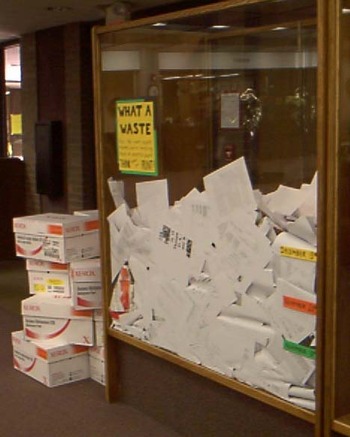 Printing
Read articles online and take notes instead of printing the entire article.
Read article abstracts or skim the full-text of the article before printing to make sure the article is a good source for your project.
Scan text into a computer instead of making photocopies. Scanners are available at the row of computers outside the e-classroom on the main floor. Another scanner is also available in the small computer lab on the main floor. You can then email the file to yourself once you've finished scanning it and read it online.
Email articles to yourself from databases. Most of our databases have the option of emailing articles or citations. Many also have the option of saving citations to a folder for viewing later; often you simply need to set up a free account within the database. Ask a librarian for further details.
Email book citations to yourself from MnPALS, our library catalog. Ask a librarian for more information.
Other Actions
Recycle! Receptacles for paper, as well as cans and bottles are located throughout the library.
Turn out the lights in the bathroom as you leave if you are the last person there.
Leave No Trace with your food and drink. For more information on these guidelines, visit Love Your Library, Leave No Trace: Food & Drink Guidelines.