Trish Wheaton '72
Managing Partner, Global New Business Community at Y & R Advertising
Trish Wheaton has simultaneous leadership roles in two of WPP's largest agencies: Wunderman, the world's largest digital agency network and Y&R Advertising, a global advertising giant. Prior to taking on the role as Wunderman's first CMO, Trish headed two Wunderman network agencies, one in Canada and one in the UK. In London, she merged three network agencies to form the largest direct, digital, and database organization in the UK. In Canada, she transformed the Wunderman organization from a pure play direct marketing organization to a direct, data and digital powerhouse. As Managing Partner, Global New Business Community for Y&R Advertising, Trish has created a global new business infrastructure to serve the 160 offices that comprise Y&R's global footprint. Her client portfolio has included such well known global brands as Microsoft, Dell, Kraft, Ford, IBM among others.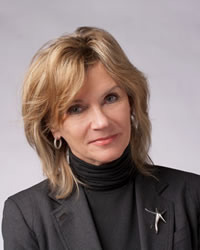 In her global role for both companies Trish began to see the emergence of sustainability as a rapidly growing requirement for partnering with the world's major brands and began to take action, focusing first on building a more operationally sustainable company for the Young & Rubicam Group. Trish has since identified the untapped marketing opportunity for sustainable brands to grow from a niche interest to a mainstream sentiment. Trish is currently building a Sustainability Practice on behalf of the Young & Rubicam Group of companies and is one of WPP's key Sustainability Navigators.

A well-known marketing industry figure, Trish has served on a variety of marketing industry boards in various geographies; is a much sought after speaker who has headlined speaking engagements across the globe; and has been recognized with industry awards in both Canada and the US. Trish was recently named to the prestigious Forrester Board of Clients, the first ever agency person to be on the board and was also just nominated to 2013 Marketing Hall of Femme—an elite group of women who are leading marketing today.
Trish is a breakout session speaker at the Gustavus Women in Leadership 3rd Annual Conference.