Joan Steffend
Inner Peace Activist/Author, And She Sparkled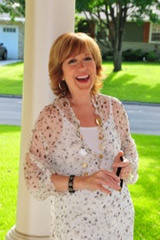 Joan has spent almost thirty years in the media, first as a national Emmy-winning news anchor and reporter at the NBC affiliate in Minneapolis-St Paul, and then as a top-rated national host on HGTV's Decorating Cents (with White House Christmas, Rose Parade, & Dream Home specials). She has appeared on Oprah, Live with Regis and Kelly and The Today Show.

Today, she is a published author. Her first book, And She Sparkled, was published in 2010 and her latest, Peace In Peace Out, came out in Fall 2012. She is also co-founder of the non-profit organization, Peace Begins With Me (a small BIG peace project).

Joan has a gift for lifting people up. She connects people to their own magnificence and to one another.

Joan is a keynote speaker at the Gustavus Women in Leadership 3rd Annual Conference.