Dana Halberg '76
Chairman, BNY Mellon Wealth Management in Atlanta, GA
Dana H. Halberg is chairman for BNY Mellon Wealth Management in Georgia.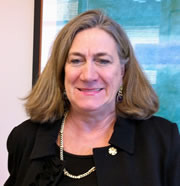 In this role, her efforts are focused on managing client relationships, increasing our community involvement and expanding our practice in the region. Prior to joining the firm in 2003, Dana was a founding principal of The Arden Group, the first private fiduciary firm in Atlanta.

Dana received her bachelor's degree from Gustavus Adolphus College and her master of business administration from the University of North Carolina at Chapel Hill. She is also a CFA charterholder. Dana is a member of the Atlanta Society of Financial Analysts and the CFA Institute. She serves on the boards of Georgia West Mental Health Foundation (Skyland Trail) and Habitat for Humanity, the Advisory Board of the Atlanta Speech School and was a founding member of the Atlanta Girls' School. She is a member of the Buckhead Coalition. Dana also serves as a financial advisor and trustee for several private foundations that support conservation, ecological health, cultural diversity, and preservation.

Dana is a breakout session speaker at the Gustavus Women in Leadership 3rd Annual Conference.