Celebration of Creative Inquiry
Friday, May 1, 2015
Campus Center, 5:00 p.m. to 7:00 p.m.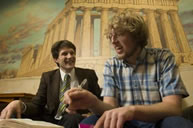 The Celebration of Creative Inquiry is a campus-wide forum to publicly share the creative inquiry of students from Gustavus Adolphus College. The Celebration will be held the Friday evening before Honors Day, and will feature student poster presentations (or other similar presentations as appropriate). "Creative inquiry" is an intentionally broad term that encompasses research and scholarship including, in the arts, exhibits or performances. We invite all Gustavus students engaged in creative inquiry to participate. Appropriate projects shall be defined by the standards of research, scholarship, and/or creativity of their discipline.
Creative inquiry may emerge from...
a class assignment or project.
off-campus projects or internships.
student-faculty collaborative research or creative projects.
independent student research or creative projects.
the work of extra-curricular student organizations.
The definition of creative inquiry varies by discipline; it includes...
asking a question that has not been asked before.
attempting to fill a gap in knowledge, or to create new knowledge, information, art, or expression.
a process or product that requires the student to add ideas or imagination of their own.
a project that is shaped by choices the student made independently.
critical reflection.
Abstract submission form and instructions, Abstract deadline is Friday, April 10, 2015.
Poster help: Links and information about making posters
FAQ: Frequently asked questions, and information on how to contact us
If you have questions that aren't answered on our site, please send them to creativeinquiry@gustavus.edu.
Archive
2014 Celebration of Creative Inquiry
Abstract List

2013 Celebration of Creative Inquiry
Abstract List
Program Booklet
2012 Celebration of Creative Inquiry
Abstract List
Program Booklet
2011 Celebration of Creative Inquiry
Abstract List

2010 Celebration of Creative Inquiry
Abstract List

2009 Celebration of Creative Inquiry
Abstract List
News Article
Video (student filmed, narrated, and produced)
2008 Celebration of Creative Inquiry
Abstract List
Slideshow
The Effect of Carbohydrate and Water
Eric Dale and Brooke Erickson
Faculty Sponsor: Bruce Van Duser
Poster title: The Effect of Carbohydrate, And Water Intake On Heart Rate, And Endurance Exercise
Public Opinion On Health Care: USA And Sweden
Rachel Poppy and Lisa Johnson
Faculty Sponsor: Barb Zust
Poster title: Public Opinion On Health Care: USA And Sweden