Teachers Talking Technology
Good conversation. Free Lunch.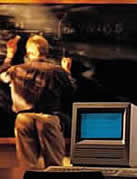 Gustavus' faculty commitment to continually enhancing their own pedagogy also incorporates new technologies. This series, Teachers Talking Technology, focused on low technology, is used by Gustavus faculty in their teaching. All faculty are invited to attend Teachers Talking Technology sessions. They are open to all faculty at the College and are focused on issues of interest to teaching and learning that are technology-related.
The sessions run from 11:30 a.m. - 12:20 p.m. and are repeated from 12:30 p.m. - 1:20 p.m. The Program provides free lunch in the Three Crowns Buffet for all faculty attending, then meet in the Heritage Room. If you have a topic suggestion, contact Kendall Center Faculty Associate for Technology, Kyle Chambers.
NEW! Teachers Talking Technology Blog
2013-14 School Year:
Tuesday, September 17, 2013
Join us for a blast from the past as the grade school show and tell makes a higher education comeback. Participants will take turns sharing how they are using technology for teaching or scholarship in an idea exchange luncheon.
Tuesday, October 15, 2013
Do you feel too busy? Is there always more to get done? This is a special panel discussion on the culture of productivity and technology's role. The session will feature panelists Dwight Stoll, Kathy Lund Dean, SeanCobb, and Barbara Fister.  
Tuesday, November 12, 2013
Want to learn how to embed a YouTube video in your course? Or how do you download all those papers at one time so you can read and grade them? Maybe you've always thought you wanted to add a Forum to your course, but wasn't sure how to proceed. We'll share just some of these things, as well as some tips and tricks! And we'll answer any questions you might have, as well! So, join us!
Tuesday, February 25, 2014
Topic: Extending the Discussion: Using Goodreads and Blogging in the College Classroom. In this session, Katrina Imison-Mazy and Valerie Walker will share their experiences using social media to enhance classroom discussion and promote active participation in on-line communities. They will share their rationale and what they've learned about designing assignments, assessment, teaching the technology, and developing authentic and rich discussion communities.

Tuesday, March 13, 2014
A World Café styled Teachers Talking Technology about how the emerging technologies described in the 2014 Horizon Report may impact learning, teaching, and creative inquiry at Gustavus. If you have a few minutes before the session, glance at the Horizon Report preview (http://www.nmc.org/pdf/2014-horizon-he-preview.pdf), but printed copies will also be available at the session. Note: if interested, you can also read the complete report at http://www.nmc.org/pdf/2014-nmc-horizon-report-he-EN.pdf

Tuesday, April 15, 2014
Join Jessie Petricka (Physics) and Kyle Chambers (Psychological Science) on Tuesday, April 15th for a Teachers Talking Technology focusing on the use of student response systems (e.g., Turning Technologies) to increase student engagement and improve learning outcomes.
Tuesday, May 6, 2014
Join Dwight Stoll (Chemistry) on Tuesday, May 6th for a Teachers Talking Technology focusing on software needs as our traditional method of gaining access to software is shifting.
Past Teachers Talking Technology: