User:Gmeyer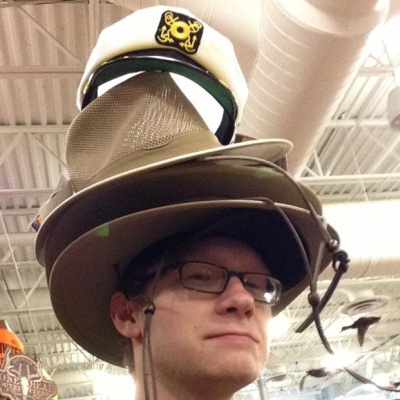 Greg Meyer
Greg is a senior English major with no minor and no clue at Gustavus Adolphus College. He has an Associates in Applied Science degree in Mechatronicsfrom South Central College.
Greg has worked at the Technology Helpline since Fall 2012. He also freelances as a reporter for the Gustavus Weekly and the Lake Region Times, both of which you should totally read. Sometimes he plays piano for weddings and church services. Just don't ask him to play On Eagles' Wings or a version of Pachebel's Canon in D that ISN'T IN D! IT'S SUPPOSED TO BE IN D! ...sorry about that.
Someday Greg wants to be a full-time writer. Of course, he also wants to make a livable wage, so one dream or the other will have to go. For now, he writes when he has the time. Eventually he'll have a novel fit for publishing. Eventually. For now he sits and scribbles and comes up with ORIGINAL CONTENT DO NOT STEAL. His current project is poetry. Because he's in a poetry class. How original.
Some other fun stuff about Greg:
Loves to read. Can smell books at 60 paces
Also lacks any sense of when humor is appropriate
Enjoys video games, Dungeons and Dragons, tabletop wargames
Is addicted to candy
Probably spends too much time on the computer ... Naaaaaah
Has participated in state archery competitions (and lost)
Talks too much
Listens to music with the dials at 11
Worships the King in Yellow. Ia! Ia! H͏̴̡a̛st̴u͝r͏̨!̕͡ ̵H͏a̴͝s̡͠t̷̢ù̵̢r̡̨!̕ ͞Ḩ̕͜a̧̢ś̸t̵̢͝u҉̸̡r̛͞!
Is an IT wizard
Greg's spirit animal is the honey badger. ...not really. It's probably the bunny or something. Oh, what's that, Spirit Animal Test? Greg's spirit animal is a cougar? ...but he doesn't like men younger than--Oh, THAT kind of cougar. Okay then.
Contact

THIS SPACE AVAILABLE FOR RENT! PRICE NEGOTIABLE! BUY NOW! CONTACT GREG AT THE ABOVE ADDRESS!